The wonderful world of Antarctic science
Mindy, Wednesday 14 April 2010
Temperature: -21.6°C
Wind Speed: 10 knots
Temp with wind chill: approximately -35°C
Sunrise: 8:41 am
Sunset: 5:08 pm
The Albert P. Crary (1911-1987) Science and Engineering Center at McMurdo Station, the United States of America Antarctic Base, is a treasure trove of Antarctic science. From the moment you step inside, posters and display cases highlight the diverse scientific program supported by the US National Science Foundation. The subjects are as varied as the Antarctic summer is long: polar ecology, invertebrate marine life, glaciers, volcanoes, seals, penguins, rocks and fossils, ozone depletion and aurora activity (to name but a few).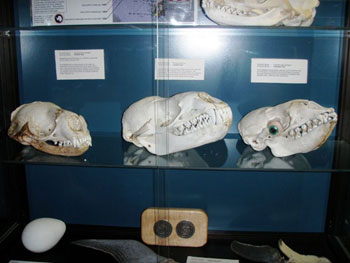 There is a staff of 4 in the Crary Lab over the winter. They are busy folk – organising supplies and equipment, monitoring and supporting on-going studies, ensuring computers and their programs are ticking along, and maintaining the building itself. Luckily, they agreed to take a bit of time out of their day for a 'behind-the-scenes' tour.
Beyond the front foyer of display cases is a full-blown, top-notch science centre. We explored storage areas with shelves and shelves (and shelves) of scientific equipment, supplies, research material, samples and specimens. Modular lab spaces dot the building, constructed to allow scientists to customise their working space. There are tanks for live aquatic critters, computer labs, illuminated incubation cabinets, and microscopes galore! Phew! All that's missing are the scientists – but they'll be back in full force at the end of the winter, carrying on the long tradition of Antarctic scientific study.