Earth Hour at Scott Base
George, Friday 9 April 2010
Temperature: -21.3°C
Wind Speed: 6 knots
Temp with wind chill: -27°C
Sunrise: 8:56am
Sunset: 6.56pm
No Lights! No Music! No Action!
Last Saturday night the whole of Scott Base was plunged into darkness – lights switched off, music stopped playing and computers shut down. In fact everything but the most essential electrics (namely heating) were powered down as we all participated in Earth Hour (8.30-9.30pm).
Earth Hour is a global sustainability initiative to raise awareness of climate change. For the last 2 years Scott Base has taken part, and so we were keen to do the same again.
While some of the winter team were at McMurdo Station (the United States Antarctic Science Base) those of us on Fire crew duty stayed at Scott Base to observe Earth Hour. To prepare, we ran around the base switching things off, then pulled tables and chairs together in the bar so that we could all sit with one another. Bobbie our chef had made snacks and nibbles, and so we all tucked in as we chatted and told stories. Later we made a group dash outside for a photo by the Scott Base sign, and brrrrrrrr… was it cold on our faces! We managed about 2 shots on time-lapse, then scrambled back indoors.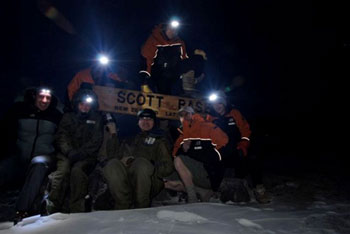 I have to say that sitting around in the dark on an evening– wearing a head torch in case of emergency - is not my usual idea of weekend fun. But in fact the evening proved so enjoyable that we continued an 'unofficial' Earth Hour until it was time for bed.