Views of Hut Point Ridge
Mindy, Tuesday 6 April 2010
Temperature: -27.1°C
Wind Speed: 13 knots
Temp with wind chill: Approximately -47.6°C
Sunrise: 08:00
Sunset: 20:00
At the weekend Bobbie, the Scott Base chef, and I decided to go on an adventure so we turned our attention to the nearby Hut Point Ridge. This particular track starts at the end of Hut Point where Commander Robert Falcon Scott's Discovery Hut is located (the base built for his 1901 – 04 expedition).
Walking along the road towards Hut Point we found ourselves relatively sheltered by local hills and the buildings of McMurdo Station, home to the American Antarctic programme, but the open approach to Discovery Hut exposed us to the wind. We were adequately clothed and equipped though, and confident that weather conditions were manageable, so we began to ascend the ridge. Braving the mildly breezy conditions, we were rewarded by spectacular views of McMurdo Sound. We could see open water in the distance, assorted islands dotting Ross Island's coast, and the Royal Society Range on the continent.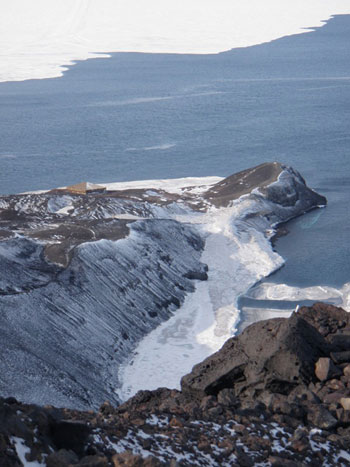 Clambering back down the ridge, we spotted a reminder of the risk that can sometimes come with such stunning landscapes. At the end of Hut Point sits Vince's Cross, built to commemorate a member of Scott's Discovery expedition who slipped down the hill into the sea during a blizzard in 1902.
It's truly a cautionary tale, and we took its point. Don't take any chances with the weather, and always mind your feet – even when you're enjoying the view.