Descent into the icy abyss
Jane, Thursday 8 April 2010
Temperature: -5°C
Wind Speed: 10 knots
Temp with wind chill: -15°C
Sunrise: 8am
Sunset: 7.57pm
On Sunday a group of us travelled to the Ice Falls, not far from Scott Base to explore the inside of a crevasse.
We roped up and headed up the side of the glacier. I was 'poodle' so led the way for my team, and if anyone was going to fall into a crevasse, it was going to be me. To be honest, there was a little part of me that wanted to fall in somewhere. I knew I would be safe as Steve and Alf who were tied to me would arrest my fall if I did; well that's what is supposed to happen!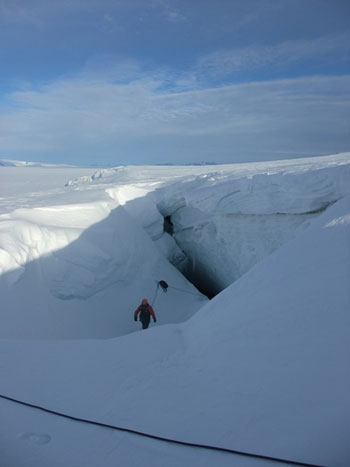 We reached the entrance to the crevasse and Tom set up the ropes so we could descend safely. Then I was first down, sliding the first bit which was fun and climbing down the rest of the way into the icy blue abyss.
On reaching the bottom the scale of the crevasse becomes apparent. It's a bit like being in a cathedral which is completely peaceful. The snow bridge over the top of the crevasse sits on top of two walls of blue ice. The stratigraphy clearly shows the annual snow fall and layers of dust carried over by storms from the dry valleys. It was a truly amazing experience.
On our way back we decided to take the fast route down the slope back to the Hagglund, so we just sat down and slid to the bottom.