Dangerous driving
Nicola, Monday 29 March 2010
Temperature: - 14.5°C
Wind speed: 19 knots
Temp with wind chill: -38°C
Sunrise: 7.17am
Sunset: 8.43pm
At Scott Base our nearest neighbours are the Americans at McMurdo Base, a couple of kilometres away along a road that winds through the pass between Observation and Crater Hills.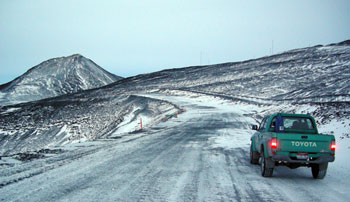 Until now the road has been easy to drive but yesterday, just as I was leaving McMurdo, the weather suddenly changed from a clear day to our first 'condition 1' storm. A strong southerly wind whipped up the snow so it was impossible to see the road ahead or the posts that mark the steep drop beside it, so I took shelter until it had passed.
When I headed back an hour later the road was covered with snow drifts and it was a good reminder that if not fully prepared even the simplest journey can be hazardous. Each of the 4 wheel drive vehicles are kitted out with sleeping bags, shovels and radios, and we always travel with our extreme cold weather clothing in case we get stuck or break down.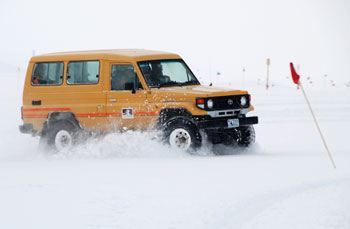 Antarctic driving is a skill and Lex, the Base Mechanic, recently took us out onto the ice for a fun-filled half hour to practice controlling the vehicle in deep snow drifts. So now we'll feel more confident driving over the hill in the months ahead.