Culinary traditions in Antarctica
Jane, Monday 15 March 2010
Temperature: -25⁰C
Wind speed: 10 Knots
Temp with wind chill: -35⁰C
Wintering over in Antarctica is a challenge for everyone, with the lack of light and minimal contact with the outside world. The chef, in particular, has a very difficult job but manages to keep us all happy.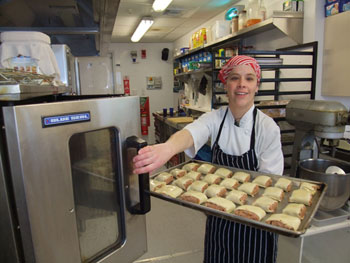 Our last delivery of fresh food was a few weeks ago and with no more until late August we are making the most of the fresh fruit and vegetables, before moving on to frozen veg. It is a challenge today for our chef, Bobbie, to keep the menu exciting with limited supplies, as it was for Clissold, the cook on Captain Scott's Terra Nova expedition back in 1910-1913.
We tend to eat a lot here. We like to think that it's because we use so much energy when out in the cold or because we work such long hours as part of our winter work programme, but really it's because it all tastes so good.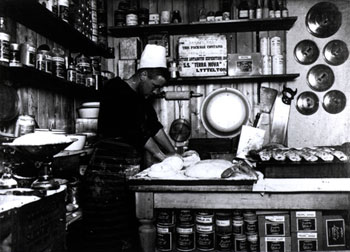 Some things in Antarctic cooking haven't changed since Clissold was cook. When Bobbie visited our conservation lab and saw the tins of food we are conserving, we discovered that, like Clissold, she too uses powdered egg. We were shocked and asked her not to tell us when she does.
Even the long-standing tradition of sausage rolls continues, only now our vegan chef makes amazing vegetarian ones just for me!