Touch-down at the huts
George, Monday 22 February 2010
Temperature: -12.5°C
Wind Speed: 10 knots
Temp with wind chill: -22°C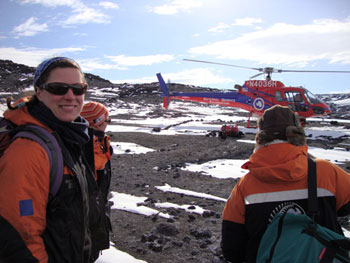 Last week our team flew out by helicopter to Sir Ernest Shackleton's 1907 hut at Cape Royd's, and then on to Captain Scott's 'Terra Nova' 1910 base at Cape Evans. Amazing! The trip allowed for an on-site handover between the summer and winter teams, and a chance to catch up with Al, Lucy, Fran and the carpenters before they jumped on a plane back to New Zealand.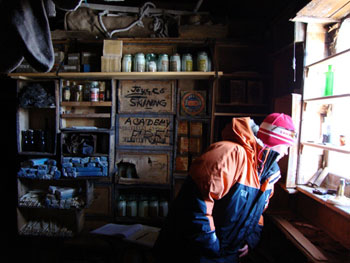 After working so closely with the artefacts in the Reserve Collection at Canterbury Museum in Christchurch, New Zealand, it was breathtaking and inspiring to finally visit the huts themselves and see the context from which they had come. It will also help us during the winter to work out suitable conservation treatments for the artefacts so that they will fit in with the appearance and environment of the huts.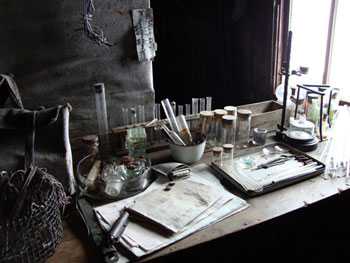 Cape Evans in particular was stunning. Although we were all naturally excited, a hush fell over the group as we entered and moved about the silent rooms. Even if we had no knowledge of the expedition stories, there would still be something truly special about the place.
There was an abundance of artefacts showing the early explorers' day-to-day life and work, all caught in the suggestive quality of natural light and its shadows. The impression was of abandonment, of its inhabitants having only just upped and left. Only the deterioration attests to the passing of years, and also of the peculiar rigours of the environment. It has impressed on me yet further the importance of the work we are doing and the very great need to get things right.