Now we are 14
Nicola, Thursday 25 February 2010
Temperature: -12.5°C
Wind speed : 10 knots
Temperature with wind chill: -22°C
After 4 years away it's been fantastic to step back onto the Ice and into Scott Base, this time as a veteran over-winterer.
Whilst so much is familiar, the biggest change for me is the people. Many of the team that I spent 2006 with are now friends off the ice, and I'm looking forward to getting to know the small team that was left here when the last flight left an hour ago. With the Antarctic winter fast approaching there will be no more flights in and out of Antarctica until late August.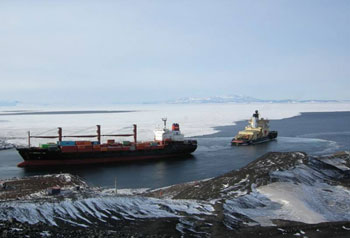 The container ship that brings supplies to the American Base at McMurdo has off-loaded its cargo and left before the sea ice freezes over. It was towed away from its pier of floating compacted ice and out to open water by a Russian Ice-breaker.
I missed seeing this in 2006 so on Sunday Mindy, Lucy and I walked up the Hut Point ridge to get a good view of it leaving. As it left Winter Quarters Bay, where Scott's ship 'Discovery' had wintered with the expedition team on board between 1901 and 1904, it dwarfed their little Discovery hut.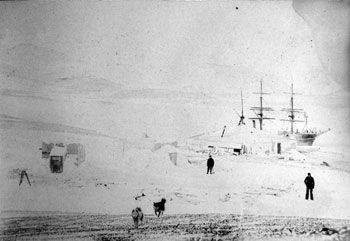 A couple of days later we learnt that the pier which has been used for the last 10 years has irreparably cracked and a new one will be constructed.
So, tonight we will celebrate becoming the 2010 winter team at Scott Base and toast absent friends.