Sleeping on sledging trips
Nicola, Friday 15 January 2010
Working on the tent associated with Shackleton's 1914-17 Trans Antarctic Expedition last week inspired me to read accounts of the sledging trips with a particular interest in the kit that was taken. Once the tent was up the most vital pieces of equipment were the Primus stove for cooking and the Norwegian fur sleeping bags.
In the laboratory this week we have a one man sleeping bag made from sections of hide with the thick fur on the inside.
Under the microscope Paul Scofield, Curator of Vertebrate Zoology at Canterbury Museum, identified the fur as reindeer, used because its hollow hairs have good insulating properties. Whilst smooth fur from the flanks was used on the inside of the bag, two outside flaps were cut from the softer more woolly belly. These would have been folded across the chest and secured with wooden toggles.
The bag is in good condition despite being well used, patched and repaired. The skin is still soft and there is only minor shedding of hairs. But it's filled the lab with that distinct seal blubber smell of the historic huts.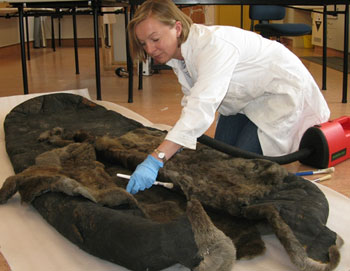 The state of their sleeping bags was a frequent topic in the men's sledging diaries. Whilst the fur could be warm and comfortable, the bags became miserable at extremely low temperatures.
Sealed in their sleeping bags at night their breath condensed and froze onto the fur lining. Ice accumulated over weeks so it became an unpleasant experience in the evening to thaw a way in. After one sledging journey the weight of the sleeping bags had increased four times from their usual 10lbs. Relief only came on sunny days when the bags could be turned inside out to rid them of ice and allow them to dry.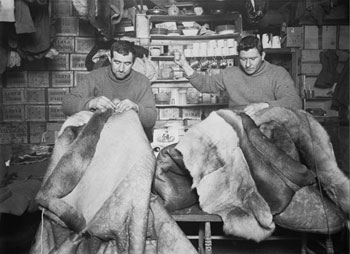 So perhaps it's easy to understand why Apsley Cherry-Garrard, in his account of a winter sledging trip, talked of the 'blissful moment of getting out of your bag…'