Summer at Cape Evans
Lizzie, Thursday 7 January 2010
After over a month in the field at Cape Evans it's about time for an update on the season.
Once we get underway and into the summer work programme time flies by very quickly and the outside world recedes somewhat, and only Fran's Christmas advent calendar marked the passing days.
The first couple of weeks were spent at Shackleton's 1907 expedition base at Cape Royds. Now that the conservation project there is complete we have begun an annual monitoring and maintenance programme. This year we took an extra week to audit every single artefact in the hut, checking location and description data against the database. It was 2 weeks of complete contrast – from counting artefacts inside, to Condition One storms outside, to calm sunny days filled with Emperor penguins and Lucy scanning the sea for orca fins at every break. Seen once!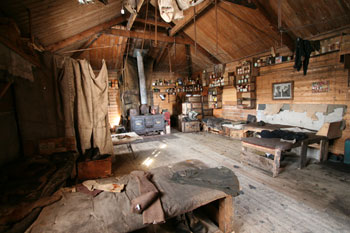 After the remote and wildly beautiful environs of Cape Royds, Cape Evans by comparison seemed a most luxurious set up. Our own tents! A conservation lab with solar power! A kitchen wannigan that is not on a slope, and stays warm when the wind goes above 10 knots. And a lot more visitors – Cape Evans is within easy reach of both Scott Base and McMurdo station, and many people make the most of the opportunity to hop on a skidoo, or join a trip to see the historic huts. Many of the visitors are up this way for work reasons – drilling holes in the ice for divers, installing equipment, monitoring weather stations, counting and tagging Weddell seals.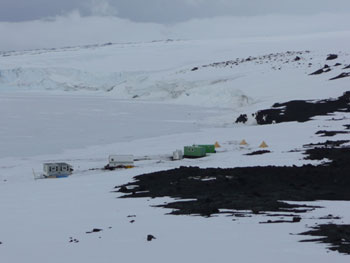 We had a few different tasks over the 3 weeks we spent at Cape Evans. During January there will be building work on the walls and roof of the stables. Fran, Lucy and I moved a lot of very heavy provision crates out of the way of the building work and into a storage container, and also documented and packed all the artefacts in that area. Along the external wall, where a new waterproof membrane will run down the inside of the wall and into the ground, we excavated artefacts at risk of damage during the membrane installation. One of these was the iconic dog skeleton. Chained to the wall sometime in the last few decades, the skeleton has been disintegrating a little more each season as the ice forms and then melts around it. Lucy's blog describes the dog in more detail.
Meanwhile Fran conserved the historic acetylene plant that provided gas lighting – a tricky job due to some flaky paint and a hard-to-reach back side requiring Fran's best contortionist skills.
And of course we returned 1300 artefacts to the hut that were conserved over the last year, and collected another 1500 to be conserved over the upcoming winter season at Scott Base.