Antarctic dogs
Lucy, Tuesday 5 January 2010
Temperature: -2 degrees
Windspeed: 2-5 Knots
Blue skies, bright sunshine.
I have heard that Captain Scott was opposed to the idea of using dogs as the main means of transport to the South Pole. Nevertheless, his 1910-13 Terra Nova Expedition included a large team of dogs and a dog handler which came down on the ship and lived at their base at Cape Evans.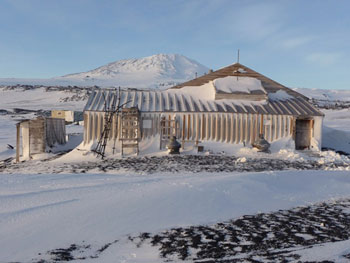 Ernest Shackleton's 1914-17 Ross Sea support party also had a small team of dogs. 10 members of this expedition were marooned at Cape Evans when their ship, the Aurora, still containing the majority of their supplies and equipment, broke anchor and was swept away from shore. Ernest Joyce, who was the leader of the sledging party, and his sledging team relied heavily on their surviving dogs to bring their weakened scurvy-ridden bodies back home after their journey across the Ross Ice Shelf to lay depots of stores.
Last month I spent 2 days archaeologically excavating the remains of a sledge dog which is chained to the North wall, outside the stables of the Terra Nova Hut. The stables are undergoing some essential repairs after Christmas, so the skeleton had to be removed.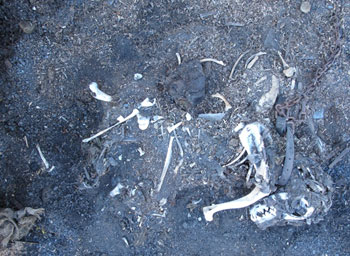 There are photographs of the dog from the 1950s. Back at this time the skin is dry but the body is still whole and covered in fur. Since then, the ravages of the elements and disturbance of the corpse by opportunistic Skuas (scavenger birds which live in abundance around Cape Evans) have caused almost complete disintegration and decay of the dog's flesh and skin and scattering of the exposed bones.
We have been speculating as to the identity of this mystery dog, which expedition it belonged to, how it died and why it ended up chained to the wall. There are no signs that it was shot or intentionally killed and no surviving records which mention it either.
Currently, the carefully labeled remains of 'Mummy', so named because he/she resembles an Ancient Egyptian dog mummy, are lying on a purpose-made tray inside the hut. Once the repairs to the stables are complete Mummy will find his/her final resting place within one of the pony stalls inside the stables. The dogs of both Scott's and the Ross Sea Party's expeditions were allowed to roam freely around in the stables so it seems to be the most appropriate location to place the dog to prevent continued disintegration of the body.