Sea ahoy
Lucy, Friday 27 November 2009
A couple of days ago, Lucy, Fran and I packed up 1,500 artefacts associated with Captain Robert Falcon Scott's 1910 – 13 expedition base at Cape Evans. They were conserved by 4 of our conservators over the Antarctic winter and we intend to return them to Cape Evans. But first we will be spending a couple of days on conservation work at Sir Ernest Shackleton's 1907-09 expedition base at Cape Royds.
We took off from Scott Base (New Zealand's science facility) with a small team of helpers, a hagglund (an all terrain vehicle) and a train of sledges laden with all our belongings, plus a little green portable cabin which is to be our home for the next 3 weeks while we are working at Cape Royds.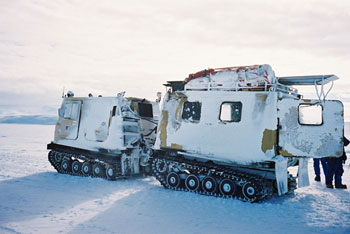 At present the frozen sea between Scott Base and Cape Royds is stable and safe for driving on. This year however the sea ice is breaking up early. One of the first things we did when we arrived at Cape Royds was to walk up to the top of the hill between our camp site on the ice and the historic hut. We were pretty surprised to see open water and pack ice floating 500 metres out from the shore.
The open sea with its mountain backdrop is quite a spectacular site to behold – each morning the sea is getting noticeably closer.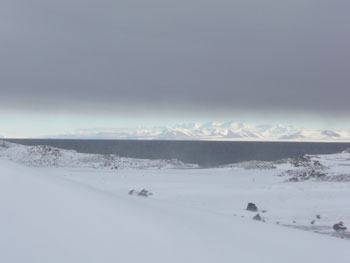 The Adelie Penguins nesting on rocks nearby will probably reap the benefits of having their fishing grounds within easily waddling distance this early in the breeding season. The closeness of the open sea may be more of a concern for our operation however, because we shall be moving our conservation camp south again in 2 days time, to Cape Evans.
Supposedly hagglunds do float! Never the less we are not that keen to check out the vehicle's capabilities.
If we do get stranded we will have to be taken out of Cape Royds by helicopter and may have to leave some provisions behind.
We will keep you posted!