Homes from home
Lucy, Thursday 15 October 2009
Weather: clear blue skies; -18 degrees C; less than 10 knots of wind.
When I first looked at a map of Ross Island, Antarctica, I was surprised to see that the historic huts of Captain Scott and Sir Ernest Shackleton at Cape Evans and Cape Royds are only about 5 kilometres apart. They are both built by the seashore of McMurdo Sound, convenient locations for the expedition members when they were off-loading the ships. For us living at Scott Base (New Zealand's science base) the huts can be easily visited in a day by hagglund (an all terrain vehicle) - provided the sea ice is thick and strong enough to drive across.
Last weekend we took a trip to see the historic huts. It was a visit which both Fran and I have been looking forward to impatiently since arriving.
I have seen so many photos of the huts that when the time came to visit them I had the impresion they might seem somehow familiar. In reality, the huts and settings are quite different from expected.
Shackleton's 1908 hut at Cape Royds is smaller, more sheltered and much cosier than I ever thought possible in Antarctica. Whereas the hut at Cape Evans, built by Captain Scott in 1911, is much larger and the outlook is more open than the impression I had from the photographs. Standing in front of the hut, the vista is wide open, over the Ross Sea towards the Royal Society mountain range and Mount Erebus (the southernmost active volcano) towers behind.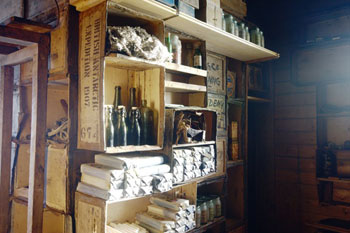 Inside Scott's hut it is quite messy, which gave the slightly eerie feeling that the survivors of the expeditions were in such a hurry to leave Antarctica on their ship, the Terra Nova, that they didn't have a chance to tidy up. Shackleton's hut at Cape Royds on the other hand is much more orderly and still feels almost lived in.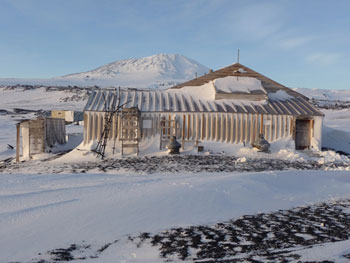 I don't know which of the 2 huts I like the best at the moment but I am sure that after living at both for 3 months, by the end of the summer I will have made up my mind.