A little light reading
Becky, Thursday 16 July 2009
Weather: Temperature -28C, wind 5 knots, light cloud over a full moon
In his book 'The Worst Journey in the World' (see note below) Apsley Cherry-Garrard writes about how important books were to the men of the British Antarctic Expedition (1910-13), saying 'Most of us managed to find room in our personal gear when sledging for some book which did not weigh much and yet would last.'
I've been working on 2 books from Scott's hut at Cape Evans, cleaning and repairing them. One's standard size, but the other's really tiny.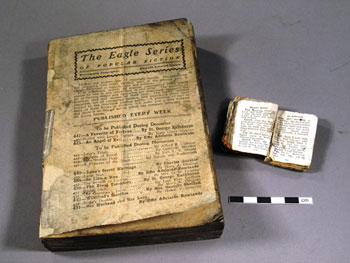 It's a copy of Shakespeare's 'The Merry Wives of Windsor', only 4cm high and printed on very thin paper. This book hardly weighs anything so it would have been ideal to take sledging, and it's one of several that size found at Cape Evans.
Reading was an important activity when the party was at their base, Cape Evans, as well as when they were on the move. There was a wide range of scientific books on hand to assist with their studies as well as books of history, poetry and literature. Ponting took a great photograph of Scott surrounded by his books, their leather bindings shining.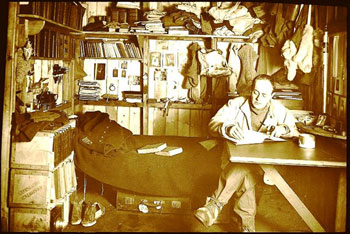 It wasn't all seriousness though – I was amused to find that the paperback shown above is a decidedly light romance. But then as Cherry says '…you often want the book you read for half an hour before you go to sleep at Winter Quarters to take you into the frivolous fripperies of modern social life…when its charms are so remote as to be entirely tantalizing.'
So I suppose we shouldn't be surprised when the blokes here are sometimes caught reading our modern day gossip mags!

The Worst Journey in the World
Previously ranked by National Geographic as the number 1 adventure book of all time, 'The Worst Journey in the World' is the incredible story of 3 members of Captain Scott's expedition (Dr Edward Wilson, Henry Bowers and Apsley Cherry-Garrard) who set out on a mid-winter journey to collect Emperor Penguin eggs in the name of science (they were hoping to establish whether an evolutionary link existed between birds and reptiles).
It's an epic tale of 24 hour darkness and temperatures so cold their teeth cracked. They survived the loss of their tent by huddling in a roofless rock igloo. Miraculously they found the tent and returned to Cape Evans, virtually unrecognisable after their ordeal.
Fiona