Distant neighbours
Becky, Thursday 2 July 2009
Weather: Temperature -22.7C, wind 20 knots
As the middle of winter (generally referred to as Midwinter) got closer, greetings and invites started arriving by email from all around Antarctica. I hadn't realised that so many bases operated through the winter, but in fact there are 37, run by different National Antarctic Programmes under the Antarctic Treaty. Their populations range from 2 at the Chilean Escuerdo base up to 153 at McMurdo base.
The Japanese at Syowa Station sent two delicious sounding menus to tempt us to visit, and the European Concordia Station challenged us all to an 'air band' competition. The Brazilians at Comandante Ferraz were planning an exciting time of soccer, barbecue and samba, while the new German Neumayer III station was celebrating its first winter. We sent them our greeting and invite too; it's a pity we're all too far apart to visit each other.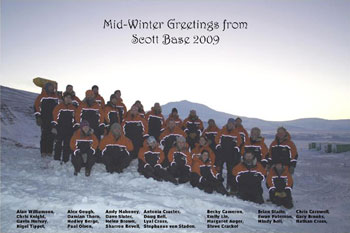 Midwinter provides a great opportunity for some festivities and fun as we wait for the welcome return of the sun. But the scattered bases have a more serious purpose for most of the year, carrying out varied programmes of scientific research.
To quote from President Obama's Midwinter greeting to the American Antarctic Programme: 'In this remote place where science is the universal language, scientists from more than 60 countries recently completed the International Polar Year…
'The early results reveal the profound significance the Polar Regions have on the Earth's climate. Not only do they regulate global temperature, they also act as barometers of change… From these efforts, we will gain a better understanding of what happens at the Poles and how it affects the rest of our Planet.'
Well, we can all raise a glass to that work carrying on. Cheers!