Moon gazing
Becky, Tuesday 16 June 2009
Weather cold and clear; temperature -39C, light winds, moon just past full
We haven't had any sunrises for a while now, but we do have the most beautiful moon rises. As we are so far south the moon doesn't appear to rise up vertically so much as gradually roll round and up the sky, grazing the tops of the islands.
The moon's been so bright the last few days that we've been able to go for walks without needing a head torch. It's wonderful to be able to see the sea, mountains and islands that surround Scott Base again.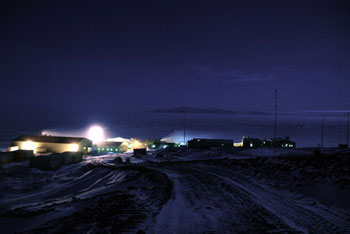 For the base science technician, Margaret, the bright moon provides the opportunity to take some important readings. She says: 'Much of the focus at the Arrival Heights lab is on atmospheric chemistry ie. what is in the various layers of atmosphere, and how the molecules in those layers are interacting and affecting our planet.
'An example of an instrument I operate is the Dobson spectrophotometer (one of 80 Dobsons worldwide) which has been measuring ozone since 1988. Measurements are made using sunlight from September to March, and when there is a visible full moon during the long winter nights.
'Ozone measurements change significantly over a year, and are at their lowest in spring, causing 'the Ozone Hole'. Our measurements, and those of other Antarctic stations, signal the position and size of the hole. They also track its movement northwards, to warmer climes, as it disperses towardsthe end of the year.
'My work helps the weather forecasters tells you when to wear sunscreen, because the ozone hole is breaking up as it moves north over New Zealand.'