The Sea Ice Guys
Mindy, Thursday 11 June 2009
Weather Today: -19°C and 15 knot winds (SSE) = wind chill temperature of -35°C, cloudy
On Wednesday morning a few weeks back, I hopped in a Hagglund (an all terrain vehicle) with Andy, Alex and Brian. We were on our way out to study the sea ice in McMurdo Sound, driving 4 or 5 km from Scott Base to a little container that serves as a field base.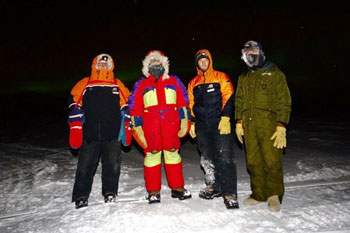 Alex and Andy are affectionately known as 'the Sea Ice Guys', and Brian is their Antarctica New Zealand field support person. They're spending the Antarctic winter studying the growth of sea ice along the shores of Ross Island. More specifically, they want to know how the nearby Ross Ice Shelf impacts on this process and how it affects / is affected by climate. So, we spent 28 hours raising and lowering a 'gizmo' at regular intervals into the sea (down to 575 m) to measure the salinity (salt content) and temperature of the water.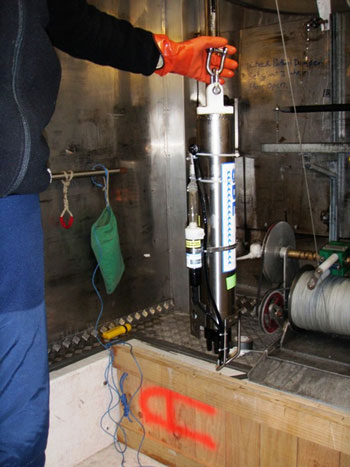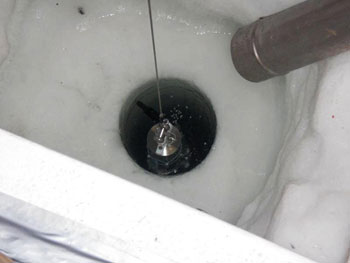 After a crash course from Alex in measuring ice thickness (including digging super-hard snow and using a giant long drill), we joined Andy and Brian in the container. With sheltered access to a hole drilled in the sea ice, we took turns in pairs to monitor the CTD (conductivity, temperature and depth instrument).
On duty until 4 am, Alex and I ran the CTD, chatted, read, checked on generators, and watched for 'sea beasties' in the hole. Off the clock, a sleeping container provided a warm place to catch some 'zzzzz'. At the end of the study, we carefully repacked the Hagglund and headed back to Scott Base, where Alex and Andy will begin to process files and files of data.
The Sea Ice Guys are doing really important work, and I'm pretty happy I've had a chance to help them out. They're continuing a long tradition of Antarctic scientific study. E. W. Nelson, C. S. Wright and R. E. Priestly (scientists associated with Captain Scott's 1910 – 14 expedition) all attempted to conduct similar studies, without having any equipment as sophisticated as the CTD. I bet they would have loved to have the cosy little container too…