Arrival Heights
Emily, Monday 1 June 2009
Weather today: clear sky; -16°C to -38°C; wind: 5 knots
Arrival Heights is 8km away from Scott Base. A few people on the Base go there all the time for work, but I've never heard of anyone going up the Heights for a walk and that makes me curious about the place.
Air samples are taken there and sensitive instruments have been installed for the long-term study of ozone depletion, climate change, aurora activity, lightning activity and geomagnetic processes in the Antarctic. In order to keep pollution of any sort to a minimum, permission is required to enter the Heights.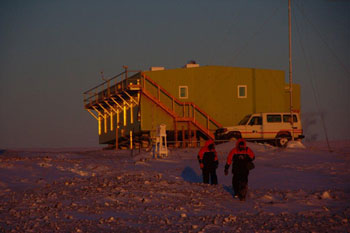 I felt privileged to have an opportunity to go up there with Margaret, the Scott Base science technician, and catch one of the last sunsets earlier in the season. As it is accessible by vehicle, and it has an elevated position and broad viewing horizon, I can imagine Arrival Heights being a romantic spot for a date!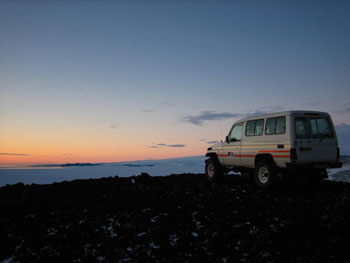 Margaret goes to the Heights almost every day to monitor the instruments and collect the data, which is then sent out immediately on the internet for scientists to study around the world.
The collection of weather information and scientific data on this continent began a hundred years ago when Captain Scott (amongst others) led his expedition team to Antarctica.