The first sunset of 2009
Antonia, Monday 9 March 2009
One of the strangest aspects of being in Antarctica is the constant daylight. After all the dire warnings of the months of darkness and the lack of sunlight, we have been exposed to pretty much three weeks of ceaseless blue skies and sunshine. I still find it hard to believe that when you go out at night, you don't need to take a torch, or worry about leaving lights on for when you get back!
The sun, however, lost its battle for supremacy on Sunday the 22nd of February. Those of us who are fortunate enough to be wintering-over had the privilege of witnessing the first sunset in Antarctica since late October 2008! It certainly took its time in coming, not setting fully until 1.30am, but was warmly welcomed by those with sufficient stamina to stay up for the full show.
The darkness didn't last long though; the sun was back up again by 4.30 only a few miles from where it had just set.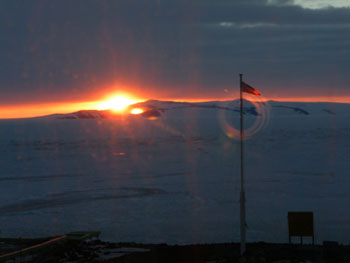 Since these momentous events the darkness has been increasing by about 40 minutes each day, sunrise gets 20 minutes later, and sunset 20 minutes earlier, so the countdown is on for the last sunset before winter really kicks in.