Ciao for now
Anna, Thursday 12 February 2009
The time has come to say farewell to our surrogate icy continent, and head back to warmer climes. Yup, our 6 months have flown past, and we are now in our final week here in Antarctica, in a hurricane of paperwork, ECWs and teary farewells as we try to tie up our work, pack our gear and welcome the new winter conservators soon to hit our frozen shores.
Our last stint in the field has been extremely successful, and Jana and I are well chuffed with the work we were able to get done out there the past month: conserving the Wardroom stove and flues, the fodder bales, cataloguing all the new artefacts that were uncovered, treating a large whack of artefacts - the list goes on!
Now we depart with a hoard of memories - penguins talking outside our tents all night, the sound of the ice floes crunching against each other with the waves on the beach, the smell of the seals tanning themselves on the shore - such a beautiful bonus to our work.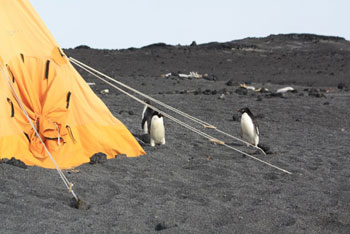 But by far the most important memory we will be taking is the magnificent experience of having the honour of working on the huts, being given the opportunity to camp at Cape Evans and Royds and experience the spirit of the sites while working, and having the supreme privilege of treating those artefacts that the explorers left behind, that we now appreciate as a memento of their adventures.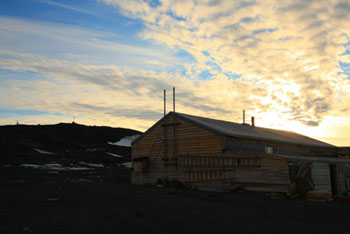 We hope you all continue to follow the adventures of our new winter conservators once they get on the ice! Ciao for now!