No such thing as a day off
Jana, Monday 22 December 2008
Because the summer season provides such a short window of good weather and time in which to get all of our scheduled work at the huts done, our routine in the field tends to be along the lines of: work, work and then work some more.
That said, we do manage to sneak in a tiny bit of free time every now and then, and when we do, one of our favourite things to do is to go for a good walk. Often we'll head out to one of the many seal holes in the sea ice to watch the big slugs lie around (they don't appear to do much else), and another of our favourite destinations is Skua Lake, where we watch the skuas flap around and dunk their heads under water hundreds of times in a row (which, of course, makes us jealous of the fact that they get to take a bath!)
The fabulous view of our local islands and icebergs, with the TransAntarctic Mountains in the background, is always a good reason to climb Windvane Hill or walk around the head of the Cape, both of which we do regularly as well.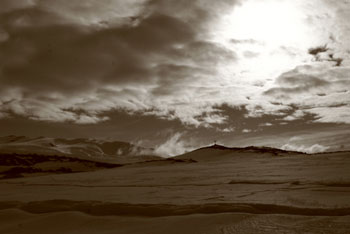 If a walk isn't on the cards, we might hang around camp and write letters, play dice, or do a little baking for tomorrow's tea. (We've managed some pretty good scones, but I think Lizzie reigns supreme with her sultana and apricot pinwheels!)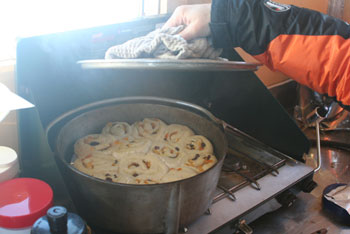 I won't implicate any of my co-workers, but I will admit that much of my own quiet time is spent rather geek-ishly, poring over historic photographs and the journals and accounts of the heroic era explorers, learning what they did in their spare time at Cape Evans!