Cape Royds Moving Company Ltd
Lizzie, Thursday 27 November 2008
This year, our camp at Cape Royds is on the sea ice at Backdoor Bay. The ice is very thick here – around 2 metres. We camp here because it's the closest flat spot that the bulldozer can tow our little township to (4 conservators, 2 living wannigans, 2 polar tents and a shipping container that holds all our equipment and artefacts). And it'd be a perfect spot too were it not for the fact that Shackleton's hut is some way up and over a hill. A hill over which 203 large, heavy boxes need to be carried.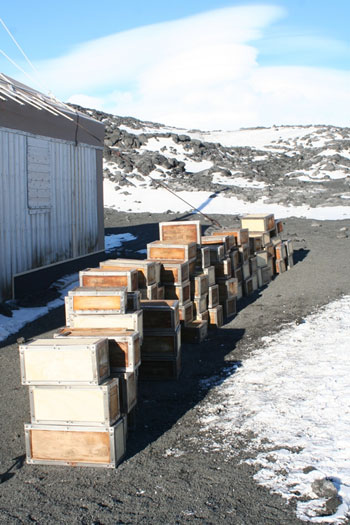 Why don't we fly them in? Or drive them door to door? It's because of the ASPA. Cape Royds is one of the many areas in Antarctica designated an ASPA, or Antarctic Specially Protected Area. There are 2 ASPAs at Cape Royds. Area number 121 surrounds the Adelie penguin colony, and adjoining it is area number 157 which protects Shackleton's hut and the surrounding area. Helicopter overflights are prohibited, as is vehicular access, and the number of humans allowed in each area is limited to 40.
Compared to the 2000+ boxes Shackleton and his men offloaded, 203 is a paltry number. But try telling that to my aching muscles after two days of lugging boxes through the snow. Thank goodness we are able to use a quad bike and sled to take them up the worst of the hill to the edge of the ASPA. And hurrah for Miles and Dave (the carpenters) at Scott base who rigged up these natty carrying stretchers - this season's must have for the polar conservator.