A Day in the Life (Part 1)
Anna, Saturday 18 October 2008
For today's blog, we thought we'd give you a snapshot look at a typical work day for the conservators here at Scott Base:
7.30 a.m. Roll out of bed and head to the kitchen to join the rest of the bleary-eyed base staff for coffee and breakfast.
8:02 a.m. An energetic start to the day's work- shovelling snow to get into our lab before we can start the days' conservation treatment and documentation.
9:45 a.m. We cart our empty containers of reverse osmosis water and full container of 'grey water' back to base, empty the 'grey water', fill up the fresh containers, then trudge back down to the lab.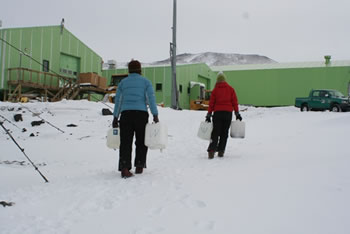 10:21 a.m. Anna opens a crate of tins to find one has corroded through and is leaking its hundred year old contents: 'Vitrol-A Preparation of Bone Marrow'. The tin is kept frozen and set aside until it is to be emptied and conserved.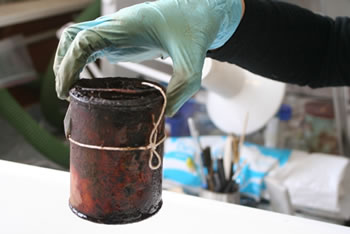 12:00 p.m. Kit up in our ECW jackets and gloves and head back to the main building for lunch.
1:30 p.m. Back in the lab, Jana is writing a condition report on a mitten and discovers a tag sewn inside with the original owner's name handwritten onto it- "F. J. Hooper".
3:14 p.m. Bundled up in all our ECW's (again!), we head out to one of our storage areas (a modified shipping container). Here, we put back a crate of finished artefacts, and grab another to take back to the lab. Pot luck will decide what sort of artefacts will be inside the new crate!
6:00 p.m. We all herd into the dining room for dinner.
7.09 p.m. Someone picks out a movie from the gargantuan movie collection to watch on the 'big screen'.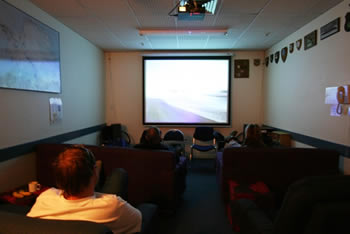 9.18 p.m. Settle down by the fire in the lounge and catch up on the next few chapters of a book.
10.45 p.m. Tuck in, and get ready to start all over again.
(Due to technical difficulties this post should have been published before the A Day in the Life Part 2 that was published on 21 October)