Walking on (frozen) water
Jana, Thursday 2 October 2008
During the heroic era, tramping across the thick, semi-permanent sea ice that forms around the shores of Antarctica was the only way for the early explorers to cross from their huts on Ross Island to the mainland (and thus the South Pole). This sea ice was also the easiest place to travel around Ross Island itself, it being far easier to skirt along the shore on relatively flat ice than to try to navigate the pesky glaciers and craggy contours inland. Today, just as in historic times, most travel on and around Ross Island is done via seasonal roads on the ice, often along routes established by the early explorers.
While these explorers relied upon visual observation (and often their own impatience) to decide if the ice was safe enough to travel on, today there are strict standards as to how thick the ice must be before roads can be opened and vehicles allowed to travel on the ice. This is determined by drilling and measuring holes in the ice using specialized equipment.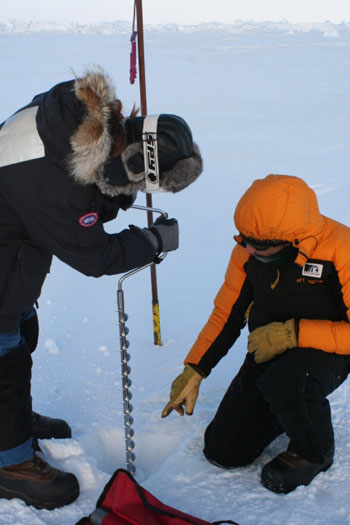 One place where it is critical to monitor the thickness of the ice is around the large cracks that form near the shore and around icebergs trapped in the sea ice. Because cracks are prone to change and move more than the rest of the ice, measurements must be taken at multiple locations on each side of the crack each time it is to be crossed. If the ice does not meet the thickness requirements, we simply do not cross.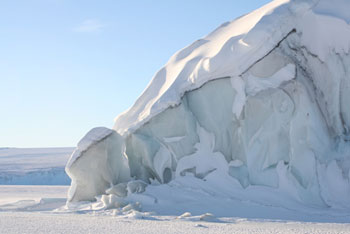 Currently, for instance, the large crack at the foot of the Barne Glacier is not thick enough to traverse, meaning that the hut at Cape Royds remains inaccessible to us for now. While for the early explorers this might have meant hunkering down in a hut with dwindling supplies for another few weeks, for us it just means that we go about our work elsewhere until the time comes when we can safely cross.