Stars and satellites
Carla, Monday 7 July 2008
This week we went on a familiarization trip to the Black Island Satellite station. This is the first trip we have been on since early May when we camped out on White Island. Black Island lies south from Scott Base across the frozen sea ice, one of the mountainous land masses we see when we stand at the edge of Ross Island.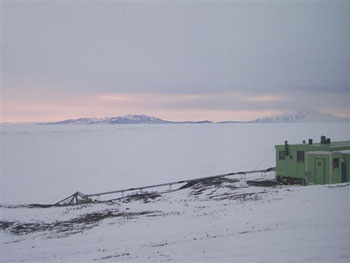 While three full-time staff stay at this station during the summer months, during winter the base is unoccupied but routinely visited every month or so for maintenance. We were the lucky six from Scott Base that got to accompany the four McMurdo staff on their maintenance trip. This was a chance for us to get off base and refresh ourselves with a different surrounding, but most importantly it was an opportunity to glimpse some of the landscape we haven't yet seen. At 8am Tuesday morning we set off across the ice, six of us in a Hagglund, and the Americans in two Piston Bullies. Within two hours of slow movement across the ice and bumpy Black Island road we arrived at the station.
The Black Island Satellite Station was built in the early 1980s as an HF radio site, to which satellite equipment was added in the mid-90s. This station provides all off-continent communications for McMurdo, all phone calls, internet and data. The station is located all the way out on Black Island because Mt Erebus blocks a large part of the northern sky line, and therefore many satellite transmissions from Ross Island. From here (Black Island) about 10 or more satellites can be seen, as opposed to only three from Arrival Heights, the hill between McMurdo and Scott Base.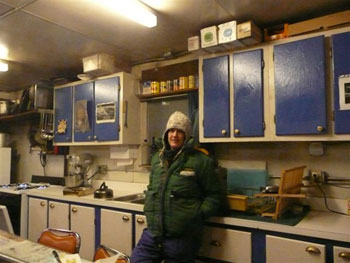 Although we were set to sleep inside a building instead of in a tent, I quickly reminded myself where I was, that it was -30ºC and pitch black darkness, and that nothing comes easy in an Antarctic winter. Instead of digging snow and erecting polar tents, we shovelled out our snow-infested bunk house with an attempt to create a warm and dry place for us to sleep. Before the stove could be started Dom and Martin had to dismantle it and take frozen parts into the Hagglund to defrost.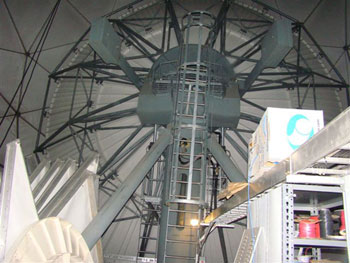 Staying at the satellite station was luxury though, compared to cooking outside and sleeping in polar tents. The station has a fully-equipped kitchen and lounge area, toilet and shower. Off the main building and connected by hallways is the generator room and a link to the inside of the satellite dome. This particular satellite was not currently operating so we were permitted to step inside, look up and echo our voices 'hello'. In the computer area we found some equipment that had many mini televisions used to send stations to McMurdo for viewing.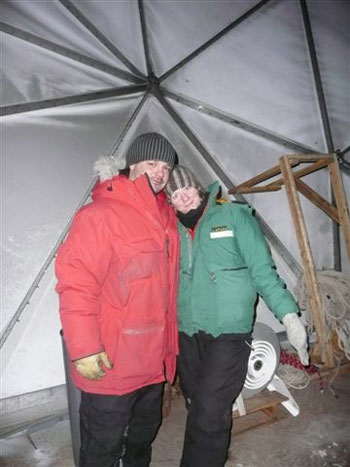 The next morning we walked out to a huge star-filled sky, perfectly clear with pale white auroras dancing all around. The constellation O' Ryan was visible in the sky, with Sirius, the brightest star in the southern sky shimmering in the north, and the Planet Jupiter shining to the south. By about noon we could see light emitted from the sun below the horizon, turning the night sky to light pink and yellow. Below the silhouette of Mt Erebus we viewed two small bright areas, our homes, McMurdo and Scott Base.