Mid-Winter Celebrations
Susanne, Thursday 3 July 2008
Throughout my travels around the world I have gotten to experience various holidays that we don't necessarily celebrate in the United States. Since travelling to New Zealand and Antarctica I have seen Waitangi Day and Anzac Day, but my favourite holiday down here so far has been the Mid-Winter celebrations. My family has celebrated mid-winter in the form of Christmas, so it was a wonderful experience to be involved in a different kind of mid-winter festival. Do you participate in any celebrations for mid-winter?
The 2008 mid-winter, also known as the winter solstice, occurs on June 20 in the Southern hemisphere and December 21 in the Northern hemisphere. In Antarctica, this means that the sun is at its greatest angular distance from the equator and we experience the longest night of the year. This also means that the sun will start to return to us, although it will take a few more weeks before we see the horizon again.
A yearly tradition in Antarctica for both the Kiwis and Americans is to celebrate Mid-Winter by having a somewhat formal dinner and celebration. On Scott Base, Chef was busy all day preparing for the eight course meal for that evening. Therese and helpers transformed one of our common areas into a wonderful and comfortable setting in which to laugh and be merry. First we enjoyed numerous platters of hors d'oeuvres including shrimp, venison, crab cakes, and beef.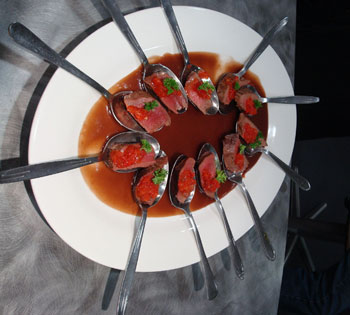 Once we were seated at the table, there was a huge selection of homemade breads and New Zealand wines. We then enjoyed crayfish bisque, seared venison, and duck with pumpkin and ginger tortellini. Is your mouth watering yet? Throughout dinner there were many toasts to the chef, the crew, and to the people who helped make Scott Base a possibility including three toasts by Lizzie, Therese, and myself. After a mango sorbet palate cleanser, we continued with the main course and my favourite dish, slow roasted pork belly with a delicious accompaniment of garlic mashed potatoes, bacon wrapped beans, and chorizo sausage with apples. To finish off the evening with dessert, chef made a chocolate and hazelnut spring roll and quadruple chocolate mousse with ice cream. As a final cap to the evening, we also had warm brie with rhubarb and lavosh. Everyone was so full, that we sat around the table for many hours afterwards enjoying the warmth of the room and the company of friends.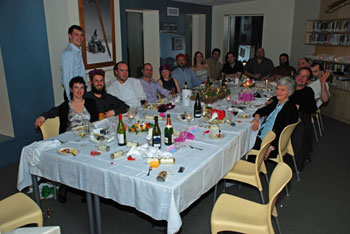 The following evening, the Americans from McMurdo invited us over for their Mid-Winter celebrations of dinner and dancing. They also did an amazing job on decorations and had ice sculptures made by the carpenters and live acoustic music played by three of the many musicians at McMurdo.
The team of eight chefs and support staff that reside at McMurdo for the Winter prepared a delicious meal of beef and fish accompanied by a huge assortment of vegetables and desserts, all wonderfully arranged and decorated. Of course, there was also plenty of wine to be enjoyed all evening!I am so glad that I was able to be a part of this very traditional celebration. Mid-Winter celebrations go as far back as 1800BC in South America and even earlier for the Egyptians. In more recent times, Mid-Winter has been celebrated by the early explorers with a full dinner and celebrations. As Apsley Cherry-Garrard wrote in his book, The Worst Journey in the World, 'We are very merry - and indeed why not? The sun turns to come back to us tonight and such a day comes only once a year.'