A Composite of Mysteries
Carla, Monday 23 June 2008
How are the objects we use in everyday life different from those used by the early Antarctic explorers? Which objects are similar in design and composition? An array of different material types are used to make the things we use every day, but how will they look in a hundred years? There are definitely objects and equipment around this base that I'd already consider to be artefacts. Perhaps someday they will end up in a conservation lab to conserve the material history of Scott Base.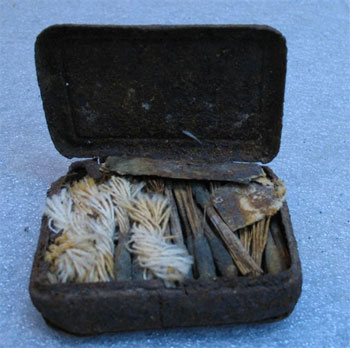 Many of the artefacts we are conserving from Shackleton's hut are composites, that is, they are made from two or more material types. These objects often provide an interesting conservation challenge as we aim to conserve the different materials. The majority of these objects are best treated by separating them into their component parts. This is only possible when they can be separated and reassembled without altering the artefact, like the match box I treated last week. Other objects cannot be taken apart and must be treated by isolating one area from the other, as is often done with tools, machinery and clothing accessories.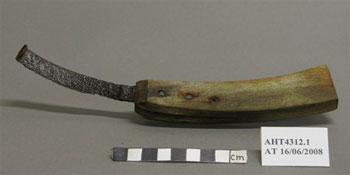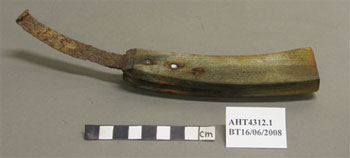 This wood and iron tool may have been used to remove dirt and debris from the hooves of ponies at Cape Royds. While the wooden handle is in good condition, the blade is badly corroding and spreading iron staining onto the wood. Like many composite artefacts, this one poses a treatment problem because the different materials cannot be separated from one another. This artefact was carefully cleaned ensuring not to remove all historically-relevant debris. Exposed areas of the blade and nails were treated and coated to help prevent future corrosion from moisture and chlorides, but there remain areas of metal that I cannot access. The bits of nail and sides of the blade that are hidden within the handle cannot be treated. Without the ability to take this object apart, these areas of metal will continue to corrode.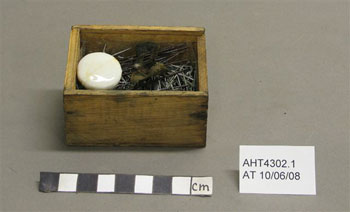 This small wooden box was an interesting artefact to document and treat. With 670 parts, an array of chemicals and adhesives were needed to treat each item. The box houses 641 metal tacks, a broken porcelain bottle stopper and 26 iron-alloy sewing needles, eight of which were pushed through a scrap of woollen fabric.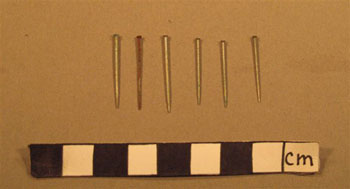 What is really interesting about this object is that of the 641 metal tacks, all are composed of a copper alloy but one, which is iron. This tack immediately stood apart from the others. Unlike its 640 similarly-shaped friends which are pale grey with a thin layer of green copper corrosion, this one is similar in appearance to the iron-alloy needles, rusty brown in colour, covered in a thin layer of iron corrosion, and magnetic. Why only one iron pin among 641? Unpacking cute little mystery boxes such as these make my job all the more fun.