Here's to you, Captain Scott!
Therese, Thursday 12 June 2008
The sole framed picture adorning the walls of our conservation lab here at Scott Base is one of a festive birthday party dinner in honour of Robert Falcon Scott. The picture is a copy of an image taken on June 6th 1911 at Cape Evans during the Terra Nova Expedition. Last Friday, June 6th 2008, we conservators raised a toast to Scott on what would have been his 140th birthday.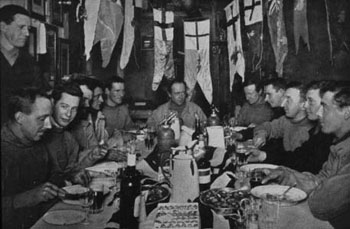 In 1911 Scott had just turned 43, and as fate turned out it was to be his last birthday. During the following Antarctic summer he, Wilson, Evans, Oates and Bowers journeyed to the pole, reaching it on 18 January 1912, only to find that they had been preceded by Roald Amundsen's Norwegian party. Sadly on the return journey Scott's expedition all died from a combination of exhaustion, hunger and extreme cold.You can tell from the photo that birthdays then were celebrated in a big way in the Antarctic, just as they are now. It's a way of making the long winter months more enjoyable, a time to bring out some special food, wine and dress up a bit.
Coincidentally on June 2nd, having finally finished the paper-based artefacts from Shackleton's Cape Royds hut (saying goodbye to the last bar of soap), we started on artefacts from the Terra Nova hut. And the first lot of items are containers of food – some of which seem quite fancy for expedition food. I imagine that perhaps it's the kind of foodstuff that would have been brought out for special occasions like this birthday celebration.
We are working on bottles of French Olives, Anchovy Paste, Savoy Sauce, Heinz Ketchup (well, ok, ketchup may not strike you as a delicacy, but speaking from experience, it is in the Antarctic!). I've tried to find some types of food that are in the picture but all that is really clear is wine and chocolates. There wasn't an excess of those kinds of specialty items left at the hut but I'm not surprised. Chocolate disappears pretty quickly around here as well; some things haven't changed in almost a hundred years.