Climate change and the Historic Huts
Therese, Tuesday 27 May 2008
Climate change is a subject on many people's minds these days and something often discussed at Scott Base. There are always lots of different views with some scientists even saying we need to factor in that this warming may be part of a natural warming/cooling cycle which has been occurring for millions of years. But while there are many views we all recognise humans have played a major part in contributing to the 'Green house' effect and we are all committed to doing what we can to help combat climate change.
People often ask us do we notice any difference in Antarctica - mainly because the continent is an important regulator of global climate and used as a global barometer to what is happening to the world. On a personal level it's really hard to comment - mainly because we have been here for a couple of months and we are currently in the middle of the Antarctic winter that means pretty much 24 hour darkness. And as we all know climate change trends tend to be taken over years if not decades.
Interestingly enough we have been told the west coast of the Antarctic Peninsula has, over the past fifty years, been one of the most rapidly warming parts of the planet. There is also statistical evidence that there is a warming trend at Scott Base over the past 50 years. Scott Base is probably the only place in Antarctica that has been consistently recording daily weather statistics using the methodology and types of instruments for that length of time. Pete de Joux, who is responsible for weather observations at Scott Base, says that the data shows a definite pattern of warming: 1° Celsius increase in mean temperature over 50 years. Previous warming phases on Earth saw a rate of change of approximately 4° Celsius over 1,000 years. This means that the rate of change at Scott Base is significant. Check out the British Antarctic Survey's website for their views on climate change as well as the Intergovernmental Panel on Climate Change website (the IPCC were recently awarded the Nobel Peace Prize in 2007 along with Al Gore for their work).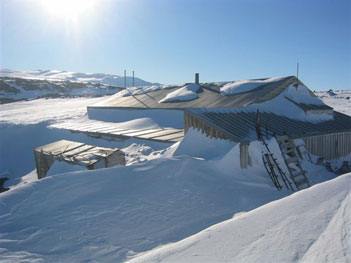 There are also indications of changes in climatic conditions at the early polar expedition bases. Over the past five years, the Antarctic Heritage Trust has seen some identifiable changes at the bases particular at Captain Scott's base at Cape Evans. During the past three or four years Captain Scott's base has at times, been almost completely buried by snow drift and the Trust's conservation teams have regularly removed between 75 - 100 cubic metres of snow at the beginning of each summer season before they even begin conservation work. This is a new phenomenon and we are told this was almost unheard of a decade ago.
With the base being buried in snow, it brings a number of problems. Snow loading has caused structural damage in the stables that housed the expedition's ponies. Other issues include snow and ice build-up – as the snow forms layers the weight compresses the snow, and when combined with freeze/thaw cycles, the bottom layers turn to ice. Each season the combination of snow and ice creates a mini glacier that pressurises the southern side of the building causing buckling and warping.
In 2003/04 the warmer temperatures caused the snow and ice to melt, flow under and into the building then refreeze. That caused some major damage to the building – both internally and externally. The good news is this season the Trust's team of conservation carpenters installed a waterproof membrane along the entire southern and eastern exterior walls to waterproof the building to prevent this from happening again. The Trust has also been working with a team of experts from around the world on the issue of snow and ice build up. Permits are now in place and this coming summer the team will implement some long term solutions to alleviate and minimise the snow build up.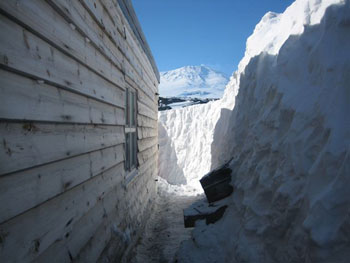 Back here at Scott Base we all pitch in and do what we can and we are committed to reducing our environmental footprint. Being in such a pristine, remote place brings home to you on a daily basis what impacts we all have on the environment.
Water and energy usage are monitored and discussed at weekly base meetings, with heating and lighting adjusted regularly for maximum efficiency as the external temperature drops, or different areas of the base come in and out of use. To conserve fuel, the walls of the base are heavily insulated and heat is harnessed from the exhaust of generators to help with heating. All waste is sorted for recycling, prior to being packed for return to New Zealand and appropriate disposal. Trips out into the field are rigorously monitored for impact on the environment. All waste, including human waste, is packed and returned to Scott Base. Various safety measures are used to prevent contamination of the environment, including using spill trays when refuelling vehicles to ensure no fuel leaks on the ground. Even the snow from a spilled cup of tea is shovelled up and removed back to base.
This may seem over the top, given how few humans exist in this vast landscape and how quickly the climate seems to erase human evidence, as well as an interesting contrast with our work on the AHT project that aims to prevent specific human evidence from being erased. But we feel we're in a position here to achieve minimum environmental impact on a small scale, which will hopefully influence larger scale efforts throughout the rest of the world.
From the Team at Scott Base (with thanks to Fiona and Al at the Christchurch office in New Zealand for providing the information on climate change at the huts).