Squeaky-clean
Lizzie, Monday 19 May 2008
There's a strong and strangely pleasant scent in the lab this week. Readers from Australasia and the UK might recognise it instantly – Sunlight soap, and its lather-buddy Lifebuoy!
Sunlight soap was first manufactured in the Lever Bros factory in Warrington, England in 1886; later a factory was set up in Petone, New Zealand in 1919. Sunlight soap was made from copra oil, tallow, cotton oil and resin, scented with oil of citronella, whilst Lifebuoy has the unmistakeable aroma of coal tar.
These boxes of soap were found at Cape Royds, and would have been used by the men for personal hygiene in conjunction with their camp washing basins and canvas baths, and maybe also for hand washing clothes.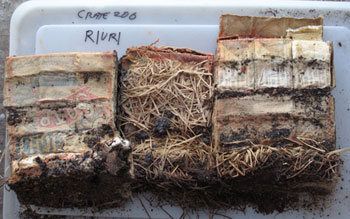 We have 24 single bars of soap, still with their tissue wrappers, and 19 boxes of soap. These pose a real challenge to me as a conservator. Over the last 100 years, fats from the soap have migrated into and through the pulp board of the boxes. In some areas on the box there are solid deposits of fat, and these also have scoria embedded in them.
On initial examination the boxes look to be in relatively good condition, with faded but clear print. However, the fat has significantly weakened the paper fibres making up the boxboard. The boxes feel greasy to the touch, and the board has split in a number of places purely from the weight of the soap inside. Removing the fat from within the board is not really an option – the board fibre is so weak it is the fat that is holding it together. The fat has also weakened the print layer, so any attempts to remove fat from the surface must be done with great care.

Added to this the bars of soap will remain in the box, so fat will continue to migrate through the board in the future. At this point, having done an initial assessment and some surface cleaning, we have decided that conserving the boxes will consist of cleaning them, and making structural repairs where possible. The soap will then return to shelving in the huts, with some barrier material to protect the shelving from that migratory fat. I'll post some more images of our little bars of cleanliness following treatment.