Herbert Ponting
Carla, Tuesday 15 April 2008
His joy is to reproduce its pictures artistically, his grief is to fail to do so. -Captain Robert Scott, 1911
Herbert Ponting began his career in photography relatively late in life. After moving from Salisbury England to California in his early twenties, he dabbled unsuccessfully in mining and fruit-farming before turning to photography. He became correspondent on the Russo-Japanese war of 1904-05, and afterwards continued to travel around Asia, exploring Burma, Korea, Java, China and India. During this time he delivered magnificently created images back to newspapers, periodical and magazines, and in 1910 released his book In Lotus-land Japan.
In 1911 Ponting joined Scott's British Terra Nova Expedition, which set out to collect scientific data about the Antarctic continent, with its main goal to reach the South Pole. Ponting was the first professional photographer on an Antarctic expedition and went on to set other precedents in Antarctica. He took some of the first still colour photographs in Antarctica using autochrome plates, and was one of the first men to use a cinematograph to capture short video sequences on the ice.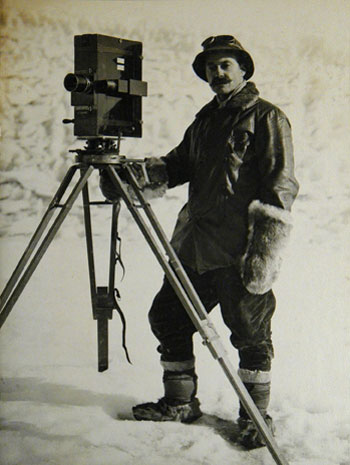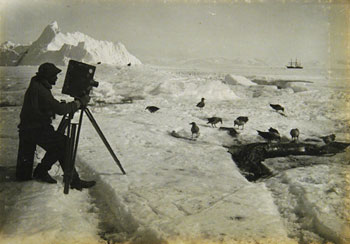 Coining the term to 'pont', meaning 'to pose until nearly frozen, in all sorts of uncomfortable positions', Ponting thought it imperative to get the picture just right. On the expedition he could often be found rigging up a device to allow himself to suspend from the ship, sometimes creating risky situations for himself and other crewmates.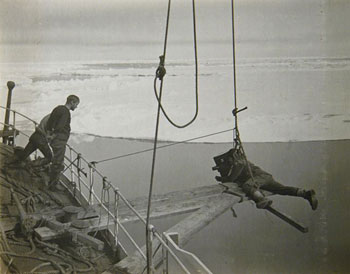 During his fourteen months at Cape Evans he documented the Antarctic landscape, wildlife and expedition life, and often kept the men entertained by showing lantern slides of his travels through Asia.
Judged too old at the age of forty-two to sustain another gruelling year on the ice, Ponting, along with eight other men, was sent home after the first year of the expedition. Back in England he was devastated to learn of the deaths of Scott and the Polar Party. He spent the remainder of his life lecturing on Antarctica and the expedition to ensure that the splendour of Antarctica and the heroism of Scott and his men would not be forgotten. His book The Great White South was published in 1921, and in 1933 his moving footage in full sound version Ninety Degrees South: With Scott to The Antarctic was released.
Herbert Ponting brought an artistic eye to this cold and harsh continent, creating images that would greatly influence another photographer, Frank Hurley of Shackleton's Endurance Expedition, who we will meet in my next blog.