Archive for the 'Scott Base' Category
Trivia night
George, Tuesday, May 4th, 2010
Temperature: -19°C
Wind Speed: -15°C
Temp with wind chill: -34°C
Sunrise: Sometime in August
Sunset: Last Sunday
Q1. What was the name of the vessel which Shackleton sailed to South Georgia?
Q2. Which animal has a den called a holt?
Q3. In the Asterix and Obelix cartoon series, what was the name of the druid?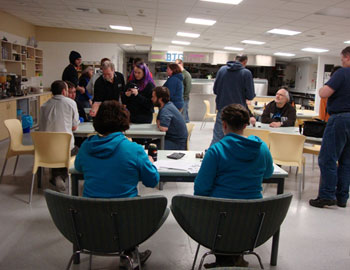 Last night we saw our dining room at Scott Base (New Zealand's science base in the Ross Sea region of Antarctica) transformed into a gaming hall, as we all settled down to a hard-fighting game of trivia. Proceedings were led by Sandy, our base domestic, who was the quiz master for the evening, and aided by Jane, who put together the questions to tax our memories and baffle our brains.
Battling for trivial supremacy were two Scott Base teams; the girls on one side, the boys on the other, and a further 5 teams from McMurdo Base, (the United States science base over the hill from Scott Base). On our team, representing the Antarctic Heritage Trust, were Nicola, Mindy and I, alongside Bobbie our chef.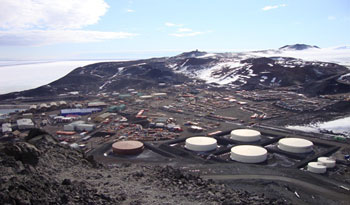 Scott Base has always enjoyed a close and genial relationship with its American neighbours, and especially now that the sun is down (and movement outside is becoming restricted), these sorts of group events are becoming all the more important.
Whether we lacked the mental edge or simply the competitive spirit, both Scott Base teams managed to finish last - with the girls just coming out in front. Fun was had by all, and as the Americans celebrated their wins, our team contented themselves with consolation prizes of crisps and chocolate.
A1. The James Caird
A2. The otter
A3. Getafix
The Antarctic winter is upon us…
Jane, Monday, April 26th, 2010
Temperature: -26°C
Wind Speed: 30 knots
Temp with wind chill: -56°C
Sunrise: 11.06am
Sunset: 2.36pm
It's over two months since the winter team of conservators arrived in Antarctica to 24 hour day-light, blue skies and temperatures just below zero, but how quickly things have changed. In the last week it has really felt like winter has finally arrived.
The most obvious indicator is that it's no longer light when we get up in the morning, and we are really noticing the darkness encroaching on our days. In the last week sunrise has moved forward an hour from 9.58am to 11.06am and sunset from 3.58pm to 2.37pm. Saturday will be our last sunrise until 19th August!
We now watch with interest the wind dials and temperature gauge in the dining room as the temperatures drop – the lowest so far is -36.7°C on a beautiful clear still day – and we've begun to recognise the precursors of a good storm. The temperature steadily climbs to around -14°C and the wind veers around until it is coming directly from the south, then the wind speed climbs until it's howling. Scott Base begins to rattle and the view is blotted out by snow. The tiny light flakes of ice snake around in currents so you can see the paths the wind takes, up and around the buildings, before settling in sculptural drifts.
With the snow, the base is beginning to look whiter as the drifts accumulate, although as the snow is so light some drifts are quite transient and disappear with the next wind.
We are all looking forward to experiencing the extreme weather of the Antarctic winter and just a little apprehensive of the seemingly eternal night that begins on Saturday!
Camera! Ice! Action!
Nicola, Thursday, April 22nd, 2010
Temperature: -24°C
Wind Speed: 0
Temp with wind chill: 24°C
Sunrise: 10.40am
Sunset: 3.03pm
On Saturday, we became actors and extras for a day as Antarctica New Zealand's Scott Base was turned into a film set of epic proportion.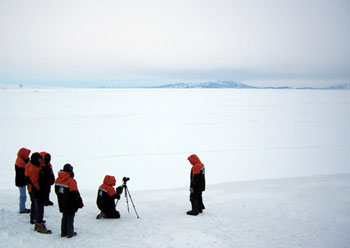 A couple of weeks ago we were asked if we would contribute to the making of a film for the New Zealand 48 Hour Film Festival, when teams put together a short film from start to finish over a weekend. One team was pulling together snippets of film from New Zealanders around the world; from Vanuatu and Vancouver to India and Everest; so on Saturday morning we met in the dining room to find out what our part in the drama would be. The theme – what we would do if the world was to end in 7 minutes; the scene – wandering together onto the ice to watch the final destruction.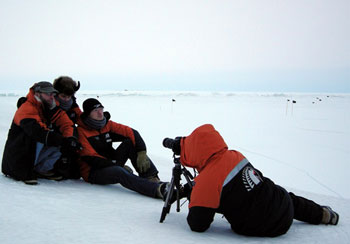 With Tom as cameraman and producer, and onions to hand, we all donned cold weather gear and spent a couple of hours crying, falling to the ice and hugging, then warming up with mugs of tea before doing it again.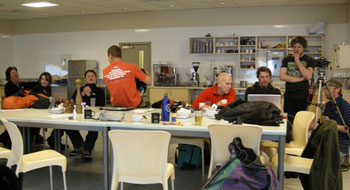 We edited our sprawling footage to a final cut of 20 seconds, then sorted how to send it to New Zealand through our limited internet link. Now we're just waiting to see if our Oscar-winning performances have fallen to the cutting room floor or helped to win the competition.
Illusions on the ice field
George, Monday, April 19th, 2010
Sunrise: 9.48am
Sunset: 3.58pm
A fortnight ago I saw some people looking out of the lounge window of Scott Base, New Zealand's Antarctic base. Given the spectacular views, this is not unusual. However, this time when I followed their gaze I saw something pretty peculiar. The usual view of Black Island and White Island was strangely different. A long strip of new 'land mass' had settled at their base, with a discernable boundary above and below, and it extended right along the horizon.
Pegasus Air Strip, which can usually only be observed as small dots in the distance on a clear day, towered high and wide, as though brought many miles forward across the ice field. What we were seeing was an immense superior mirage.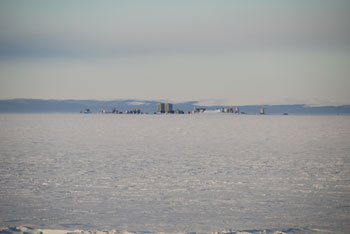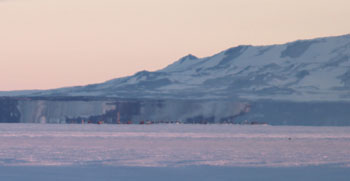 The temperature had taken a sudden and dramatic dip from the minus twenties to minus 30. The following week we saw a mirage almost everyday. Sometimes it was a smooth, stable magnified image, or else a distorted mixture of topsy-turvy pictures mirrored along the horizontal axis creating dazzling long symmetrical patterns.
Superior mirages occur due to temperature inversion, when the air below the line of sight is colder than that above and are common in polar regions. The refractive difference between bands of cold and warmer air acts as a lens, bringing forward objects on or beyond the horizon, making them appear larger - an optical effect much like looking through a glass of water. Turbulence in air density may also cause a mirage to dance and change rapidly, a kind known rather poetically as a Fata Morgana, named after the magical shape-shifting sister of King Arthur; but we have yet to see this type.
With the long nights rapidly drawing in, these spectacular displays will soon be invisible to us – but then the Aurora Australis should keep us distracted!
The history of our home
Nicola, Monday, April 12th, 2010
Temperature: -13°C
Wind Speed: 30 knots
Condition 2 - Storm blowing from the south with low visibility
Temperature with wind chill: -45°C
Sunrise: 8.41 am
Sunset: 5.08 pm
Working so closely with artefacts from the Heroic Age of Antarctic Exploration (1895-1917) it's easy to forget that history continued after the expeditions led by Captain Scott and Sir Ernest Shackleton left the Ice. To remind us we have a small museum in one of the original Scott Base buildings that tells the story of New Zealand's involvement in Antarctic exploration and research.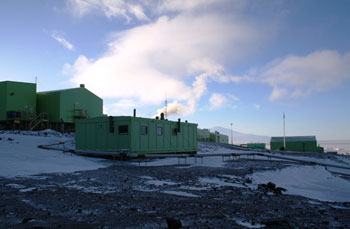 Scott Base was originally established in 1957 for scientists working as part of International Geophysical Year (IGY), and as a support base for the Trans-Antarctic Expedition (TAE) lead jointly by Vivian Fuchs and Sir Edmund Hillary.
There were 6 buildings, 4 from Australia clad in aluminium alloy sheeting and 2 heavier buildings from New Zealand constructed from timber and plywood, all linked together by corrugated iron walkways. Originally they were painted orange, yellow and red but in 1965 were re-painted the pale green that is now so characteristic of the base.
Most of the buildings have since been replaced but the central 'A' hut (now known as the TAE hut) has been preserved as a historic monument with artefacts left by the first expedition and subsequent scientific projects. It was used as the kitchen, mess and radio room, and inside it retains its original layout with patterned carpet and Formica tables in the main room and the range cooker, meat slicer, toasty pie makers and supplies in the kitchen.
During the summer it's used as a quiet place to relax but now that the heating has been turned off for the winter we only visit it briefly to remind us of the history of our home.
In partnership with
Blog search