Archive for the 'Cape Royds' Category
Almost there!
Antonia, Thursday, January 22nd, 2009
Since Mindy did the introduction I thought I would do the wrap-up from Christchurch. Although we have a few more weeks of work at the Museum this will be our last blog until we make it to the Deep South.
During our time conserving the Reserve Collection we have worked on a wide variety of objects. One thing I can say is that the Antarctic explorers did not want for much, and we have examples of most of it within the collection. Here is just a taste of some of the objects we have worked on.
The every day
Many of the objects are mundane ones that we still use today.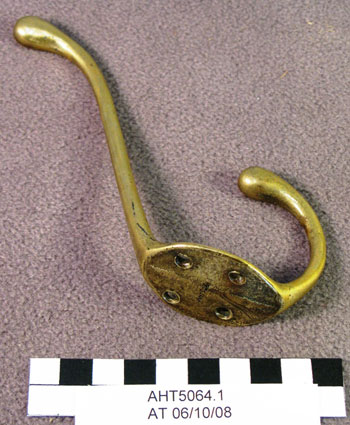 Eating and drinking
An important part of everyone's day, the adventurers in Antarctica were no exception, with a large proportion of the collection linked to the preparation or consumption of food.
Food
We cannot, of course, forget the food itself, which makes up such a considerable proportion of the collection, in its various forms.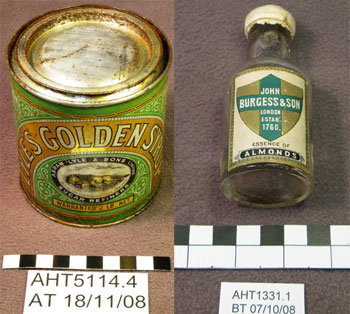 Transportation
Both Shackleton and Scott were ahead of their times with regards to motorised transportation. Unfortunately it wasn't generally very successful!
Some of the most interesting objects I worked on were the car-skis from the Arrol-Johnston motor car taken to the ice on the Nimrod expedition - the first time a motor car was tested in Antarctica. The car was purpose-built for the expedition by the Arrol-Johnston company of Paisley, Scotland. Great things were expected of it but unfortunately the car under-performed. Problems included the petrol engine seizing up, as it had not been tested in extreme cold, and inability to achieve any traction in the snow.
The idea was that the car would travel as far as it could and then the cargo would be man-hauled the remainder of the way while it returned to the base or ship. It became more useful when it was fitted with skis under its front wheels. With the skis and a utility tray on the rear, it transported loads from the Nimrod over the sea ice and travelled as far as the Erebus Glacier Tongue, managing to fall into a crevasse along the way.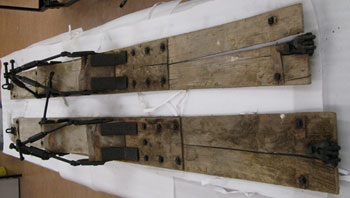 The time we have spent at the Museum has been a wonderful opportunity to become familiar with the objects that we will be working with on the Ice and I cannot thank the staff enough for all their help. I would particularly like to mention Natalie Cadenhead, for her assistance with information about all things Antarctic, Kate McCaughan for keeping us on the straight and narrow with the Vernon database, and Lou Duncan for the provisions.
I look forward to getting in touch again from the frozen south!
Mystery coin!
Antonia, Monday, December 15th, 2008
Working with archaeological objects I am used to the odd surprise, when cleaning an object, but I never expected to find one in the Antarctic collection. A 'coin' was found in 1996 on the shore of Pony Lake, close to Shackleton's hut at Cape Royds.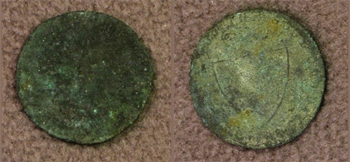 I started cleaning what I thought would probably be a Victorian penny, so imagine my surprise when I saw George III!
This may not seem particularly strange in itself, until you consider that James Clark Ross's expedition was the first to reach the Ross Sea in 1839, Shackleton's hut was not set up until 1907, and the token is dated 1768.
So the question is, how does a 1768 gaming token end up in a part of the world not discovered until 1839? Was it part of a set brought along to while away the hours, or was it someone's lucky charm? Does it perhaps suggest that someone beat Ross to the Ross Sea? I felt this required further investigation.
My first port of call was Natalie Cadenhead, the Canterbury Museum Antarctic Curator, who provided me with the dates mentioned above. Natalie advised me to contact senior curator Jennifer Quérée, who is the resident expert in numismatics (the study of medals, coins and currency items). Jennifer's conclusion were…
'The jeton imitates the so-called "spade" gold guinea first minted in 1787 and last minted in 1799, and is one of a number of similar tokens. The "In Memory of the Good Old Days" jeton seems to have been very popular and turns up all over the world, as a quick search of eBay and numismatics websites reveals - South Africa, Canada, the United States, Holland, and now Antarctica, probably the most remote and unlikely place ever.
The reverse, the side showing the crowned spade-shaped shield, has the legend "In Memory of the Good Old Days 1768″, rather than the coin legend M B F ET H REX F D B ET L D S R I A T ET E around the rim; (date) at bottom. The jeton legend perhaps refers to the days when George III was sane - or maybe to the days before the loss of the American Colonies - or maybe it even records the year that James Cook left England on his first voyage of exploration in the Pacific.
Clearly, the date on the jeton pre-dates the first minting of the real guinea, and together with the base metal content (copper or brass) and the legend, as well as its much reduced weight, shows that it was never intended to be mistaken for a genuine coin of the realm. These jetons were probably produced in the early to mid 19th century as gaming counters, and were often sold with packs of cards. They later became popular as watch fob decorations. This one has probably been kept as some sort of lucky token, perhaps a souvenir of a card-playing forebear!'
So I guess that puts paid to my hopes that I may have altered Antarctic history with a single object. Better luck next time!
Restoring Cape Royds
Jana, Friday, December 5th, 2008
After spending two months conserving artefacts at Scott Base, it was a treat to finally be able to put them back into their original locations in the historic huts, which is exactly what we spent last week doing at Shackleton's hut at Cape Royds.
This being Antarctica though, nothing is ever quite as simple as it sounds. Before we could start to unpack and repopulate the artefacts that we and last winter's team had conserved, we first had to hand-carry the three dozen bins full of objects down a steep, rocky slope just to get them to the hut. Once all of the artefacts were actually inside the building, we were able to begin unwrapping them. At this point we also double-checked each one to make sure that it had been labeled and entered into our cataloguing system.
The unwrapping part was a bit like a conservator's Christmas, and I must admit that we were almost giddy as we opened the boxes and poked around to see what might be hiding amidst all the bubble wrap and tissue paper. Of course, it was a bit awkward untying knots and peeling tape off packaging while wearing two layers of gloves, but that and our cold toes are just part of working outside down here, and we get more and more used to it with each day that we spend in the huts.
Once all of the artefacts had been unpacked, it was time to put them back onto their designated shelves, bunks, and boxes, and it was more than satisfying to see them all back in their original context, looking as though they had never left.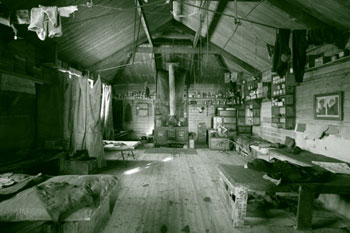 Now that almost all of the artefacts at Cape Royds have been treated and replaced, the hut looks more alive than ever. Every tin, tool and textile that has been put back has added yet another aspect of atmosphere to the hut.
Otters in Antarctica?!
Anna, Monday, December 1st, 2008
Camping out for fieldwork in Antarctica, you expect isolation, inexpressible silence, ice, maybe a penguin or two. So a Twin Otter landing on the sea ice beside your camp is slightly surreal.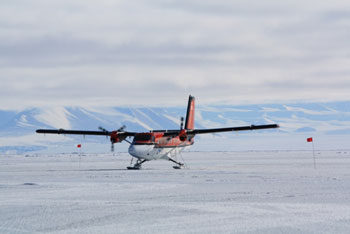 What was it doing there? Well, three of the descendents of Shackleton, Adams and Wild are following in the snowy footsteps of their forebears by walking unsupported from Shackleton's hut at Cape Royds to the South Pole, complete with Shackleton's own compass! They are part of the Shackleton Foundation, a trust which makes grants towards projects which reflect the inspirational leadership, values and spirit of Shackleton.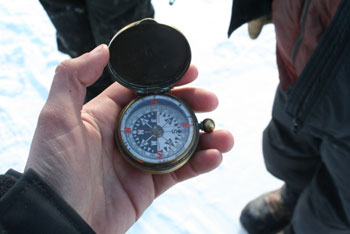 The adventurers wanted us there while they looked at the hut where their predecessors had lived, but when they arrived at Cape Royds to begin their long walk, we had already moved camp to Cape Evans.
Without a Hagglund or Skidoo of our own, it seemed that we would be unable to return to Cape Royds, but one satellite phone call and 10 minutes later the Twin Otter which they used to fly to Antarctica in arrives at our camp. Unexpected indeed!
Taking off and landing on the sea ice was astounding, and made a significantly more interesting trip than travelling by Hagglund (not to impugn our faithful old Hagglunds!) Seeing both capes from the sky, with Mt Erebus looming over them, was a fantastic experience for all of us!
And so they begin their challenging 10 week journey towards the pole, and we wish them sunny skies, smooth snow, and every success.
Cape Royds Moving Company Ltd
Lizzie, Thursday, November 27th, 2008
This year, our camp at Cape Royds is on the sea ice at Backdoor Bay. The ice is very thick here – around 2 metres. We camp here because it's the closest flat spot that the bulldozer can tow our little township to (4 conservators, 2 living wannigans, 2 polar tents and a shipping container that holds all our equipment and artefacts). And it'd be a perfect spot too were it not for the fact that Shackleton's hut is some way up and over a hill. A hill over which 203 large, heavy boxes need to be carried.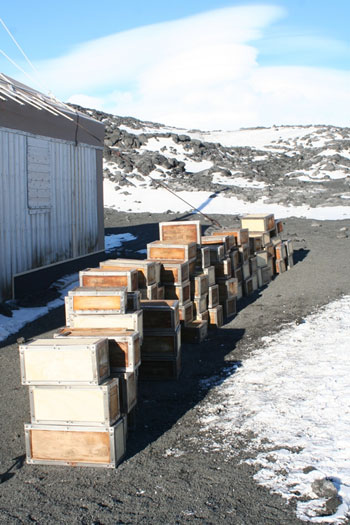 Why don't we fly them in? Or drive them door to door? It's because of the ASPA. Cape Royds is one of the many areas in Antarctica designated an ASPA, or Antarctic Specially Protected Area. There are 2 ASPAs at Cape Royds. Area number 121 surrounds the Adelie penguin colony, and adjoining it is area number 157 which protects Shackleton's hut and the surrounding area. Helicopter overflights are prohibited, as is vehicular access, and the number of humans allowed in each area is limited to 40.
Compared to the 2000+ boxes Shackleton and his men offloaded, 203 is a paltry number. But try telling that to my aching muscles after two days of lugging boxes through the snow. Thank goodness we are able to use a quad bike and sled to take them up the worst of the hill to the edge of the ASPA. And hurrah for Miles and Dave (the carpenters) at Scott base who rigged up these natty carrying stretchers - this season's must have for the polar conservator.
In partnership with
Blog search