Archive for the 'Cape Royds' Category
Homes from home
Lucy, Thursday, October 15th, 2009
Weather: clear blue skies; -18 degrees C; less than 10 knots of wind.
When I first looked at a map of Ross Island, Antarctica, I was surprised to see that the historic huts of Captain Scott and Sir Ernest Shackleton at Cape Evans and Cape Royds are only about 5 kilometres apart. They are both built by the seashore of McMurdo Sound, convenient locations for the expedition members when they were off-loading the ships. For us living at Scott Base (New Zealand's science base) the huts can be easily visited in a day by hagglund (an all terrain vehicle) - provided the sea ice is thick and strong enough to drive across.
Last weekend we took a trip to see the historic huts. It was a visit which both Fran and I have been looking forward to impatiently since arriving.
I have seen so many photos of the huts that when the time came to visit them I had the impresion they might seem somehow familiar. In reality, the huts and settings are quite different from expected.
Shackleton's 1908 hut at Cape Royds is smaller, more sheltered and much cosier than I ever thought possible in Antarctica. Whereas the hut at Cape Evans, built by Captain Scott in 1911, is much larger and the outlook is more open than the impression I had from the photographs. Standing in front of the hut, the vista is wide open, over the Ross Sea towards the Royal Society mountain range and Mount Erebus (the southernmost active volcano) towers behind.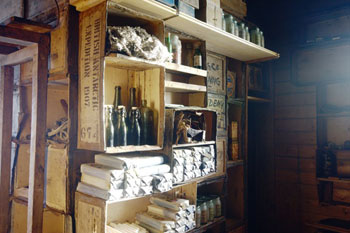 Inside Scott's hut it is quite messy, which gave the slightly eerie feeling that the survivors of the expeditions were in such a hurry to leave Antarctica on their ship, the Terra Nova, that they didn't have a chance to tidy up. Shackleton's hut at Cape Royds on the other hand is much more orderly and still feels almost lived in.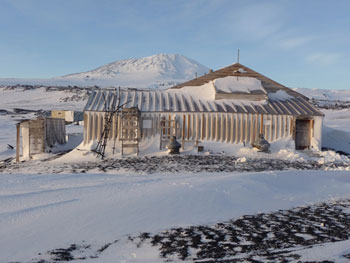 I don't know which of the 2 huts I like the best at the moment but I am sure that after living at both for 3 months, by the end of the summer I will have made up my mind.
Inspection trip to Discovery Hut
Antonia, Wednesday, July 22nd, 2009
Weather on day of visit: -28°C; wind 10 Knots: clear sky & full moon
With the end of the Antarctic winter drawing near we recently had to undertake an inspection trip to Discovery Hut to see how it is holding up to the wind and weather.
Discovery Hut was originally designed to be the expedition base for Commander Robert Falcon Scott's National Antarctic Expedition (1901 – 04). But in the end the team decided to stay on the ship as the hut was too difficult to heat.
We chose a beautifully still, moonlit day for our visit and it gave us a great idea of what the building would have felt like for those who stayed in it during those long cold winters early last century. Now I can quite see why they chose to stay on the ship, as the temperature in the hut during our visit was only 2°C warmer than that outside!
Because the hut was so cold it was only used by the expeditions for scientific observations, drying equipment, repairs and as an entertainment venue.
Discovery Hut is often seen as the poor relation to Captain Scott's second base at Cape Evans (associated with his 1910 expedition) and Sir Ernest Shackleton's base at Cape Royds (associated with his 1907 expedition) as it holds so many fewer artefacts, but historically speaking it is probably the most significant of the 3.
While spurned by Scott's first expedition it was later found to be a very welcome refuge by both Scott and Shackleton's subsequent expeditions when the sea ice conditions kept them from returning to their main bases.
It is a privilege to be, in some small part, responsible for the maintenance of such a historically important structure and its contents.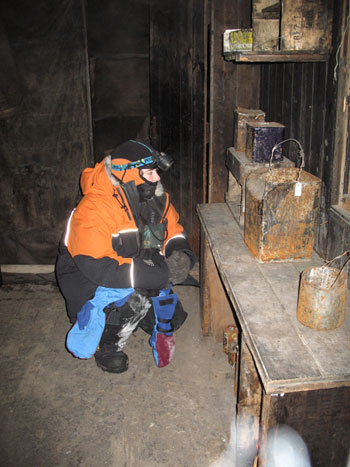 A little light reading
Becky, Thursday, July 16th, 2009
Weather: Temperature -28C, wind 5 knots, light cloud over a full moon
In his book 'The Worst Journey in the World' (see note below) Apsley Cherry-Garrard writes about how important books were to the men of the British Antarctic Expedition (1910-13), saying 'Most of us managed to find room in our personal gear when sledging for some book which did not weigh much and yet would last.'
I've been working on 2 books from Scott's hut at Cape Evans, cleaning and repairing them. One's standard size, but the other's really tiny.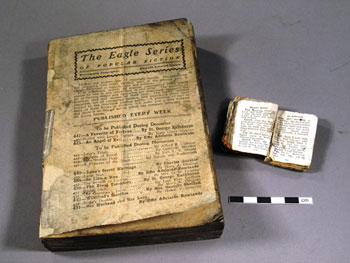 It's a copy of Shakespeare's 'The Merry Wives of Windsor', only 4cm high and printed on very thin paper. This book hardly weighs anything so it would have been ideal to take sledging, and it's one of several that size found at Cape Evans.
Reading was an important activity when the party was at their base, Cape Evans, as well as when they were on the move. There was a wide range of scientific books on hand to assist with their studies as well as books of history, poetry and literature. Ponting took a great photograph of Scott surrounded by his books, their leather bindings shining.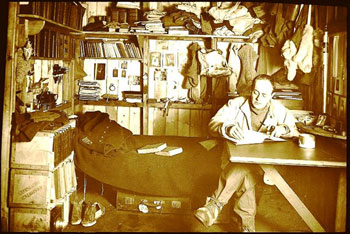 It wasn't all seriousness though – I was amused to find that the paperback shown above is a decidedly light romance. But then as Cherry says '…you often want the book you read for half an hour before you go to sleep at Winter Quarters to take you into the frivolous fripperies of modern social life…when its charms are so remote as to be entirely tantalizing.'
So I suppose we shouldn't be surprised when the blokes here are sometimes caught reading our modern day gossip mags!

The Worst Journey in the World
Previously ranked by National Geographic as the number 1 adventure book of all time, 'The Worst Journey in the World' is the incredible story of 3 members of Captain Scott's expedition (Dr Edward Wilson, Henry Bowers and Apsley Cherry-Garrard) who set out on a mid-winter journey to collect Emperor Penguin eggs in the name of science (they were hoping to establish whether an evolutionary link existed between birds and reptiles).
It's an epic tale of 24 hour darkness and temperatures so cold their teeth cracked. They survived the loss of their tent by huddling in a roofless rock igloo. Miraculously they found the tent and returned to Cape Evans, virtually unrecognisable after their ordeal.
Fiona
First trip to Discovery Hut
Antonia, Friday, May 29th, 2009
Weather on day of visit: -15°C; wind 10 Knots; some cloud
Weather today: -33°C; wind 5-10 Knots; pitch black!
I was recently asked to give a talk to the Americans based over the hill at McMurdo Station (40 minutes walk from Scott Base) about the Trust, the Ross Sea Heritage Restoration Project and what we have been up to out here.
This got me thinking back to those halcyon days when we still had sunshine, and to our first trip to the hut associated with Captain Scott's 1901-04 expedition.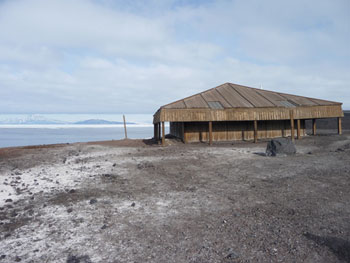 It was such a thrill to finally see the setting for some of the objects Mindy and I had been working on for the past 6 months back in Christchurch, New Zealand. And it gave us an idea of the type of environment the material had come from that the 4 of us would be working on for the next 6 months.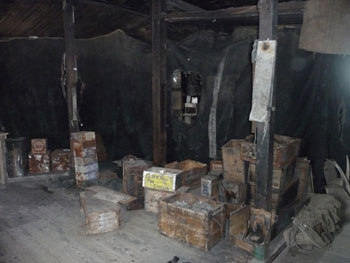 We finally had a chance to experience the magic of the location and the feeling of history associated with the huts in February. It is impossible to describe the effect that the sights and smells have on your senses, and how they help to take you back in time. I can only describe it as incredible, and I can't wait to visit Captain Scott's second base at Cape Evans (associated with his 1910-13 expedition) and visit Sir Ernest Shackleton's base at Cape Royds (associated with his 1907-09 expedition). The visit to Cape Evans will be of particular interest, since that is where the objects we are currently working on have come from.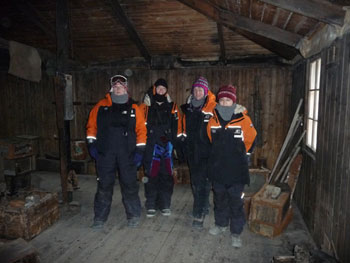 Ciao for now
Anna, Thursday, February 12th, 2009
The time has come to say farewell to our surrogate icy continent, and head back to warmer climes. Yup, our 6 months have flown past, and we are now in our final week here in Antarctica, in a hurricane of paperwork, ECWs and teary farewells as we try to tie up our work, pack our gear and welcome the new winter conservators soon to hit our frozen shores.
Our last stint in the field has been extremely successful, and Jana and I are well chuffed with the work we were able to get done out there the past month: conserving the Wardroom stove and flues, the fodder bales, cataloguing all the new artefacts that were uncovered, treating a large whack of artefacts - the list goes on!
Now we depart with a hoard of memories - penguins talking outside our tents all night, the sound of the ice floes crunching against each other with the waves on the beach, the smell of the seals tanning themselves on the shore - such a beautiful bonus to our work.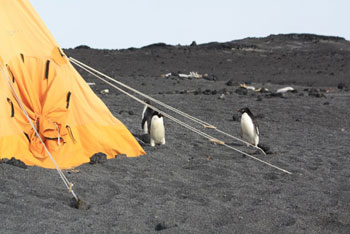 But by far the most important memory we will be taking is the magnificent experience of having the honour of working on the huts, being given the opportunity to camp at Cape Evans and Royds and experience the spirit of the sites while working, and having the supreme privilege of treating those artefacts that the explorers left behind, that we now appreciate as a memento of their adventures.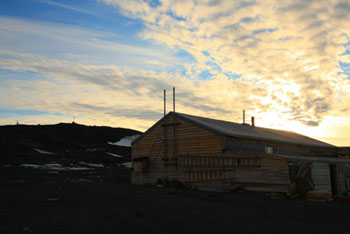 We hope you all continue to follow the adventures of our new winter conservators once they get on the ice! Ciao for now!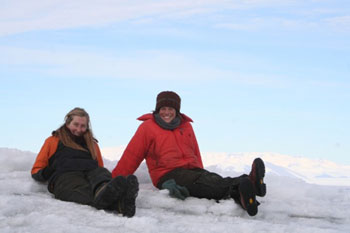 In partnership with
Blog search