Archive for the 'Environment' Category
Earth Hour at Scott Base
George, Friday, April 9th, 2010
Temperature: -21.3°C
Wind Speed: 6 knots
Temp with wind chill: -27°C
Sunrise: 8:56am
Sunset: 6.56pm
No Lights! No Music! No Action!
Last Saturday night the whole of Scott Base was plunged into darkness – lights switched off, music stopped playing and computers shut down. In fact everything but the most essential electrics (namely heating) were powered down as we all participated in Earth Hour (8.30-9.30pm).
Earth Hour is a global sustainability initiative to raise awareness of climate change. For the last 2 years Scott Base has taken part, and so we were keen to do the same again.
While some of the winter team were at McMurdo Station (the United States Antarctic Science Base) those of us on Fire crew duty stayed at Scott Base to observe Earth Hour. To prepare, we ran around the base switching things off, then pulled tables and chairs together in the bar so that we could all sit with one another. Bobbie our chef had made snacks and nibbles, and so we all tucked in as we chatted and told stories. Later we made a group dash outside for a photo by the Scott Base sign, and brrrrrrrr… was it cold on our faces! We managed about 2 shots on time-lapse, then scrambled back indoors.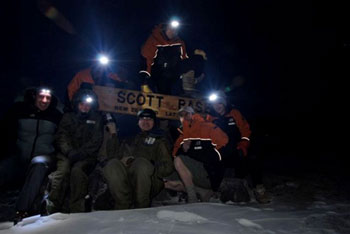 I have to say that sitting around in the dark on an evening– wearing a head torch in case of emergency - is not my usual idea of weekend fun. But in fact the evening proved so enjoyable that we continued an 'unofficial' Earth Hour until it was time for bed.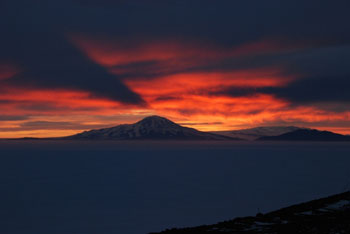 The Sea Ice Guys
Mindy, Thursday, June 11th, 2009
Weather Today: -19°C and 15 knot winds (SSE) = wind chill temperature of -35°C, cloudy
On Wednesday morning a few weeks back, I hopped in a Hagglund (an all terrain vehicle) with Andy, Alex and Brian. We were on our way out to study the sea ice in McMurdo Sound, driving 4 or 5 km from Scott Base to a little container that serves as a field base.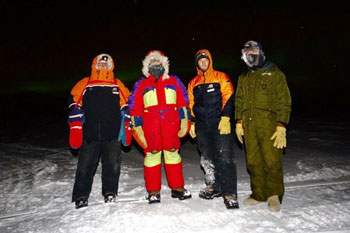 Alex and Andy are affectionately known as 'the Sea Ice Guys', and Brian is their Antarctica New Zealand field support person. They're spending the Antarctic winter studying the growth of sea ice along the shores of Ross Island. More specifically, they want to know how the nearby Ross Ice Shelf impacts on this process and how it affects / is affected by climate. So, we spent 28 hours raising and lowering a 'gizmo' at regular intervals into the sea (down to 575 m) to measure the salinity (salt content) and temperature of the water.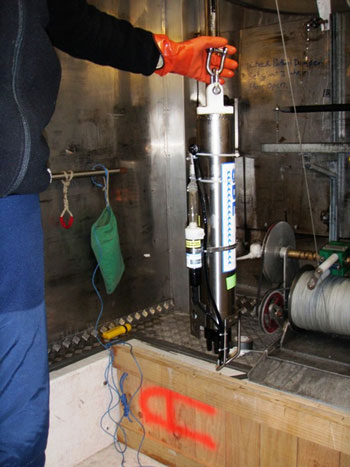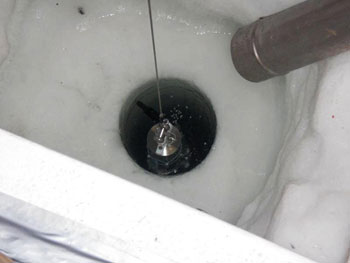 After a crash course from Alex in measuring ice thickness (including digging super-hard snow and using a giant long drill), we joined Andy and Brian in the container. With sheltered access to a hole drilled in the sea ice, we took turns in pairs to monitor the CTD (conductivity, temperature and depth instrument).
On duty until 4 am, Alex and I ran the CTD, chatted, read, checked on generators, and watched for 'sea beasties' in the hole. Off the clock, a sleeping container provided a warm place to catch some 'zzzzz'. At the end of the study, we carefully repacked the Hagglund and headed back to Scott Base, where Alex and Andy will begin to process files and files of data.
The Sea Ice Guys are doing really important work, and I'm pretty happy I've had a chance to help them out. They're continuing a long tradition of Antarctic scientific study. E. W. Nelson, C. S. Wright and R. E. Priestly (scientists associated with Captain Scott's 1910 – 14 expedition) all attempted to conduct similar studies, without having any equipment as sophisticated as the CTD. I bet they would have loved to have the cosy little container too…
Life on the High Seas
Anna, Thursday, January 29th, 2009
I never believed the stories about people working in Antarctica in just a t-shirt- bah! People just love to exaggerate. But here we are, sweating away in t shirts. The weather has been fine, fine, fine, with temperatures up to +5°C - a veritable sauna after the -40°C days we had in September.
And along with the sunny tropical heat comes the change in tide. The sea ice has been closed for a month now, and after being helicoptered out here to Captain Scott's base at Cape Evans, we found that the sea ice was all still in place. It seemed like it was still solid. But we all know appearances can be deceptive.
Although the sea ice is still there, it is slowly thawing out and disintegrating from within. It looks so solid, but dark patches have been appearing out there. And finally, it is starting to happen. We had a slightly brawny breeze yesterday, and poof!! Those dark patches have suddenly become dark sea, and the ice is starting to blow out!
It is vaguely surreal to see the ocean after seeing nothing but snow and ice for so long. Even eerier is watching the pancake ice roving lazily back and forth against the shore with the tide. It is hard to believe that the waves travel for so many miles under the sea ice to lap against the Cape Evans shore.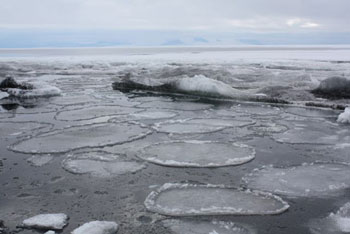 Now we are just waiting for the liberated bergs to begin their drift, and the orca and leopard seals to start their hunting in the open ocean.
A Day in the Life (Part 1)
Anna, Saturday, October 18th, 2008
For today's blog, we thought we'd give you a snapshot look at a typical work day for the conservators here at Scott Base:
7.30 a.m. Roll out of bed and head to the kitchen to join the rest of the bleary-eyed base staff for coffee and breakfast.
8:02 a.m. An energetic start to the day's work- shovelling snow to get into our lab before we can start the days' conservation treatment and documentation.
9:45 a.m. We cart our empty containers of reverse osmosis water and full container of 'grey water' back to base, empty the 'grey water', fill up the fresh containers, then trudge back down to the lab.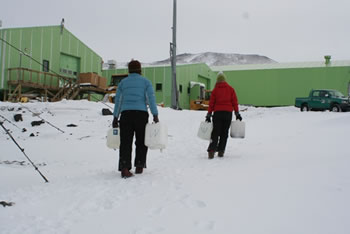 10:21 a.m. Anna opens a crate of tins to find one has corroded through and is leaking its hundred year old contents: 'Vitrol-A Preparation of Bone Marrow'. The tin is kept frozen and set aside until it is to be emptied and conserved.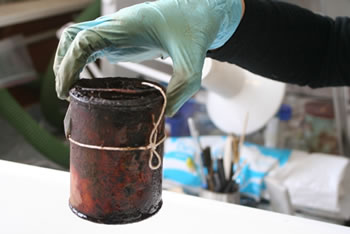 12:00 p.m. Kit up in our ECW jackets and gloves and head back to the main building for lunch.
1:30 p.m. Back in the lab, Jana is writing a condition report on a mitten and discovers a tag sewn inside with the original owner's name handwritten onto it- "F. J. Hooper".
3:14 p.m. Bundled up in all our ECW's (again!), we head out to one of our storage areas (a modified shipping container). Here, we put back a crate of finished artefacts, and grab another to take back to the lab. Pot luck will decide what sort of artefacts will be inside the new crate!
6:00 p.m. We all herd into the dining room for dinner.
7.09 p.m. Someone picks out a movie from the gargantuan movie collection to watch on the 'big screen'.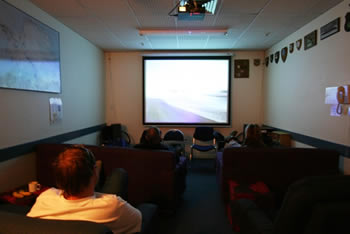 9.18 p.m. Settle down by the fire in the lounge and catch up on the next few chapters of a book.
10.45 p.m. Tuck in, and get ready to start all over again.
(Due to technical difficulties this post should have been published before the A Day in the Life Part 2 that was published on 21 October)
Stars and satellites
Carla, Monday, July 7th, 2008
This week we went on a familiarization trip to the Black Island Satellite station. This is the first trip we have been on since early May when we camped out on White Island. Black Island lies south from Scott Base across the frozen sea ice, one of the mountainous land masses we see when we stand at the edge of Ross Island.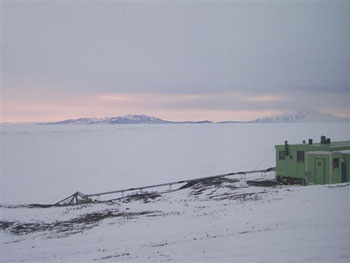 While three full-time staff stay at this station during the summer months, during winter the base is unoccupied but routinely visited every month or so for maintenance. We were the lucky six from Scott Base that got to accompany the four McMurdo staff on their maintenance trip. This was a chance for us to get off base and refresh ourselves with a different surrounding, but most importantly it was an opportunity to glimpse some of the landscape we haven't yet seen. At 8am Tuesday morning we set off across the ice, six of us in a Hagglund, and the Americans in two Piston Bullies. Within two hours of slow movement across the ice and bumpy Black Island road we arrived at the station.
The Black Island Satellite Station was built in the early 1980s as an HF radio site, to which satellite equipment was added in the mid-90s. This station provides all off-continent communications for McMurdo, all phone calls, internet and data. The station is located all the way out on Black Island because Mt Erebus blocks a large part of the northern sky line, and therefore many satellite transmissions from Ross Island. From here (Black Island) about 10 or more satellites can be seen, as opposed to only three from Arrival Heights, the hill between McMurdo and Scott Base.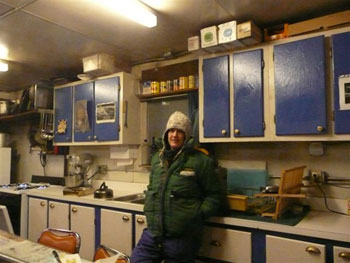 Although we were set to sleep inside a building instead of in a tent, I quickly reminded myself where I was, that it was -30ºC and pitch black darkness, and that nothing comes easy in an Antarctic winter. Instead of digging snow and erecting polar tents, we shovelled out our snow-infested bunk house with an attempt to create a warm and dry place for us to sleep. Before the stove could be started Dom and Martin had to dismantle it and take frozen parts into the Hagglund to defrost.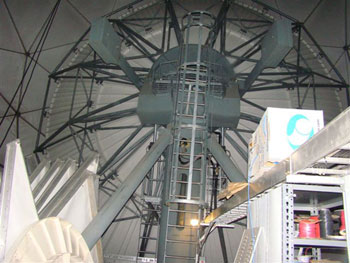 Staying at the satellite station was luxury though, compared to cooking outside and sleeping in polar tents. The station has a fully-equipped kitchen and lounge area, toilet and shower. Off the main building and connected by hallways is the generator room and a link to the inside of the satellite dome. This particular satellite was not currently operating so we were permitted to step inside, look up and echo our voices 'hello'. In the computer area we found some equipment that had many mini televisions used to send stations to McMurdo for viewing.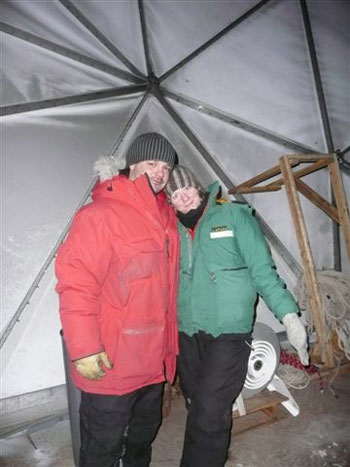 The next morning we walked out to a huge star-filled sky, perfectly clear with pale white auroras dancing all around. The constellation O' Ryan was visible in the sky, with Sirius, the brightest star in the southern sky shimmering in the north, and the Planet Jupiter shining to the south. By about noon we could see light emitted from the sun below the horizon, turning the night sky to light pink and yellow. Below the silhouette of Mt Erebus we viewed two small bright areas, our homes, McMurdo and Scott Base.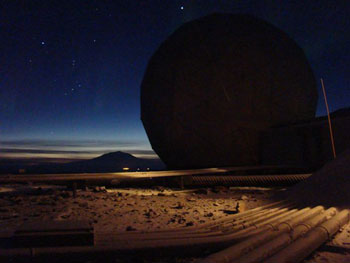 In partnership with
Blog search