Archive for the 'Royds hut' Category
Conservators collaborate
Lizzie, Monday, June 30th, 2008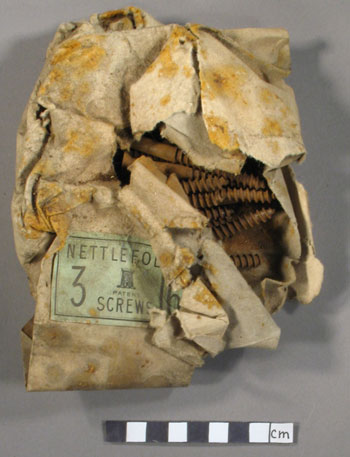 Last week Carla described working on composite artefacts, where two materials such as metal/wood form parts of the same object but require differing methods of conservation treatment. Of course, we conservators are endlessly resourceful and adaptable, so oftentimes we will move effortlessly between different material types… on our own, in the same day!!!
Every now and again though, there is an artefact that requires us to break out of our little workspaces, cross the room and collaborate on treatment with another colleague. This can be somewhat difficult after days of solitary focus, but we are professionals!
Recently Susanne and I collaborated on an artefact from Cape Royds. The first I knew of it was when she unpacked it rather gingerly from a crate and said 'Um, Lizzie… this looks like paper'. I could hear a note of fear in her metal conservator's voice. "I think it's a box of screws' she continued… not that you would have known it by the sorry little heap of rusty metal and crumpled, stained paper lying on the bench. Our challenge was twofold: the steel flat-headed wood screws were rusting and staining the paper packet and the packet itself had collapsed. A number of tears left it unable to contain the screws. We needed to halt those agents of deterioration and reform the packet into something that would create that historical link between the Nimrod expedition and the modern hut visitor.
After a short conversation, most of which for some reason Susanne conducted on her knees with a pleading expression on her face, I agreed to do most of the work and Susanne somewhat happily removed all of the screws, then set to work removing corrosion using garryflex, cleaning them with acetone, then coating them with paraloid B72 to prevent further corrosion.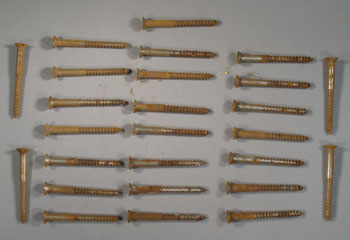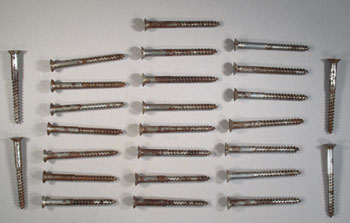 Meanwhile, the paper sat looking tragic on my bench. I donned a tweed stalker's jacket and with pipe clenched between my teeth and magnifying glass at the ready began to unravel the construction mystery of our little packet.
It turned out to consist of two layers – an inner layer of heavy brown paper, wrapped in an outer layer of slightly lighter paper with Nettlefolds label attached. No adhesive used – it was all a matter of exceedingly cunning folds and wraps. So, to work: dirt removed with a soft brush; paper humidified and gradually unfolded, but not unfolded too far lest we lose the original folds of the packet. There were large tears in numerous places, particularly at corners and across folds. These were repaired with our old favourite Japanese tissue and wheat starch paste. After looking at the hole in the top of the packet for some time, I concluded that it had probably been made with a knife or sharp instrument - deliberately so as to gain access to the screws (rather than being an accidental tear). By this stage Susanne had finished her work with the metal components (or screws, in the common parlance), so I replaced them in the packet, and reformed the paper wrapper around them. I must say we've been quite pleased with the outcome of this treatment - no more metal corrosion, a packet of screws that doesn't look as though it has been repaired, and the label, the screws and the person-made hole in the top are all visible and able to tell their story.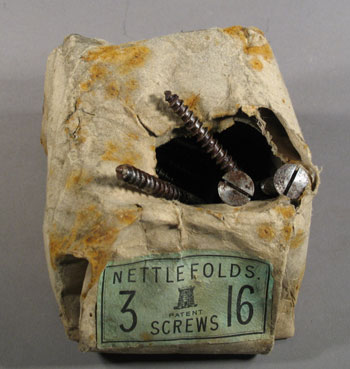 A Composite of Mysteries
Carla, Monday, June 23rd, 2008
How are the objects we use in everyday life different from those used by the early Antarctic explorers? Which objects are similar in design and composition? An array of different material types are used to make the things we use every day, but how will they look in a hundred years? There are definitely objects and equipment around this base that I'd already consider to be artefacts. Perhaps someday they will end up in a conservation lab to conserve the material history of Scott Base.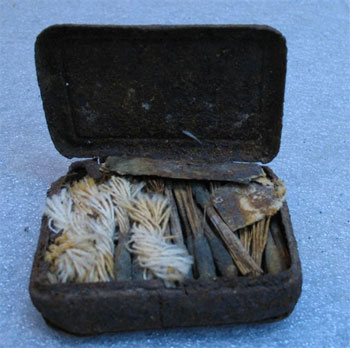 Many of the artefacts we are conserving from Shackleton's hut are composites, that is, they are made from two or more material types. These objects often provide an interesting conservation challenge as we aim to conserve the different materials. The majority of these objects are best treated by separating them into their component parts. This is only possible when they can be separated and reassembled without altering the artefact, like the match box I treated last week. Other objects cannot be taken apart and must be treated by isolating one area from the other, as is often done with tools, machinery and clothing accessories.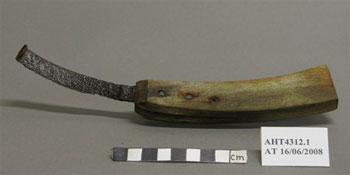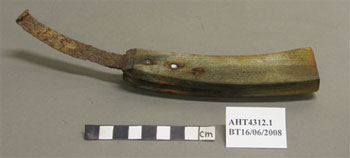 This wood and iron tool may have been used to remove dirt and debris from the hooves of ponies at Cape Royds. While the wooden handle is in good condition, the blade is badly corroding and spreading iron staining onto the wood. Like many composite artefacts, this one poses a treatment problem because the different materials cannot be separated from one another. This artefact was carefully cleaned ensuring not to remove all historically-relevant debris. Exposed areas of the blade and nails were treated and coated to help prevent future corrosion from moisture and chlorides, but there remain areas of metal that I cannot access. The bits of nail and sides of the blade that are hidden within the handle cannot be treated. Without the ability to take this object apart, these areas of metal will continue to corrode.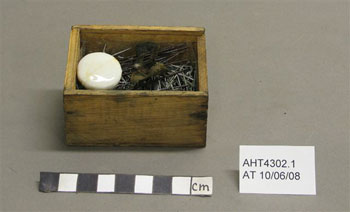 This small wooden box was an interesting artefact to document and treat. With 670 parts, an array of chemicals and adhesives were needed to treat each item. The box houses 641 metal tacks, a broken porcelain bottle stopper and 26 iron-alloy sewing needles, eight of which were pushed through a scrap of woollen fabric.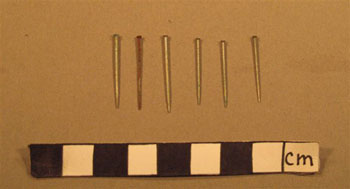 What is really interesting about this object is that of the 641 metal tacks, all are composed of a copper alloy but one, which is iron. This tack immediately stood apart from the others. Unlike its 640 similarly-shaped friends which are pale grey with a thin layer of green copper corrosion, this one is similar in appearance to the iron-alloy needles, rusty brown in colour, covered in a thin layer of iron corrosion, and magnetic. Why only one iron pin among 641? Unpacking cute little mystery boxes such as these make my job all the more fun.
Here's to you, Captain Scott!
Therese, Thursday, June 12th, 2008
The sole framed picture adorning the walls of our conservation lab here at Scott Base is one of a festive birthday party dinner in honour of Robert Falcon Scott. The picture is a copy of an image taken on June 6th 1911 at Cape Evans during the Terra Nova Expedition. Last Friday, June 6th 2008, we conservators raised a toast to Scott on what would have been his 140th birthday.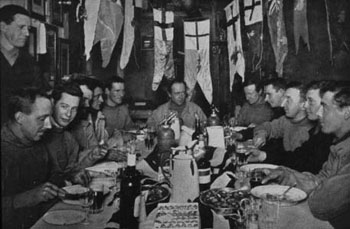 In 1911 Scott had just turned 43, and as fate turned out it was to be his last birthday. During the following Antarctic summer he, Wilson, Evans, Oates and Bowers journeyed to the pole, reaching it on 18 January 1912, only to find that they had been preceded by Roald Amundsen's Norwegian party. Sadly on the return journey Scott's expedition all died from a combination of exhaustion, hunger and extreme cold.You can tell from the photo that birthdays then were celebrated in a big way in the Antarctic, just as they are now. It's a way of making the long winter months more enjoyable, a time to bring out some special food, wine and dress up a bit.
Coincidentally on June 2nd, having finally finished the paper-based artefacts from Shackleton's Cape Royds hut (saying goodbye to the last bar of soap), we started on artefacts from the Terra Nova hut. And the first lot of items are containers of food – some of which seem quite fancy for expedition food. I imagine that perhaps it's the kind of foodstuff that would have been brought out for special occasions like this birthday celebration.
We are working on bottles of French Olives, Anchovy Paste, Savoy Sauce, Heinz Ketchup (well, ok, ketchup may not strike you as a delicacy, but speaking from experience, it is in the Antarctic!). I've tried to find some types of food that are in the picture but all that is really clear is wine and chocolates. There wasn't an excess of those kinds of specialty items left at the hut but I'm not surprised. Chocolate disappears pretty quickly around here as well; some things haven't changed in almost a hundred years.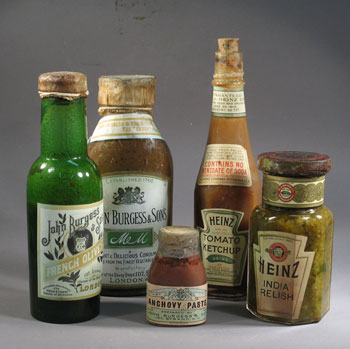 Squeaky-clean
Lizzie, Monday, May 19th, 2008
There's a strong and strangely pleasant scent in the lab this week. Readers from Australasia and the UK might recognise it instantly – Sunlight soap, and its lather-buddy Lifebuoy!
Sunlight soap was first manufactured in the Lever Bros factory in Warrington, England in 1886; later a factory was set up in Petone, New Zealand in 1919. Sunlight soap was made from copra oil, tallow, cotton oil and resin, scented with oil of citronella, whilst Lifebuoy has the unmistakeable aroma of coal tar.
These boxes of soap were found at Cape Royds, and would have been used by the men for personal hygiene in conjunction with their camp washing basins and canvas baths, and maybe also for hand washing clothes.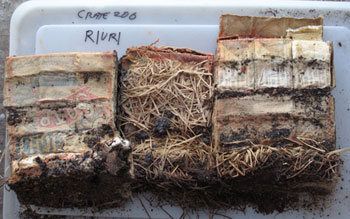 We have 24 single bars of soap, still with their tissue wrappers, and 19 boxes of soap. These pose a real challenge to me as a conservator. Over the last 100 years, fats from the soap have migrated into and through the pulp board of the boxes. In some areas on the box there are solid deposits of fat, and these also have scoria embedded in them.
On initial examination the boxes look to be in relatively good condition, with faded but clear print. However, the fat has significantly weakened the paper fibres making up the boxboard. The boxes feel greasy to the touch, and the board has split in a number of places purely from the weight of the soap inside. Removing the fat from within the board is not really an option – the board fibre is so weak it is the fat that is holding it together. The fat has also weakened the print layer, so any attempts to remove fat from the surface must be done with great care.

Added to this the bars of soap will remain in the box, so fat will continue to migrate through the board in the future. At this point, having done an initial assessment and some surface cleaning, we have decided that conserving the boxes will consist of cleaning them, and making structural repairs where possible. The soap will then return to shelving in the huts, with some barrier material to protect the shelving from that migratory fat. I'll post some more images of our little bars of cleanliness following treatment.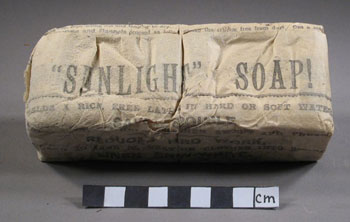 Near enough is not good enough
Carla, Thursday, May 1st, 2008
That's the inscription thought to be written by Frank Hurley, found written on the wall of the darkroom in Mawson's Hut, Cape Denison, Antarctica.
Frank Hurley of Sydney, Australia, was an adventurer in his own right who had been to Antarctica with the Australian Mawson expedition of 1911-1913. Called 'the mad photographer' by his First World War troops during his time as war photographer of the Australian Imperial Forces, he became a known story-teller and artist through photo-documentation during World War II.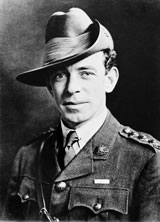 Unable to take a posed picture on an active battle field, Hurley created composite images made by layering two or three negatives together. While he saw this as exposing the true essence of the war, others felt he was constructing a false narrative for the public eye. Some of his most famous battle scenes are composites that show soldiers in active battle, and although artistically created to reveal an emotion, this was a scene he'd witnessed numerous times. After his military and Antarctic endeavours, Hurley continued travel and documentation of parts of the non-Western world that were being lost to modernism. He was a pioneer in filming documentaries, was cinematographer on many early Australian films, and later in life travelled around his own country capturing images of its people and landscape.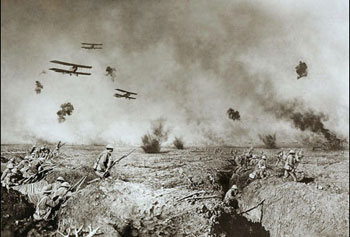 Hurley joined the Imperial Trans-Antarctic Expedition in 1914 as official expedition photographer and some of his photographs from this expedition can be seen online. This expedition was undertaken to cross the continent of Antarctica, a feat which had never before been attempted, and which was seen as the last Antarctic prize to be claimed for Great Britain. During his time in Antarctica he became known as 'a warrior with his camera [who] would go anywhere or do anything to get a picture.' With incessant energy and boundless enthusiasm he captured images of the expedition, often putting his own life at risk. He climbed the ship's mast and traversed delicate ice floes to capture important and often artistic images to tell the story.
Shackleton and his men didn't cross the continent as planned. Before reaching land the Endurance became wedged in ice and had to be abandoned by the crew. Hurley argued with Shackleton to go back to the sinking ship to rescue his precious glass plate negatives. Diving below the icy waters of the sunken ship he found these jewels that he'd soldered shut in a tin. The legendary story follows how he and Shackleton went through the hundreds of negatives, smashing those that could not be taken in their harrowing journey to be rescued. Imagine the images nobody has yet seen, in an icy grave at the bottom of the Weddell Sea.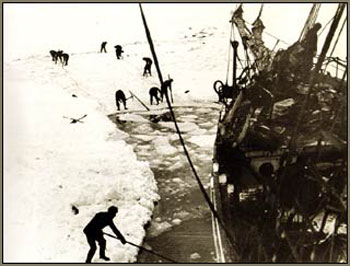 In partnership with
Blog search