Archive for the '24 hour darkness' Category
Watching the Winter Blues (and pinks and reds and yellows)
George, Thursday, April 1st, 2010
Temperature: -14.5°C
Wind Speed: 19 knots
Temp with wind chill: -38°C
Sunrise: 7:17am
Sunset: 8.43pm
Brightness and whiteness were pretty much my first impressions of Antarctica. The continual daylight was surreal at first; outside you needed sunglasses and it always seemed like the afternoon, even at 2am in the morning!
But how quickly things have changed! On 21 February we had our first sunset, when the sun dipped just beneath the horizon and popped back up a short while later. I rather naively assumed the sky would darken and the stars come out, but in fact there was only a dusky half-light.
As the sun sets half an hour earlier each day, the nights have begun to rapidly draw in. At the moment we have something like 'normal' daylight hours, with the sky at night a deep dark blue and the moon rising to the west. In 4 weeks the sun will set for the last time, and we shan't see it again until August.

I am intrigued by the thought of 3 solid months of 24-hour darkness, and I wonder how it will affect our moods. Will we develop the T3 syndrome, a condition of short term memory loss and irritability due to the lack of light, and will our issued vitamin D tablets be of any help? In the interests of science - watch this space!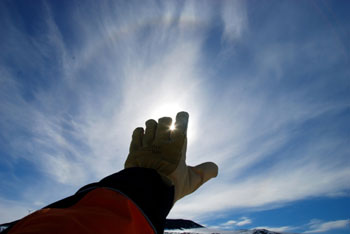 There is light
Emily, Monday, July 20th, 2009
Weather today: clear sky, full moon, -50 to -24°C, 10 knots of wind
When my family and friends learned I was going to spend 6 months experiencing the Antarctic winter, their main concern was how I would survive the cold and 24 hour darkness. People gave me all the tips they could think of with the hope I would return home safe and sound, both physically and mentally.
Regardless of how challenging people said it would be, I actually looked forward to 24 hour darkness. I believed that moonlight, auroras and night skies would be just as wonderful as sunlight.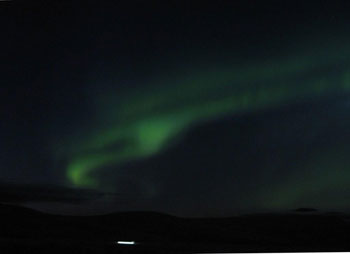 I have to admit, it was a bit difficult to get up in the morning back in May when daylight started to disappear. Luckily, I got used to it pretty soon and I now find I don't mind the darkness at all.
Looking carefully at the sky, I know it is not really dark all the time. On clear days there is always dim light above the horizon around noon, giving the lower eastern sky a dark blue tint. And now that the sun will be back in just one month (from August to Sept), the dark blue is turning into a warm burgundy colour.
Occasionally these already beautiful scenes are lit up with an aurora dancing in the dark sky.
A lot of people are looking forward to the return of the sun, but I am not so sure I'm ready to trade these gorgeous sights for that big bright object in the sky….
The first sunset of 2009
Antonia, Monday, March 9th, 2009
One of the strangest aspects of being in Antarctica is the constant daylight. After all the dire warnings of the months of darkness and the lack of sunlight, we have been exposed to pretty much three weeks of ceaseless blue skies and sunshine. I still find it hard to believe that when you go out at night, you don't need to take a torch, or worry about leaving lights on for when you get back!
The sun, however, lost its battle for supremacy on Sunday the 22nd of February. Those of us who are fortunate enough to be wintering-over had the privilege of witnessing the first sunset in Antarctica since late October 2008! It certainly took its time in coming, not setting fully until 1.30am, but was warmly welcomed by those with sufficient stamina to stay up for the full show.
The darkness didn't last long though; the sun was back up again by 4.30 only a few miles from where it had just set.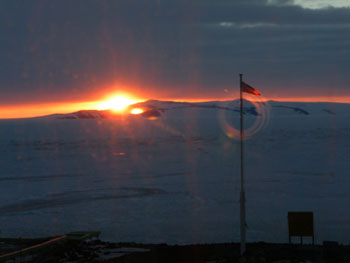 Since these momentous events the darkness has been increasing by about 40 minutes each day, sunrise gets 20 minutes later, and sunset 20 minutes earlier, so the countdown is on for the last sunset before winter really kicks in.
Mid-Winter Celebrations
Susanne, Thursday, July 3rd, 2008
Throughout my travels around the world I have gotten to experience various holidays that we don't necessarily celebrate in the United States. Since travelling to New Zealand and Antarctica I have seen Waitangi Day and Anzac Day, but my favourite holiday down here so far has been the Mid-Winter celebrations. My family has celebrated mid-winter in the form of Christmas, so it was a wonderful experience to be involved in a different kind of mid-winter festival. Do you participate in any celebrations for mid-winter?
The 2008 mid-winter, also known as the winter solstice, occurs on June 20 in the Southern hemisphere and December 21 in the Northern hemisphere. In Antarctica, this means that the sun is at its greatest angular distance from the equator and we experience the longest night of the year. This also means that the sun will start to return to us, although it will take a few more weeks before we see the horizon again.
A yearly tradition in Antarctica for both the Kiwis and Americans is to celebrate Mid-Winter by having a somewhat formal dinner and celebration. On Scott Base, Chef was busy all day preparing for the eight course meal for that evening. Therese and helpers transformed one of our common areas into a wonderful and comfortable setting in which to laugh and be merry. First we enjoyed numerous platters of hors d'oeuvres including shrimp, venison, crab cakes, and beef.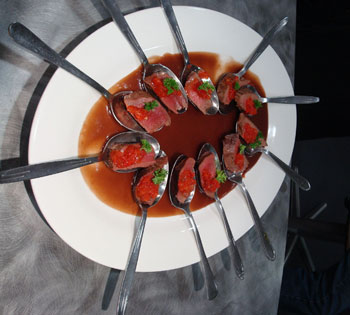 Once we were seated at the table, there was a huge selection of homemade breads and New Zealand wines. We then enjoyed crayfish bisque, seared venison, and duck with pumpkin and ginger tortellini. Is your mouth watering yet? Throughout dinner there were many toasts to the chef, the crew, and to the people who helped make Scott Base a possibility including three toasts by Lizzie, Therese, and myself. After a mango sorbet palate cleanser, we continued with the main course and my favourite dish, slow roasted pork belly with a delicious accompaniment of garlic mashed potatoes, bacon wrapped beans, and chorizo sausage with apples. To finish off the evening with dessert, chef made a chocolate and hazelnut spring roll and quadruple chocolate mousse with ice cream. As a final cap to the evening, we also had warm brie with rhubarb and lavosh. Everyone was so full, that we sat around the table for many hours afterwards enjoying the warmth of the room and the company of friends.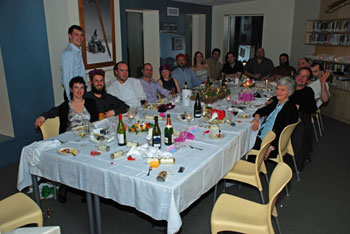 The following evening, the Americans from McMurdo invited us over for their Mid-Winter celebrations of dinner and dancing. They also did an amazing job on decorations and had ice sculptures made by the carpenters and live acoustic music played by three of the many musicians at McMurdo.
The team of eight chefs and support staff that reside at McMurdo for the Winter prepared a delicious meal of beef and fish accompanied by a huge assortment of vegetables and desserts, all wonderfully arranged and decorated. Of course, there was also plenty of wine to be enjoyed all evening!I am so glad that I was able to be a part of this very traditional celebration. Mid-Winter celebrations go as far back as 1800BC in South America and even earlier for the Egyptians. In more recent times, Mid-Winter has been celebrated by the early explorers with a full dinner and celebrations. As Apsley Cherry-Garrard wrote in his book, The Worst Journey in the World, 'We are very merry - and indeed why not? The sun turns to come back to us tonight and such a day comes only once a year.'
Antarctic days and nights
Carla, Monday, March 17th, 2008
On first arriving in Antarctica it was a bit strange to wrap our minds around the 24 hours of sunlight being experienced here. After three months of 24-hour sun, some of the summer staff were dreading to go back to the real world of the dark nights. Others were seriously itching for a starry night! We sat in the bar getting to know these new people, sipping our drinks while gazing out at the ice and mountains. The hours ticked by but the sun remained.
It was just so bizarre to go to bed at midnight with the sun still blazing through the windows.
Well, the light is fading just as we've become accustomed to it, and we've begun to see some pretty amazing skies during the evening. We are now headed towards Vernal or Spring Equinox, which occurs on March 21 at noon, when the sun is directly overhead at the equator. At this time the sun sheds an equal amount of light and darkness over the entire globe, giving everybody from Antarctica to the Arctic 12 hours each of sunlight and darkness. From this time onwards night-time in Antarctica will increase by 20 minutes each day, as the sun rises ten minutes later and sets ten minutes earlier.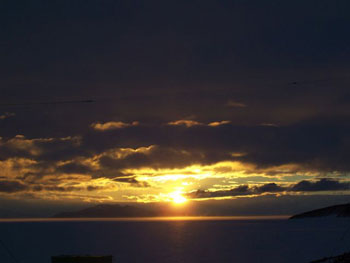 Nearing the end of June we enter the time known as "polar nights" or, 24 hours of darkness, while simultaneously the Arctic experiences "polar days", or 24 hours of sunlight. So just how does this happen?
Well, we all know that the Earth is tilted on its axis, 23.5° to be exact. It's this tilt, along with the Earth's rotation around the sun that gives us our seasons, and the length of our days.
The figure below shows how Antarctica enters darkness as the Arctic tips towards the sun.
If the Earth were straight up and down, we would have no seasons, get no summer holidays, and wouldn't enjoy things like spring blossoms, colourful autumn leaves and snow shovelling! This tilt and rotation send Antarctica into complete 24 hour darkness for three months on June 21. This is called Summer Solstice, the first day of summer in the Northern Hemisphere, the longest day of the year and my sister's birthday – Erin, I hope you think of me and eat something DARK and chocolatey!
In partnership with
Blog search