Archive for the 'Photography' Category
Mould!
George, Thursday, June 17th, 2010
Temperature: -26.5°C
Wind Speed: 10 knots
Temp with wind chill: approximately -42°C
Moonrise: below the horizon
Moonset: below the horizon
This season we are working on artefacts from Herbert Ponting's darkroom at Cape Evans (Ponting was the official photographer on Captain Scott's 1910 expedition). Amongst the items are 130 unopened packages of glass plate negatives, all of which have been affected by mould. Mould is highly damaging to paper and card, making it weak and brittle. In previous years the darkroom has experienced high levels of relative humidity at times, due to the build-up of snow and ice melting during the summer months, when temperatures can go above freezing. Add to this, a room with limited air circulation, and you have the perfect breeding ground for mould! The mould looks very interesting, like a creeping carpet of fluff, and is a type of mildew more commonly found on wood.
Before beginning conservation treatment, our science technician helped me to try and find out if the mould is still alive. All our attempts at cultivating the mould on agar plates proved negative, which would imply that the spores (even the dormant ones) have been killed by the natural freeze-drying process of the Antarctic environment. Very good news!
To be on the safe side though, in treatment, we removed all the mould that could safely be accessed, and treated the items with 70% ethanol solution. Sometimes the packages are stuck together and have to be carefully separated. Almost all are badly degraded and some need extensive repairs and consolidation.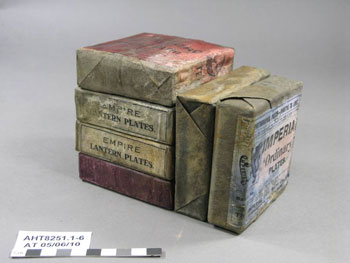 It is great to think that in a few months' time these packages will be returned to their shelves in the hut, which is also undergoing conservation. The next job will be to ensure they remain fungal-free for many years to come!
Say cheese!
Nicola, Monday, May 17th, 2010
Temperature: -25°C
Wind Speed: 10 knots
Temp with wind chill: -35°C
Ever since Herbert Ponting, the expedition's 'camera artist', photographed Captain Scott surrounded by the men of the 1910-13 British Antarctic Expedition (BAE), group photos have become a bit of an Antarctic tradition.
Down the hallway at Scott Base is a lengthening display of framed photographs showing all the teams that have wintered at the base since New Zealand's Antarctic Base was established in 1957. The first black and white photo was taken in the Trans Antarctic Expedition (TAE) hut and includes Sir Ed Hillary and Peter Mulgrew, but down the years the teams have become quite inventive. Some are taken wearing dinner jackets or beach wear out on the Ice, celebrating a new building or even balanced in a human pyramid.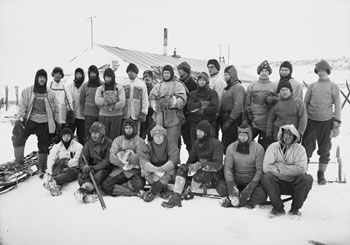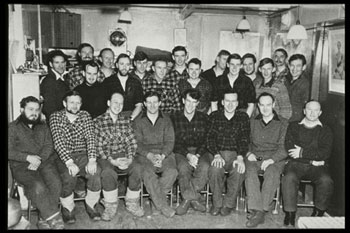 I find it fascinating to look at the faces from previous years, recognising some who, like myself and Mindy, returned for another season, and realising just how few people have actually had the opportunity to spend winter on the Ice.
Last week, making the most of the dwindling light, and leaving a fire crew from McMurdo in charge of the base, we all headed up to the wind farm to attempt to create a masterpiece worthy of the wall, and to record us for Scott Base history. We 'ponted' as best we could (see Jane's last blog) but it seems that some things haven't changed since 1911 – there is always someone not ready, blinking, or looking away from the camera!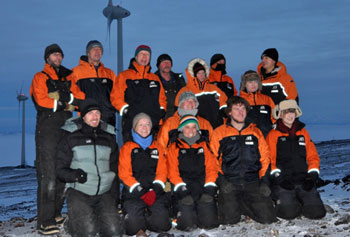 Antarctica through a lens
Jane, Thursday, May 13th, 2010
Temperature: -19°C
Wind Speed: 5 knots
Temp with wind chill: -20°C
Sunrise: August 19th 12.26pm
Herbert Ponting was the photographer on the British Antarctic Expedition led by Captain Scott in 1910-13. He not only documented the expedition through photos and film but often entertained other expedition members by giving talks and showing images of his travels to foreign countries.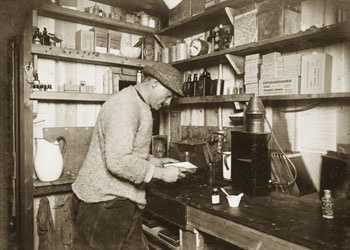 As we begin to focus on conserving objects from the expedition's galley and Ponting's darkroom we have the opportunity to work on some of the materials that he would have used.
It was Scott who coined the phrase to 'pont' which meant to 'pose until nearly frozen, in all sorts of uncomfortable positions', an activity we are becoming well used to down here. Meares, who looked after the expedition dogs, even contributed a humorous poem to the South Polar Times entitled 'Pont, Ponko, Pont' about Ponting's skill as a photographer and the talks he gave.
Among all the interesting artefacts we take out of the crates every week are glass plate negatives. Many of them have not been exposed but I have found a few with images, although often in quite poor condition. Among them are images of geological specimens and tables, maps and animals.
Many of the expedition members would give talks on particular subjects as a form of entertainment. The glass plate negatives I have been conserving may have been used by other members of the crew to illustrate subjects on which they lectured.
This Antarctic pastime is as common now as it was then. Lectures by scientists on a wide range of Antarctic subjects occur regularly at McMurdo Station (the American science base over the hill).
Now, as the afternoon twilight dwindles, I am off to McMurdo to see a talk on night time photography.
The Scott Polar Research Institute, Royal Geographical Society and Natural History Museum have some of Ponting's photos for you to see online.
A man of many talents
Mindy, Tuesday, September 1st, 2009
Weather: -20°C; 30 knots of wind; clear skies and blowing snow
Captain Scott found that the crew for his Terra Nova expedition (1910-1913) were men of many talents. Not only were they explorers and scientists, several were also gifted artists. To mention a few, Dr. Edward Wilson (who travelled with Scott to the Pole) and Herbert Ponting (expedition photographer) are well-known for their striking images of the Antarctic landscape.
Some of today's staff at Scott Base are artistic as well. Brian, Antarctica New Zealand field support person, found that the winter of 2009 presented him with a unique Antarctic artistic endeavour.
What started as a project to replace a damaged hat became the 'Scott Base Winter Hat Collection'. By the end of the season, each of the 26 base and event staff had their own personalised hat, modelled at an official showing this past Sunday night.
This was not the first time Brian had been involved in the artistic side of life in the Antarctic. In the winter of 2003, he organised a 'one night only' art exhibition in a temporary gallery space at Scott Base. The newly painted video room showcased a variety of artistic works, all donated by members of that season's winter crew.
Over the winter, we've also watched Brian refurbish the collection of sleds at Scott Base. His enthusiasm for the project was undeniable, and allowed him to combine his love of things artistic (he has a Bachelor of Fine Arts) with his years of experience in Antarctic field support and survival training. After first coming to the Antarctic 25 years ago, he's spent 14 seasons on ice. I marvel at Brian's collection of talents and abilities – a man of many talents indeed.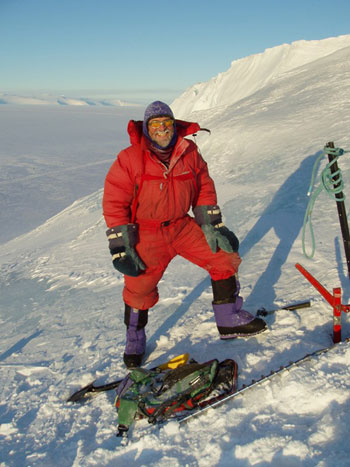 Photography in Antarctica
Antonia, Monday, May 11th, 2009
Temperature -18.2°C max, -26°C min. Winds almost non-existent, about 5 knots, low cloud over Erebus, otherwise clear.
You may have guessed, from the number of photographs in our blogs, that photography is a popular pastime here in Antarctica. An attractive sky can prise even the most dedicated conservator from the depths of the lab to snap away, especially as the prospect of 24 hour darkness grows ever nearer.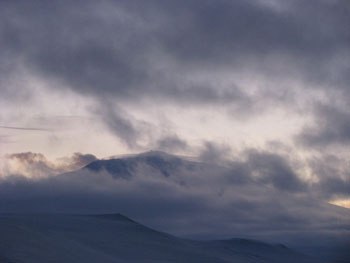 We are, naturally, not the first to discover the thrill of photography in Antarctica. Nearly a hundred years ago Herbert Ponting became the first professional photographer to visit the continent when he came here with Scott's Terra Nova expedition in 1911. He set up a darkroom in the expedition's hut at Cape Evans, which can still be seen today, and produced iconic photographs which are still some of the best taken of this cold continent.
It is always exciting for us, as conservators, to have the opportunity to work on objects we can identify from old photographs, so imagine my excitement when amongst some photography paraphernalia I discovered the 2 measuring cylinders from the photograph. Over the next couple of months we will do our best to keep photographing to give you some idea of the beauty of an Antarctic winter!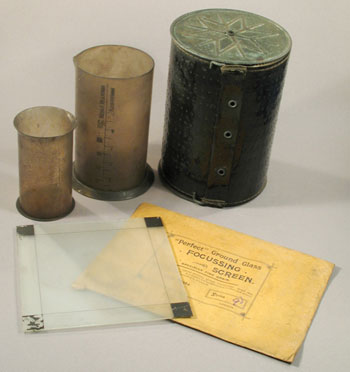 In partnership with
Blog search