Archive for the 'Climate change' Category
Were the early polar explorers green?
Fran, Monday, January 11th, 2010
Temperature: -7°C
Wind: 2 knots
Given we try to be as environmentally sustainable as we can when camping out in the field it does make you wonder what the early polar explorers did with their waste, as they all spent considerable periods of time resident in their respective huts, and the produce that they brought with them all had an extraordinary amount of packaging (which was very typical for the era).
Here at Sir Ernest Shackleton's base at Cape Royds, many fragments from the original supplies and equipment have been found in the surrounding area.
But it's very hard to make assumptions as to whether these have ended up here accidentally or whether they were deliberately thrown away. Some of the more interesting objects at the site today are things that were pulled out from Pony Lake (a small expanse of water in front of the hut) including a sea dredge and the wooden wheel from a motor vehicle.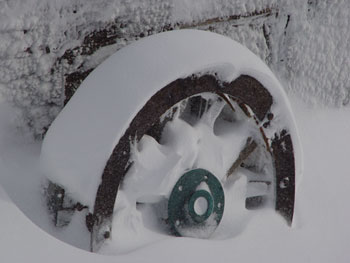 We know from the early polar explorers' diaries it was common practice for the explorers to put their rubbish down tide cracks (these often form where the sea ice butts up against shorelines, glaciers or icebergs) where it would be swept out in the next tide.
This would have been an acceptable practice at the time but it's great to know that there are now strict guidelines and environmental protocols in place today.
It's not easy being green
Fran, Monday, November 30th, 2009
Temperature: -5°C
Wind: 3 knots
Temperature with Wind Chill: -5°C
We have now moved onto the next phase of our work programme in Antarctica. Lizzie, Lucy and I have traversed over 30km of sea ice, through Erebus Bay to the North of Scott Base, to Sir Ernest Shackleton's expedition base at Cape Royds where we will be working in situ for the next 2 weeks.
We have set up camp in 2 wannigans (containers that work on the principle of refrigerators, but instead of keeping the cold in, they keep the cold out).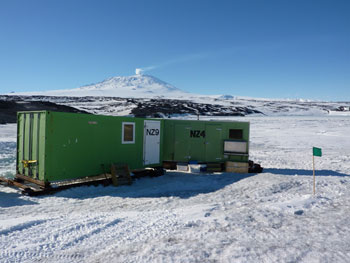 There are many considerations to bear in mind when camping in Antarctica, particularly when the aim is to ensure that your presence leaves no mark when you pack up and leave. Scott Base, where we have spent the last three months, is very 'sustainability' conscious, with a successful recycling and responsible disposal policy, and we are very much adhering to this standard in our small camp.
We separate all our waste appropriately for later transportation back to Scott Base. It really does make you think how you could be more 'green' back home - I do try to do my bit, but often complain that there's no space for separate bins for differing material in my kitchen back home.
Here in our little camp all 3 of us use the same small wannigan for cooking, dining and relaxing, and still manage to have 4 types of separated waste. It makes my excuses seem a little lame!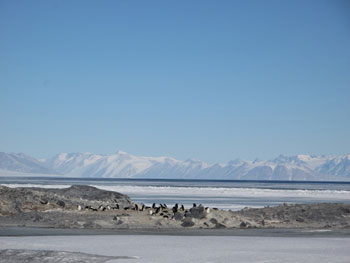 Beautiful but damaging
Becky, Thursday, August 27th, 2009
Temperature -30.3C, wind 20 knots; overall wind chill temperature -60C. Low cloud.
We've been getting some amazing clouds in the Northern sky recently, glowing and iridescent. Some appeared above the ice cliffs of the Barne Glacier as we were leaving Cape Evans where we'd been visiting Scott's hut from the National Antarctic (Terra Nova) Expedition of 1910-1913.
These clouds form in the very low temperatures of this time of year, and were observed by Edward Wilson, Chief of Scientific Staff on Scott's expedition. In his journal for Wednesday 9th August 1911 he records 'fine iridescent clouds all day over the slopes of Erebus; brilliant gleams of vivid orange and green and pink and silver in the curved slips of cloud.'
These types of clouds are known as nacreous or polar stratospheric clouds, and are formed 15-25km above the earth by tiny ice particles covered with nitric acid. They support chemical reactions that produce active chlorine, which speeds up the destruction of ozone. They also upset the nitrogen and chlorine cycles in the atmosphere.
This means that, while they are beautiful to look at, they aren't so good for the ozone layer; they're implicated in the formation of ozone holes. Still, as we headed back to Scott Base and the sky got more and more dramatic, we couldn't help but marvel at how stunning they looked.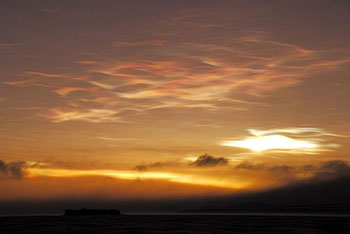 Distant neighbours
Becky, Thursday, July 2nd, 2009
Weather: Temperature -22.7C, wind 20 knots
As the middle of winter (generally referred to as Midwinter) got closer, greetings and invites started arriving by email from all around Antarctica. I hadn't realised that so many bases operated through the winter, but in fact there are 37, run by different National Antarctic Programmes under the Antarctic Treaty. Their populations range from 2 at the Chilean Escuerdo base up to 153 at McMurdo base.
The Japanese at Syowa Station sent two delicious sounding menus to tempt us to visit, and the European Concordia Station challenged us all to an 'air band' competition. The Brazilians at Comandante Ferraz were planning an exciting time of soccer, barbecue and samba, while the new German Neumayer III station was celebrating its first winter. We sent them our greeting and invite too; it's a pity we're all too far apart to visit each other.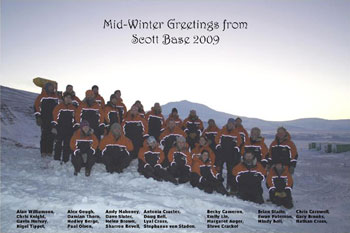 Midwinter provides a great opportunity for some festivities and fun as we wait for the welcome return of the sun. But the scattered bases have a more serious purpose for most of the year, carrying out varied programmes of scientific research.
To quote from President Obama's Midwinter greeting to the American Antarctic Programme: 'In this remote place where science is the universal language, scientists from more than 60 countries recently completed the International Polar Year…
'The early results reveal the profound significance the Polar Regions have on the Earth's climate. Not only do they regulate global temperature, they also act as barometers of change… From these efforts, we will gain a better understanding of what happens at the Poles and how it affects the rest of our Planet.'
Well, we can all raise a glass to that work carrying on. Cheers!
Moon gazing
Becky, Tuesday, June 16th, 2009
Weather cold and clear; temperature -39C, light winds, moon just past full
We haven't had any sunrises for a while now, but we do have the most beautiful moon rises. As we are so far south the moon doesn't appear to rise up vertically so much as gradually roll round and up the sky, grazing the tops of the islands.
The moon's been so bright the last few days that we've been able to go for walks without needing a head torch. It's wonderful to be able to see the sea, mountains and islands that surround Scott Base again.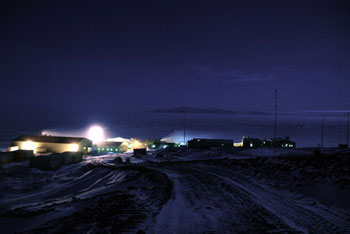 For the base science technician, Margaret, the bright moon provides the opportunity to take some important readings. She says: 'Much of the focus at the Arrival Heights lab is on atmospheric chemistry ie. what is in the various layers of atmosphere, and how the molecules in those layers are interacting and affecting our planet.
'An example of an instrument I operate is the Dobson spectrophotometer (one of 80 Dobsons worldwide) which has been measuring ozone since 1988. Measurements are made using sunlight from September to March, and when there is a visible full moon during the long winter nights.
'Ozone measurements change significantly over a year, and are at their lowest in spring, causing 'the Ozone Hole'. Our measurements, and those of other Antarctic stations, signal the position and size of the hole. They also track its movement northwards, to warmer climes, as it disperses towardsthe end of the year.
'My work helps the weather forecasters tells you when to wear sunscreen, because the ozone hole is breaking up as it moves north over New Zealand.'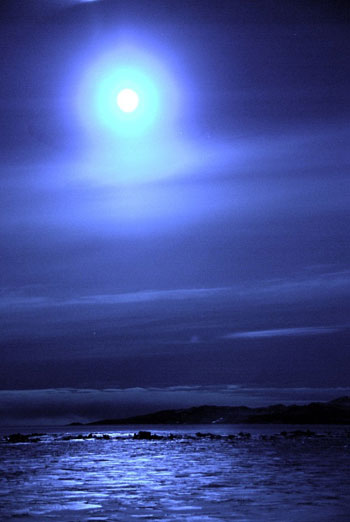 In partnership with
Blog search