Archive for the 'Conservation' Category
When paper goes bad
George, Thursday, May 20th, 2010
Temperature: -25°C
Wind speed: -10°C
Temp with wind chill: -35°C
Sunrise: a long while yet
Sunset: a long while yet
With such a wide variety of artefacts to conserve (ranging from timber to metals, textiles and paper) it's critical the Trust employs conservators with the right area of expertise.
I work mainly on the paper-based items, and for the past couple of weeks I have been able to collaborate with my colleagues on multi-media pieces. Mindy had some Tate and Lyle Golden Syrup tins, which look exactly the same as they do today! A couple of these tins still had their original paper wrappers, and so it was my job to try and preserve them. Due to the harsh Antarctic climate, paper out here is often in a very bad condition.
Degraded paper of poor quality can be very acidic (which is what makes it look yellow), and in this instance also stained with food product and metal corrosion. Washing the paper in deionised (pure) water removes many of these damaging products, although it is very fragile when wet so you have to be careful! The paper is then soaked in an alkaline solution which lifts its pH and creates a buffer protecting against future degradation. This wrapper had many holes and missing areas, so I patched them from behind with hand-coloured Japanese paper. I then wrapped the repaired sheet back around the tin which Mindy had treated for rust.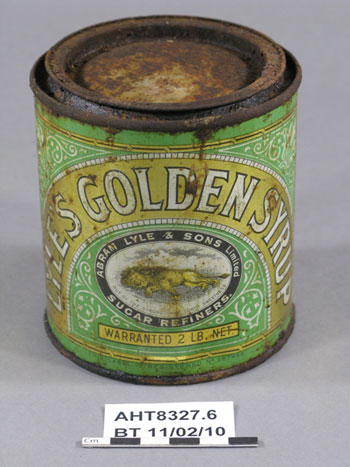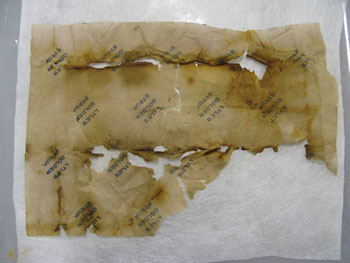 As you can see from the photos, the finished item still looks old – but this is good! We don't want to change the appearance too much (or it will look out of place in the hut), only to stabilise the materials and increase longevity as best we can.
Another joint effort was with Jane on a series of dehydrated cabbage tins. The tins and their labels had a special varnish which complicated their treatment; if the labels got wet with water they bloomed (ie. turned white!). Jane had to find a way of treating the rust on the metal whilst preserving the varnish, whilst I had to treat the labels without using water. These objects are chemically stable now and we were pleased with the results.
A man-hauling harness from Cape Evans
Jane, Friday, April 16th, 2010
Temperature: -27°C
Wind speed: 25 knots
Temp with wind chill: -50°C
Condition 2 - Visibility less than 300m, or sustained winds 89-100km/h, or windchill -60°C to -73°C
Sunrise: 8.49 am
Sunset: 5.00 pm
It was from the expedition base at Cape Evans, Ross Island, Antarctica that Scott left for the South Pole in November 1911, after months of preparation. He used dogs and ponies for the first part of the 1600 mile journey to haul the sledges of provisions and equipment. By mid-December the animals had either died or been shot, leaving Scott, along with Evans, Oates, Wilson and Bowers, to haul the two 700lb sledges themselves using harnesses. Bowers describes it as 'the most back breaking work I have ever come up against'.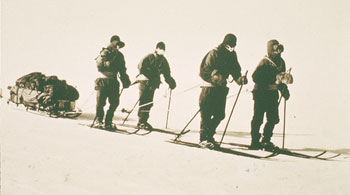 During last summer conservators Lucy and Fran, while on site at Cape Evans, excavated a harness from outside the hut which would have been used for man-hauling. I was the lucky conservator that had the pleasure of working on such an iconic artefact.
The harness was in quite poor condition when I unpacked it. The rope that would have been tied to the sledge was fraying badly and the shoulder straps were almost completely broken through in places.
It has obviously been well used as there is a dark material on the inner surface, which is probably a waterproof coating from the surface of their clothing that rubbed off onto the harness during use. Working on the harness has left me with many questions. Was it used on some of the depot-laying expeditions or on the trip to Cape Crozier to collect Emperor penguin eggs, which Cherry-Gerrard wrote about in The Worst Journey in the World? Which of the expedition members wore it? I can't help but wonder!
Earth Hour at Scott Base
George, Friday, April 9th, 2010
Temperature: -21.3°C
Wind Speed: 6 knots
Temp with wind chill: -27°C
Sunrise: 8:56am
Sunset: 6.56pm
No Lights! No Music! No Action!
Last Saturday night the whole of Scott Base was plunged into darkness – lights switched off, music stopped playing and computers shut down. In fact everything but the most essential electrics (namely heating) were powered down as we all participated in Earth Hour (8.30-9.30pm).
Earth Hour is a global sustainability initiative to raise awareness of climate change. For the last 2 years Scott Base has taken part, and so we were keen to do the same again.
While some of the winter team were at McMurdo Station (the United States Antarctic Science Base) those of us on Fire crew duty stayed at Scott Base to observe Earth Hour. To prepare, we ran around the base switching things off, then pulled tables and chairs together in the bar so that we could all sit with one another. Bobbie our chef had made snacks and nibbles, and so we all tucked in as we chatted and told stories. Later we made a group dash outside for a photo by the Scott Base sign, and brrrrrrrr… was it cold on our faces! We managed about 2 shots on time-lapse, then scrambled back indoors.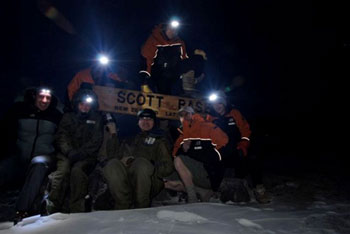 I have to say that sitting around in the dark on an evening– wearing a head torch in case of emergency - is not my usual idea of weekend fun. But in fact the evening proved so enjoyable that we continued an 'unofficial' Earth Hour until it was time for bed.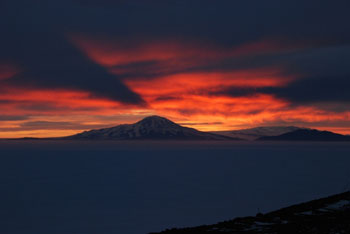 Culinary traditions in Antarctica
Jane, Monday, March 15th, 2010
Temperature: -25⁰C
Wind speed: 10 Knots
Temp with wind chill: -35⁰C
Wintering over in Antarctica is a challenge for everyone, with the lack of light and minimal contact with the outside world. The chef, in particular, has a very difficult job but manages to keep us all happy.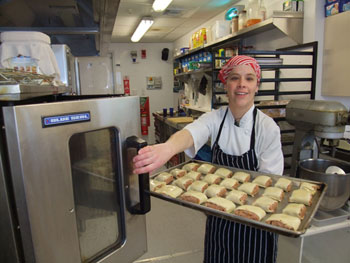 Our last delivery of fresh food was a few weeks ago and with no more until late August we are making the most of the fresh fruit and vegetables, before moving on to frozen veg. It is a challenge today for our chef, Bobbie, to keep the menu exciting with limited supplies, as it was for Clissold, the cook on Captain Scott's Terra Nova expedition back in 1910-1913.
We tend to eat a lot here. We like to think that it's because we use so much energy when out in the cold or because we work such long hours as part of our winter work programme, but really it's because it all tastes so good.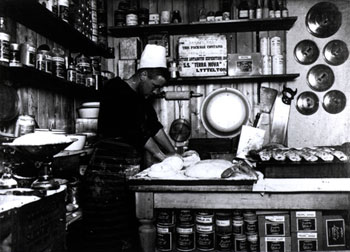 Some things in Antarctic cooking haven't changed since Clissold was cook. When Bobbie visited our conservation lab and saw the tins of food we are conserving, we discovered that, like Clissold, she too uses powdered egg. We were shocked and asked her not to tell us when she does.
Even the long-standing tradition of sausage rolls continues, only now our vegan chef makes amazing vegetarian ones just for me!
A walk up the Hill
Mindy, Friday, March 5th, 2010
Temperature: -10.0°C
Wind Speed: 2 knots
Temp with wind chill: approximately -12°C
In the wee hours of February 21st the sun set for the first time this winter season. The days will keep getting progressively shorter until we are surrounded by the 24-hour Antarctic night skies.
So, while we still have some light and temperatures are reasonable, our little Antarctic Heritage Trust group made its way up to the top of nearby Observation Hill (about a twenty minute walk from Scott Base). Not only is it good to become familiar with local recreational routes before travel is complicated by the dark and cold, but we also had a chance to see the cross at the top of Observation Hill and carry out some conservation work on the memorial cross.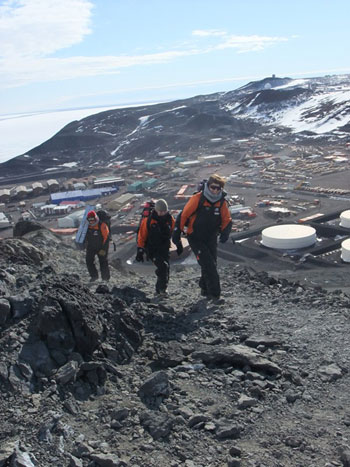 The view from the top is completely worth the 250m climb up the hill (even after carrying a ladder). Looking out over the Ross Ice Shelf, you can gaze straight south – exactly as the men of the British Antarctic Expedition (1910-1913) did while waiting for Captain Robert Falcon Scott's return from the South Pole. With the tragic fate of the Polar Party confirmed, a tall wooden cross was erected in their memory at the top of the hill in 1913.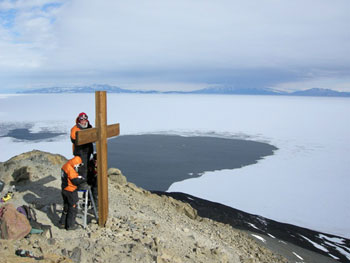 Any opportunity to see the famous Observation Hill Memorial Cross is an inspiring experience, and hopefully we will have a chance to visit more of the local landmarks before the winter fully descends.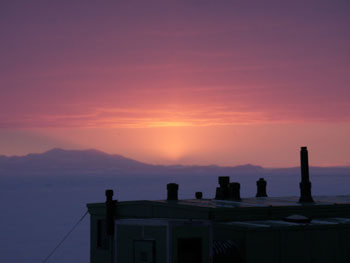 In partnership with
Blog search