Archive for the 'Conservation' Category
Whisky and soda
Nicola, Monday, August 2nd, 2010
Temperature: -30.8°C
Wind speed: 23 knots
Temp with wind chill: -60°C
Moonset: 11.39am
Moonset: 5.42pm
Last week I conserved a small cardboard box filled with little gas canisters that were for use in a soda siphon to make sparkling water. Both Sir Ernest Shackleton and Captain Scott took soda siphons with them on their expeditions, and a couple can be seen on the table in the picture of Scott's birthday celebration in 1911.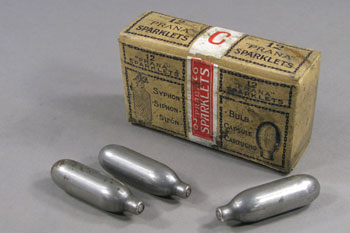 The sparkling water would have been used as a mixer for spirits, and this seems very apt in the week when a whisky crate excavated this summer from under the floor boards of Shackleton's 1908 hut at Cape Royds was put on display at Canterbury Museum in Christchurch. The crate was kept frozen while it was flown from Antarctica to New Zealand, then immediately placed in a freezer, and it's now slowly being thawed so that conservators can open it up and examine the contents.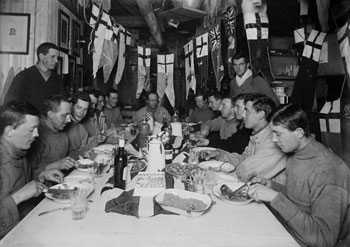 We were very lucky to see the crates at Cape Royds when we first arrived in February, and have recently been following progress at Canterbury Museum through the blog on their website which is updated every day.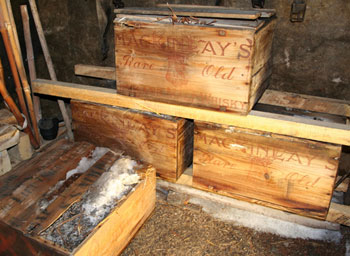 Today we've learnt that the ice has sufficiently melted for Lizzie and Sasha to remove the lid and for the first time the top of a bottle in its straw wrapper can be seen. I can't wait to see what the bottles look like, and if there is still some whisky inside.
Gone fishin'
Mindy, Monday, July 26th, 2010
Temperature: -20°C
Wind speed: 5 knots
Temp with wind chill: approximately -25°C
Moonrise: above horizon
Moonset: above horizon
After a week of record-breaking cold temperatures, it's hard to believe that the members of Captain Scott's (1910-1913) expedition would be out fishing in the middle of an Antarctic winter. But, every copy of a British Antarctic Expedition (B.A.E.) journal in the library at Scott Base (New Zealand's Antarctic base) suggests this is what they were doing. It interested Dr. Edward Atkinson in particular, as he was the scientist charged with studying parasites and bacteria. While occasionally they did eat the fish, they mostly wanted to advance polar scientific study (and I get the impression the fish didn't taste that good anyway!).
What is puzzling is how they actually caught the fish. The only hints I've found indicate they used a trap made of wire netting. Well, I have no trap here in the lab, but I do have a tin of fish hooks. Hundreds and hundreds of fish hooks – and not one journal reference! Oh well…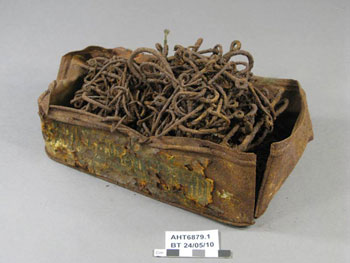 Regardless, it was very satisfying to treat the artefact by separating the hooks from their semi-concreted mass. As a bonus, this lead to the discovery of a rather cool little lure hidden in its centre. And, in treating the tin of fish hooks we did learn a bit about the early explorers' choice of 'sweeties'. In the long tradition of Antarctic thriftiness, they used a 'Rowntree's Clear Gums' tin to keep the hooks in!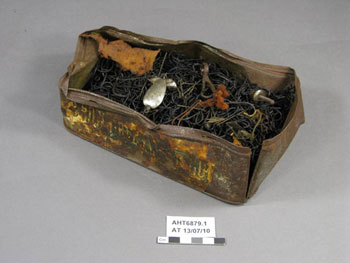 Mould!
George, Thursday, June 17th, 2010
Temperature: -26.5°C
Wind Speed: 10 knots
Temp with wind chill: approximately -42°C
Moonrise: below the horizon
Moonset: below the horizon
This season we are working on artefacts from Herbert Ponting's darkroom at Cape Evans (Ponting was the official photographer on Captain Scott's 1910 expedition). Amongst the items are 130 unopened packages of glass plate negatives, all of which have been affected by mould. Mould is highly damaging to paper and card, making it weak and brittle. In previous years the darkroom has experienced high levels of relative humidity at times, due to the build-up of snow and ice melting during the summer months, when temperatures can go above freezing. Add to this, a room with limited air circulation, and you have the perfect breeding ground for mould! The mould looks very interesting, like a creeping carpet of fluff, and is a type of mildew more commonly found on wood.
Before beginning conservation treatment, our science technician helped me to try and find out if the mould is still alive. All our attempts at cultivating the mould on agar plates proved negative, which would imply that the spores (even the dormant ones) have been killed by the natural freeze-drying process of the Antarctic environment. Very good news!
To be on the safe side though, in treatment, we removed all the mould that could safely be accessed, and treated the items with 70% ethanol solution. Sometimes the packages are stuck together and have to be carefully separated. Almost all are badly degraded and some need extensive repairs and consolidation.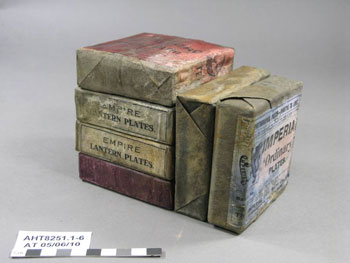 It is great to think that in a few months' time these packages will be returned to their shelves in the hut, which is also undergoing conservation. The next job will be to ensure they remain fungal-free for many years to come!
Puzzling objects
Jane, Thursday, June 10th, 2010
Temperature: -32°C
Wind Speed: 15 knots
Temp with wind chill: -45°C
Sunrise: None
Sunset: None
While conserving objects from Captain Scott's 1910 expedition base at Cape Evans, we recently found a number of objects made of layers of wood. We are often fortunate enough to see the objects we are conserving in historic photos from the expeditions, which can help us identify them or associate them with a particular activity. Unfortunately, this is not the case with these elusive objects. Some of them had what appeared to be a bellows at one end and a paper diaphragm inside.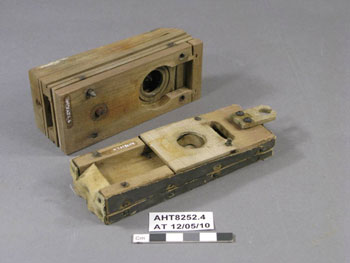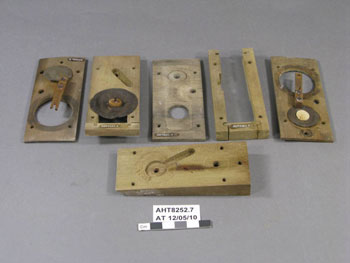 We pondered over their function in the lab, consulted experts and even asked some of the guests on one of our open evenings. But, we are still not sure. It has been suggested that they may be part of the telephone system installed at Cape Evans which connected the hut to Discovery Hut (the expedition base associated with Captain Scott's 1901 expedition at Hut Point) and two of their scientific observation posts. Another suggestion was that they could be parts of one of the two pianolas brought to the Ice.
Could the objects be from the pianola?
We would welcome any suggestions as to what they could be, as we are at a loss!
Lighting up the dark
Nicola, Friday, June 4th, 2010
Temperature: -27°C
Wind Speed: 10 knots
Temp with wind chill: -37°C
Looking out of the windows at Scott Base, all I can see is darkness, and it's easy to think there is not much to see outside. However, during walks around the base a whole new world is opening up; a negative one to that of the 24-hour daylight we experienced when we first arrived, but just as beautiful. On fine days the moonlight reflects off the snow and icy landscape, there are bright starry skies, and phenomena such as moon-dogs and auroras.
I'm finding that even with a modern camera, trying to photograph these subtle winter effects is difficult, but for Ponting (the photographer on Scott's British Antarctic Expedition 1910-13) it posed huge technical challenges. He overcame some of these by using long exposure times and by illuminating scenes and people with artificial light from chemical flash powders.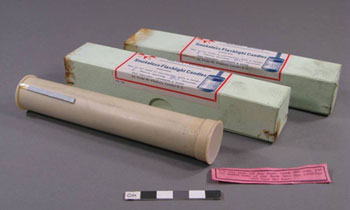 During the summer I had already worked on bottles of magnesium flash powder in the Antarctic Heritage Trust Reserve Collection at Canterbury Museum (See blog October 5th 2009) so this week I was amazed when I opened up a rusty tin from the darkroom at Cape Evans to find a single remaining flash candle in perfect condition.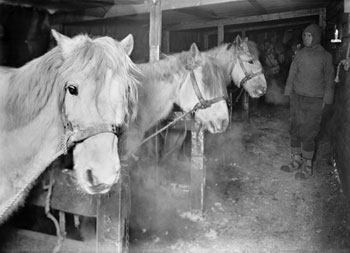 During the winter of 1911 Ponting took many stunning images of the landscape and members of Scott's expedition working, using flashlight powders and candles; I'm just hoping to come away with a couple of good photos to remind me of my stay here on the ice.
In partnership with
Blog search