Archive for the 'Polar exploration' Category
Even Antarctic explorers have birthdays!
Mindy, Monday, June 14th, 2010
Temperature: -26.5°C
Wind Speed: 10 knots
Temp with wind chill: approximately -42°C
Moonrise: below horizon
Moonset: below horizon
"Tuesday, June 6 [1911] - … It is my birthday, a fact I might easily have forgotten, but my kind people did not. At lunch an immense birthday cake made its appearance and we were photographed assembled about it…" (Captain Robert Falcon Scott)
Revelry continued that night with a fine dinner of "…seal soup, roast mutton and red currant jelly, fruit salad, asparagus and chocolate…" (Scott). By all accounts it was a festive occasion. Sadly, this was the last birthday Scott would celebrate, as he and 4 other British Antarctic Expedition members perished returning from the South Pole in early 1912.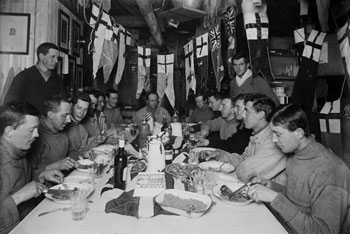 Fast-forward nearly 100 years to present day Scott Base, where we also spent the 6th of June celebrating Scott's birthday. We all take turns preparing dinner on Sundays, and coincidentally I had volunteered to cook supper that night. Hardly anything as fancy as Clissold, cook for the British Antarctic Expedition, had prepared – just a humble spaghetti and meatball dinner. And, despite having the night off, our chef Bobbie agreed to make the dessert. Scott's 2010 birthday cake was decorated as a "Union Jack" – ceremoniously cut by Tom, Scott Base Winter Base Manager.
Glasses raised, our modest celebration closed with a toast to Captain Scott. The sentiment was plain and simply stated – "…to Scott".
A man-hauling harness from Cape Evans
Jane, Friday, April 16th, 2010
Temperature: -27°C
Wind speed: 25 knots
Temp with wind chill: -50°C
Condition 2 - Visibility less than 300m, or sustained winds 89-100km/h, or windchill -60°C to -73°C
Sunrise: 8.49 am
Sunset: 5.00 pm
It was from the expedition base at Cape Evans, Ross Island, Antarctica that Scott left for the South Pole in November 1911, after months of preparation. He used dogs and ponies for the first part of the 1600 mile journey to haul the sledges of provisions and equipment. By mid-December the animals had either died or been shot, leaving Scott, along with Evans, Oates, Wilson and Bowers, to haul the two 700lb sledges themselves using harnesses. Bowers describes it as 'the most back breaking work I have ever come up against'.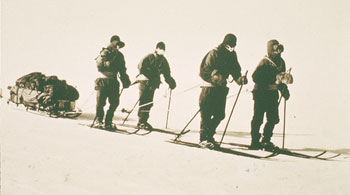 During last summer conservators Lucy and Fran, while on site at Cape Evans, excavated a harness from outside the hut which would have been used for man-hauling. I was the lucky conservator that had the pleasure of working on such an iconic artefact.
The harness was in quite poor condition when I unpacked it. The rope that would have been tied to the sledge was fraying badly and the shoulder straps were almost completely broken through in places.
It has obviously been well used as there is a dark material on the inner surface, which is probably a waterproof coating from the surface of their clothing that rubbed off onto the harness during use. Working on the harness has left me with many questions. Was it used on some of the depot-laying expeditions or on the trip to Cape Crozier to collect Emperor penguin eggs, which Cherry-Gerrard wrote about in The Worst Journey in the World? Which of the expedition members wore it? I can't help but wonder!
Views of Hut Point Ridge
Mindy, Tuesday, April 6th, 2010
Temperature: -27.1°C
Wind Speed: 13 knots
Temp with wind chill: Approximately -47.6°C
Sunrise: 08:00
Sunset: 20:00
At the weekend Bobbie, the Scott Base chef, and I decided to go on an adventure so we turned our attention to the nearby Hut Point Ridge. This particular track starts at the end of Hut Point where Commander Robert Falcon Scott's Discovery Hut is located (the base built for his 1901 – 04 expedition).
Walking along the road towards Hut Point we found ourselves relatively sheltered by local hills and the buildings of McMurdo Station, home to the American Antarctic programme, but the open approach to Discovery Hut exposed us to the wind. We were adequately clothed and equipped though, and confident that weather conditions were manageable, so we began to ascend the ridge. Braving the mildly breezy conditions, we were rewarded by spectacular views of McMurdo Sound. We could see open water in the distance, assorted islands dotting Ross Island's coast, and the Royal Society Range on the continent.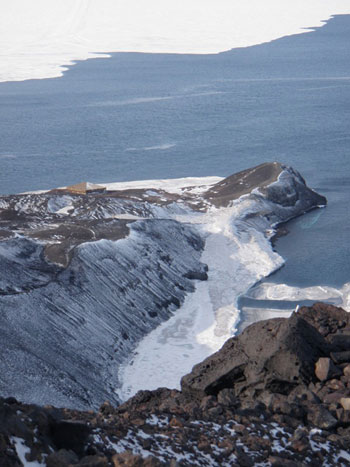 Clambering back down the ridge, we spotted a reminder of the risk that can sometimes come with such stunning landscapes. At the end of Hut Point sits Vince's Cross, built to commemorate a member of Scott's Discovery expedition who slipped down the hill into the sea during a blizzard in 1902.
It's truly a cautionary tale, and we took its point. Don't take any chances with the weather, and always mind your feet – even when you're enjoying the view.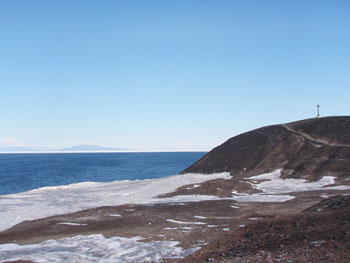 A walk up the Hill
Mindy, Friday, March 5th, 2010
Temperature: -10.0°C
Wind Speed: 2 knots
Temp with wind chill: approximately -12°C
In the wee hours of February 21st the sun set for the first time this winter season. The days will keep getting progressively shorter until we are surrounded by the 24-hour Antarctic night skies.
So, while we still have some light and temperatures are reasonable, our little Antarctic Heritage Trust group made its way up to the top of nearby Observation Hill (about a twenty minute walk from Scott Base). Not only is it good to become familiar with local recreational routes before travel is complicated by the dark and cold, but we also had a chance to see the cross at the top of Observation Hill and carry out some conservation work on the memorial cross.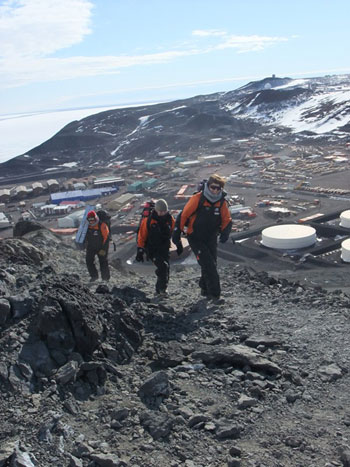 The view from the top is completely worth the 250m climb up the hill (even after carrying a ladder). Looking out over the Ross Ice Shelf, you can gaze straight south – exactly as the men of the British Antarctic Expedition (1910-1913) did while waiting for Captain Robert Falcon Scott's return from the South Pole. With the tragic fate of the Polar Party confirmed, a tall wooden cross was erected in their memory at the top of the hill in 1913.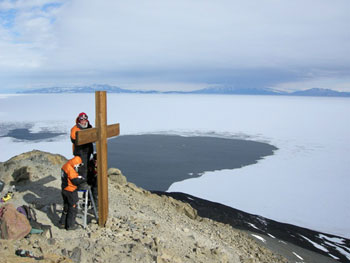 Any opportunity to see the famous Observation Hill Memorial Cross is an inspiring experience, and hopefully we will have a chance to visit more of the local landmarks before the winter fully descends.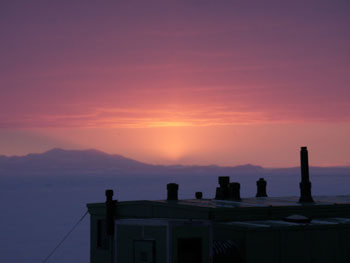 Food glorious food
Lucy, Monday, January 18th, 2010
Temperature:1° C
Windspeed: 1-5 knots
Hazy sunshine
Out in the cold wilds of Antarctica I find the urge to eat chocolate and other sugary food quite impossible to resist. As my friends at home would testify, even when I'm in normal surroundings I have quite a sweet tooth. I was disappointed to discover that it is not cold enough now that summer has arrived in Antarctica, to make homemade ice cream outside in the snow.
As sea ice travel is now banned for the summer we can expect fewer visitors and hence fewer deliveries of all the lovely fresh treats which our wonderful friends at Scott Base have been so generously providing us with. I expect I will develop cravings for all the foods which I miss and cannot bake out in the field.
We certainly won't go short, however – we have a big store of food out at Captain Scott's base at Cape Evans which will be more than enough for our next 5 weeks out in the field. Fortunately we are doing such a lot of hard physical work in cold temperatures that our bodies are working pretty hard and using more calories than usual to stay warm. I seem to be able to eat a huge amount of food without putting on any weight.
The polar explorers often complained on their trips that they were always hungry. This of course was because they had to ration out the food to ensure the weight of the sledges was kept to a minimum.
While working inside Captain Scott's hut at Cape Evans I have been surprised to see well-preserved packets and ration bags containing the sledging rations of chocolate, milk powder and suchlike. They also had whole pats of butter and some quite exotic foods such as olives, tinned asparagus, huge Dutch cheeses, anchovies, potted meats, dates and raisins as well as a vast range of herbs and spices and even curry powder.
Like us, the polar explorers had little or no fresh food, but they did have fresh or frozen seal and penguin meat and eggs. Along with the abundance of tinned and dried food in the hut, they actually lived remarkably comfortably at Cape Evans.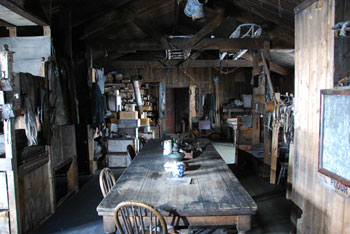 In partnership with
Blog search