Archive for the 'Scott' Category
Puzzling objects
Jane, Thursday, June 10th, 2010
Temperature: -32°C
Wind Speed: 15 knots
Temp with wind chill: -45°C
Sunrise: None
Sunset: None
While conserving objects from Captain Scott's 1910 expedition base at Cape Evans, we recently found a number of objects made of layers of wood. We are often fortunate enough to see the objects we are conserving in historic photos from the expeditions, which can help us identify them or associate them with a particular activity. Unfortunately, this is not the case with these elusive objects. Some of them had what appeared to be a bellows at one end and a paper diaphragm inside.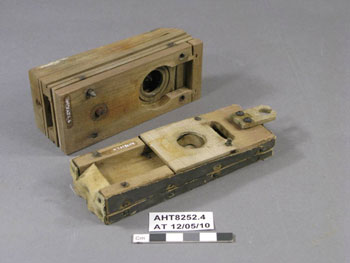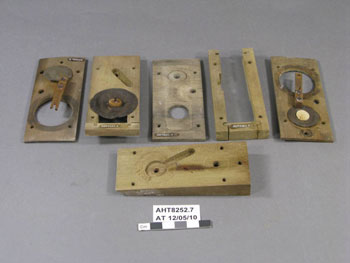 We pondered over their function in the lab, consulted experts and even asked some of the guests on one of our open evenings. But, we are still not sure. It has been suggested that they may be part of the telephone system installed at Cape Evans which connected the hut to Discovery Hut (the expedition base associated with Captain Scott's 1901 expedition at Hut Point) and two of their scientific observation posts. Another suggestion was that they could be parts of one of the two pianolas brought to the Ice.
Could the objects be from the pianola?
We would welcome any suggestions as to what they could be, as we are at a loss!
Antarctica through a lens
Jane, Thursday, May 13th, 2010
Temperature: -19°C
Wind Speed: 5 knots
Temp with wind chill: -20°C
Sunrise: August 19th 12.26pm
Herbert Ponting was the photographer on the British Antarctic Expedition led by Captain Scott in 1910-13. He not only documented the expedition through photos and film but often entertained other expedition members by giving talks and showing images of his travels to foreign countries.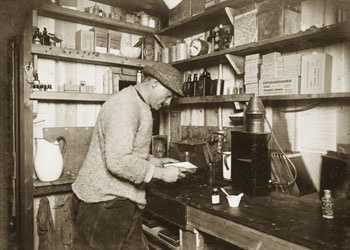 As we begin to focus on conserving objects from the expedition's galley and Ponting's darkroom we have the opportunity to work on some of the materials that he would have used.
It was Scott who coined the phrase to 'pont' which meant to 'pose until nearly frozen, in all sorts of uncomfortable positions', an activity we are becoming well used to down here. Meares, who looked after the expedition dogs, even contributed a humorous poem to the South Polar Times entitled 'Pont, Ponko, Pont' about Ponting's skill as a photographer and the talks he gave.
Among all the interesting artefacts we take out of the crates every week are glass plate negatives. Many of them have not been exposed but I have found a few with images, although often in quite poor condition. Among them are images of geological specimens and tables, maps and animals.
Many of the expedition members would give talks on particular subjects as a form of entertainment. The glass plate negatives I have been conserving may have been used by other members of the crew to illustrate subjects on which they lectured.
This Antarctic pastime is as common now as it was then. Lectures by scientists on a wide range of Antarctic subjects occur regularly at McMurdo Station (the American science base over the hill).
Now, as the afternoon twilight dwindles, I am off to McMurdo to see a talk on night time photography.
The Scott Polar Research Institute, Royal Geographical Society and Natural History Museum have some of Ponting's photos for you to see online.
The best journey in the world
Mindy, Thursday, April 29th, 2010
Temperature: -26.4°C
Wind Speed: 13 knots
Temp with wind chill: approximately -47°C
Sunrise: 11:06am
Sunset: 2:36pm
Inspired by accounts of the early Antarctic explorers man-hauling across the frozen Antarctica landscape, I desperately wanted to give it a go. With 3 other willing participants, we carefully planned and procured the necessary supplies and equipment.
The words '[Left]…a little before 11 in the morning after being photoed with our sledge in the dark by flashlight…' could easily have been an account of our own expedition, but it's really an extract from the journal of Dr. Edward Wilson, Chief Scientific Officer of Captain Scott's 1910-13 Antarctic expedition. Wilson, Lt. Henry "Birdie" Bowers and Apsley Cherry-Garrard spent 19 days in 1911 on a superhuman journey to procure Emperor penguin eggs from Cape Crozier, (located on the other side of Ross Island).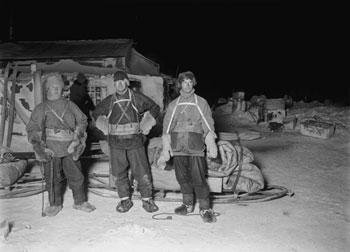 Despite re-tracing a portion of their route, our mini expedition was nowhere near as ambitious. On a relatively calm day and in the dying light of the season, we covered the 12km round-trip between Scott Base and the Antarctica New Zealand field training site in 4 hours. Our loaded Nansen sled required us to pull a load of 50 kg per person. Comparatively, Wilson and his companions trekked 97 km from their base at Cape Evans to Cape Crozier in the darkness and bitter cold of winter, with 106 kg per man on two sleds.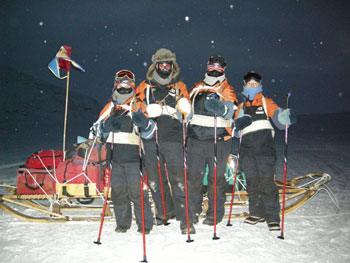 It's hard to measure up to those numbers. Reflecting on the experience, it's humbling to know that we plodded through what Cherry-Garrard considered to be 'the only bit of good pulling we were to have' (The Worst Journey in the World).
If imitation is truly the sincerest form of flattery, I can now fully appreciate how tough these men were.
A man-hauling harness from Cape Evans
Jane, Friday, April 16th, 2010
Temperature: -27°C
Wind speed: 25 knots
Temp with wind chill: -50°C
Condition 2 - Visibility less than 300m, or sustained winds 89-100km/h, or windchill -60°C to -73°C
Sunrise: 8.49 am
Sunset: 5.00 pm
It was from the expedition base at Cape Evans, Ross Island, Antarctica that Scott left for the South Pole in November 1911, after months of preparation. He used dogs and ponies for the first part of the 1600 mile journey to haul the sledges of provisions and equipment. By mid-December the animals had either died or been shot, leaving Scott, along with Evans, Oates, Wilson and Bowers, to haul the two 700lb sledges themselves using harnesses. Bowers describes it as 'the most back breaking work I have ever come up against'.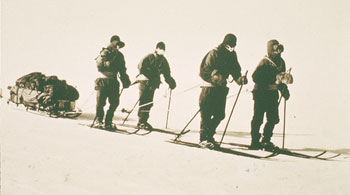 During last summer conservators Lucy and Fran, while on site at Cape Evans, excavated a harness from outside the hut which would have been used for man-hauling. I was the lucky conservator that had the pleasure of working on such an iconic artefact.
The harness was in quite poor condition when I unpacked it. The rope that would have been tied to the sledge was fraying badly and the shoulder straps were almost completely broken through in places.
It has obviously been well used as there is a dark material on the inner surface, which is probably a waterproof coating from the surface of their clothing that rubbed off onto the harness during use. Working on the harness has left me with many questions. Was it used on some of the depot-laying expeditions or on the trip to Cape Crozier to collect Emperor penguin eggs, which Cherry-Gerrard wrote about in The Worst Journey in the World? Which of the expedition members wore it? I can't help but wonder!
Views of Hut Point Ridge
Mindy, Tuesday, April 6th, 2010
Temperature: -27.1°C
Wind Speed: 13 knots
Temp with wind chill: Approximately -47.6°C
Sunrise: 08:00
Sunset: 20:00
At the weekend Bobbie, the Scott Base chef, and I decided to go on an adventure so we turned our attention to the nearby Hut Point Ridge. This particular track starts at the end of Hut Point where Commander Robert Falcon Scott's Discovery Hut is located (the base built for his 1901 – 04 expedition).
Walking along the road towards Hut Point we found ourselves relatively sheltered by local hills and the buildings of McMurdo Station, home to the American Antarctic programme, but the open approach to Discovery Hut exposed us to the wind. We were adequately clothed and equipped though, and confident that weather conditions were manageable, so we began to ascend the ridge. Braving the mildly breezy conditions, we were rewarded by spectacular views of McMurdo Sound. We could see open water in the distance, assorted islands dotting Ross Island's coast, and the Royal Society Range on the continent.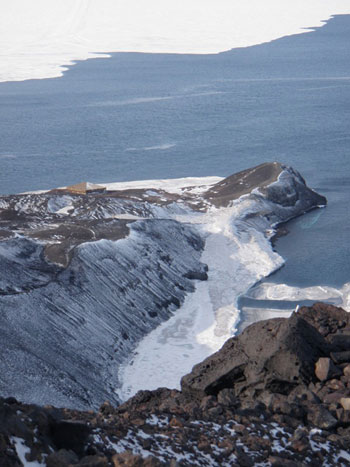 Clambering back down the ridge, we spotted a reminder of the risk that can sometimes come with such stunning landscapes. At the end of Hut Point sits Vince's Cross, built to commemorate a member of Scott's Discovery expedition who slipped down the hill into the sea during a blizzard in 1902.
It's truly a cautionary tale, and we took its point. Don't take any chances with the weather, and always mind your feet – even when you're enjoying the view.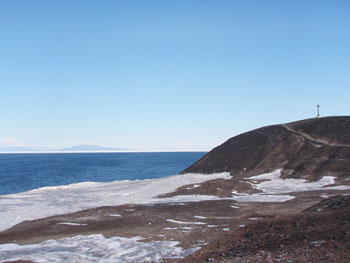 In partnership with
Blog search