Archive for the 'Shackleton' Category
Animal spirits from the past
Lucy, Monday, November 2nd, 2009
Temperature today: -20oC
Wind speed: 15 Knots
Blue skies, some hazy cloud
Back in the 1980s an international treaty agreed that in order to maintain the pristine natural environment, all non-native species should be removed and banned from returning to Antarctica.
There is of course one very notable exception – humans are still allowed to come!
Back in the heroic era of Antarctic exploration (1895 – 1917) these kinds of environmental issues were not even considered. Both Captain Scott and Ernest Shackleton brought husky dogs and ponies down to Antarctica by ship, to be used for sledge hauling on their respective expeditions.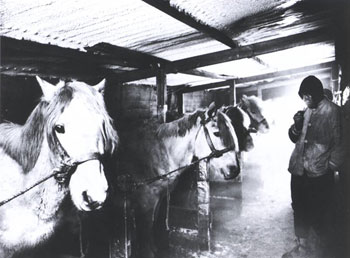 Out at the huts you can still see some vestiges of these animals. There are dog biscuits, dog harnesses and even the skeletons of a few of the dogs themselves.  I have recently been conserving a felt-lined pony blanket which remains, even to this day, covered in long creamy-coloured pony hairs. Last month we worked on 2 pony snow shoes which were special custom-made contraptions for Captain Scott's ponies to try to prevent their hoofs from digging into soft snow surfaces.
Although live reindeers were never, as far as I know, actually brought to Antarctica, the incredible insulating properties of reindeer fur (discovered by native human populations in the far North and used by explorers such as Fridtjof Nansen in the Arctic) were also exploited by the polar explorers of the Antarctica. Attached to most of the socks I have conserved recently I have found traces of reindeer fur, where it has become detached from the reindeer fur sledging shoes (Norwegian finnesko).
The discovery of such poignant little reminders of a bygone age is what makes my job so especially interesting.
Homes from home
Lucy, Thursday, October 15th, 2009
Weather: clear blue skies; -18 degrees C; less than 10 knots of wind.
When I first looked at a map of Ross Island, Antarctica, I was surprised to see that the historic huts of Captain Scott and Sir Ernest Shackleton at Cape Evans and Cape Royds are only about 5 kilometres apart. They are both built by the seashore of McMurdo Sound, convenient locations for the expedition members when they were off-loading the ships. For us living at Scott Base (New Zealand's science base) the huts can be easily visited in a day by hagglund (an all terrain vehicle) - provided the sea ice is thick and strong enough to drive across.
Last weekend we took a trip to see the historic huts. It was a visit which both Fran and I have been looking forward to impatiently since arriving.
I have seen so many photos of the huts that when the time came to visit them I had the impresion they might seem somehow familiar. In reality, the huts and settings are quite different from expected.
Shackleton's 1908 hut at Cape Royds is smaller, more sheltered and much cosier than I ever thought possible in Antarctica. Whereas the hut at Cape Evans, built by Captain Scott in 1911, is much larger and the outlook is more open than the impression I had from the photographs. Standing in front of the hut, the vista is wide open, over the Ross Sea towards the Royal Society mountain range and Mount Erebus (the southernmost active volcano) towers behind.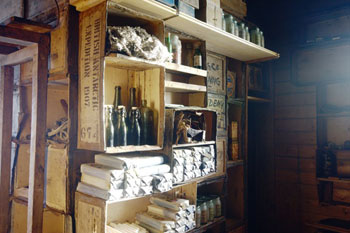 Inside Scott's hut it is quite messy, which gave the slightly eerie feeling that the survivors of the expeditions were in such a hurry to leave Antarctica on their ship, the Terra Nova, that they didn't have a chance to tidy up. Shackleton's hut at Cape Royds on the other hand is much more orderly and still feels almost lived in.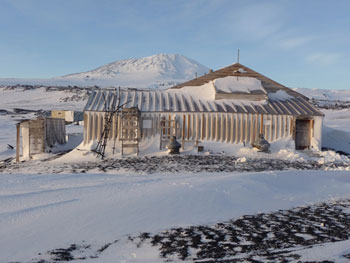 I don't know which of the 2 huts I like the best at the moment but I am sure that after living at both for 3 months, by the end of the summer I will have made up my mind.
Conserving history
George, Thursday, October 8th, 2009
Out of all the paper objects in the Reserve Collection, the grubbiest and least-promising has turned out to be something very special.
This small heap of scrunched up printed scraps, dirty with hay and scoria, comes from the stables area of the base associated with Sir Ernest Shackleton's 1907 – 09 expedition.
In conservation terms, separating the pages was tricky; when wet they turned to a sort of sludgy brown mud with the inked letters floating on top, but when dry, all the pages stuck stubbornly together as a single block.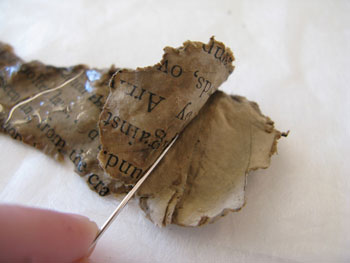 However, this made finding the buried treasure all the more exciting! Inside were fragments of printers' proofs or practice pages for the Aurora Australis, the first book written, illustrated, printed and bound in the Antarctic, and created by the expedition members during the winter of 1908.
The printers Ernest Joyce and Frank Wild were sailors and had no experience in printing (they had been sent on a 3-week crash course to learn the process before departing South). So it is fun to think of these men testing their equipment in Antarctic conditions, and their own capacity to use it. Using contributions of verse, fiction and true-life accounts from members of the expedition, Joyce and Wild began slowly, and within 2 weeks could print 2 pages a day.
Within the small heap I found 6 incomplete pages including a scattering of pages from the book's first article by Professor Edgeworth David and 'The Ascent of Mount Erebus'. There was also a section of handwritten manuscript on thin cheap paper, but this was half disintegrated and only a small fragment remains with snatches of phrases and unfinished words.
Imagine my excitement when, reading through a facsimile of Aurora Australis, I happened upon the final 2 paragraphs of David's article; all the words I'd found were there, with the missing spaces filled! The fragment was either from his draft (it looks to be his handwriting) or the clean copy he would have given Joyce and Wild. Besides climbing Erebus, David led the three-man party to the South Magnetic Pole, and at fifty was the oldest member of the expedition.
Cracks away!
Lucy, Thursday, October 1st, 2009
Last night the base carpenter, Dave, led a thrilling excursion up to the Castle Rock icefall to explore a local crevasse.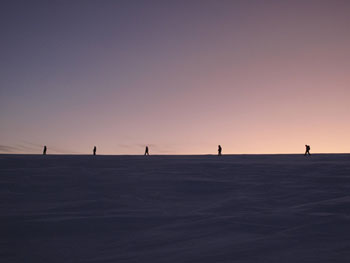 A crevasse is essentially a large crack in a glacier which has formed when the ice flows over a bump or cliff and it breaks. They are often hidden by snow on the top, which has fallen in, forming a false roof. This creates a dangerous hazard to anybody who happens to be walking on top.
But this isn't anything new.  Over a century ago both Captain Scott and Sir Ernest Shackleton's polar parties took many a tumble into a crevasse, particularly during the ascent and descent of the Beardmore Glacier, which they passed over to reach the polar plateau. They were well aware of the danger though and were tethered together by rope and harness.
Apsley Cherry-Garrard, a member of Captain Scott's 1910 expedition wrote in his diary about a near miss.  Expedition member Patrick Keohane had to be hoisted out of different crevasses eight times in the space of twenty five minutes!
Back to our little adventure … With ropes and crampons affixed, up we clambered to the top of the ice and gingerly walked across a snow bridge over the hidden crevasse which we knew to be plummeting down beneath us. We were all tied together onto a climbing rope, meaning that if one of us should accidentally put a foot through the crevasse roof, the rope anchored to the people either side would prevent a serious fall. We walked to an area where snow has dropped down from the roof to form a slope, enabling a steep scramble down to the crevasse base.
Walking along inside the crevasse, all you can see are walls of blue tinged ice on either side, a roof filled with massive ice and snow blocks suspended high overhead with a dark tunnel in front, winding on and on into the murky distance.
After walking along about 100 metres we reached the end of the rope and had to turn back.  No incidents occurred, though Barry our summer chef did take a rather comical face-first tumble down into a huge snow pile!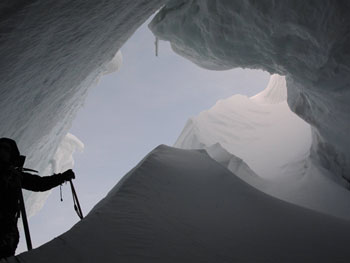 Canterbury Museum's Antarctic collections
George, Friday, September 25th, 2009
Coming from the UK I was really eager to learn more about New Zealand, and there is much to see at the Canterbury Museum. There are displays that include objects from the original Maori and later European settlers, along with specimens of the country's rich ecological history from dinosaur fossils to bones of the now extinct moa bird. The museum is in a distinctive Neo-Gothic building designed by Benjamin Mountfort in 1870, but inside it has a more rambling aspect as subsequent alterations over the years have wound about the central structure and increased its size.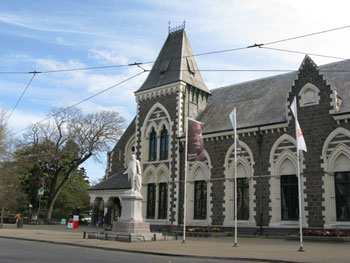 The museum also happens to house one of the world's most comprehensive Antarctic collections from the earliest explorations by Captain Ross to the modern day. From the start, the institution forged strong links with both of Captain Scott's 1901 and 1911 Antarctic expeditions through Edward Wilson, who was the surgeon, zoologist and artist in Scott's party. He was granted full access to the museum's resources prior to sailing and later donated his microscope to the museum. In 1904 the first Antarctic display was opened at the museum cementing its reputation as one of the foremost repositories of heroic era artefacts.
Nicola and I are particularly keen on the display of Antarctic vehicles including a small wooden and rather rickety motor tractor from Shackleton's 1914-17 Antarctic expedition, and a Ferguson tractor and tank-like Sno-Cat that became the first vehicles to reach the South Pole as part of Sir Edmund Hillary and Sir Vivian Fuch's effort in 1958.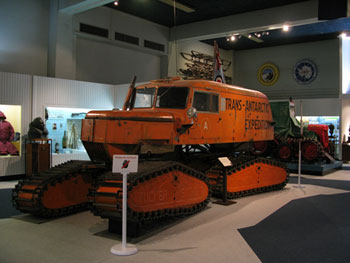 We've also been treated to a tour of the museum's Antarctic stores, by the ever-engaging Natalie (Curator of Antarctica and Canterbury's social history, who herself has been to the ice 8 times and worked with the Antarctic Heritage Trust).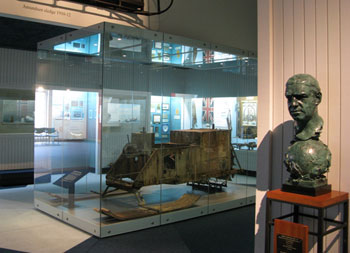 There we were treated to such gems as the glass lantern used in the trip to Cape Crozier (bearing the image of an outstretched bat embossed on the glass, and the so-called bat lamp) which was salvaged from the remains of the igloo itself by Sir Edmund Hillary. But my favourite object was Apsley Cherry-Garrard's face mask, a simple padded head-covering in army green with cut-out holes for eyes and mouth, although sitting in its box it did look vaguely sinister!
It was a very real privilege to see such iconic and evocative pieces, and reminded us that the age of Antarctic exploration didn't quite begin and end with Scott and Shackleton, but is a continuing saga with a whole gallery of characters from all walks of life, each with their own individual and inspirational stories of exploit and endeavour.
In partnership with
Blog search