Archive for the 'Shackleton' Category
Summer at Cape Evans
Lizzie, Thursday, January 7th, 2010
After over a month in the field at Cape Evans it's about time for an update on the season.
Once we get underway and into the summer work programme time flies by very quickly and the outside world recedes somewhat, and only Fran's Christmas advent calendar marked the passing days.
The first couple of weeks were spent at Shackleton's 1907 expedition base at Cape Royds. Now that the conservation project there is complete we have begun an annual monitoring and maintenance programme. This year we took an extra week to audit every single artefact in the hut, checking location and description data against the database. It was 2 weeks of complete contrast – from counting artefacts inside, to Condition One storms outside, to calm sunny days filled with Emperor penguins and Lucy scanning the sea for orca fins at every break. Seen once!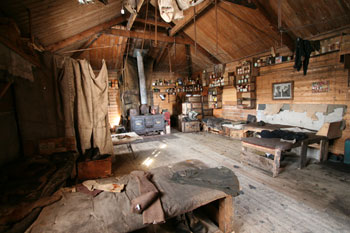 After the remote and wildly beautiful environs of Cape Royds, Cape Evans by comparison seemed a most luxurious set up. Our own tents! A conservation lab with solar power! A kitchen wannigan that is not on a slope, and stays warm when the wind goes above 10 knots. And a lot more visitors – Cape Evans is within easy reach of both Scott Base and McMurdo station, and many people make the most of the opportunity to hop on a skidoo, or join a trip to see the historic huts. Many of the visitors are up this way for work reasons – drilling holes in the ice for divers, installing equipment, monitoring weather stations, counting and tagging Weddell seals.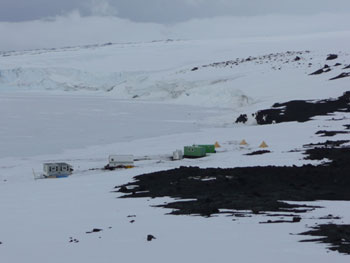 We had a few different tasks over the 3 weeks we spent at Cape Evans. During January there will be building work on the walls and roof of the stables. Fran, Lucy and I moved a lot of very heavy provision crates out of the way of the building work and into a storage container, and also documented and packed all the artefacts in that area. Along the external wall, where a new waterproof membrane will run down the inside of the wall and into the ground, we excavated artefacts at risk of damage during the membrane installation. One of these was the iconic dog skeleton. Chained to the wall sometime in the last few decades, the skeleton has been disintegrating a little more each season as the ice forms and then melts around it. Lucy's blog describes the dog in more detail.
Meanwhile Fran conserved the historic acetylene plant that provided gas lighting – a tricky job due to some flaky paint and a hard-to-reach back side requiring Fran's best contortionist skills.
And of course we returned 1300 artefacts to the hut that were conserved over the last year, and collected another 1500 to be conserved over the upcoming winter season at Scott Base.
Antarctic dogs
Lucy, Tuesday, January 5th, 2010
Temperature: -2 degrees
Windspeed: 2-5 Knots
Blue skies, bright sunshine.
I have heard that Captain Scott was opposed to the idea of using dogs as the main means of transport to the South Pole. Nevertheless, his 1910-13 Terra Nova Expedition included a large team of dogs and a dog handler which came down on the ship and lived at their base at Cape Evans.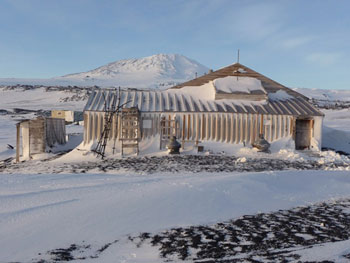 Ernest Shackleton's 1914-17 Ross Sea support party also had a small team of dogs. 10 members of this expedition were marooned at Cape Evans when their ship, the Aurora, still containing the majority of their supplies and equipment, broke anchor and was swept away from shore. Ernest Joyce, who was the leader of the sledging party, and his sledging team relied heavily on their surviving dogs to bring their weakened scurvy-ridden bodies back home after their journey across the Ross Ice Shelf to lay depots of stores.
Last month I spent 2 days archaeologically excavating the remains of a sledge dog which is chained to the North wall, outside the stables of the Terra Nova Hut. The stables are undergoing some essential repairs after Christmas, so the skeleton had to be removed.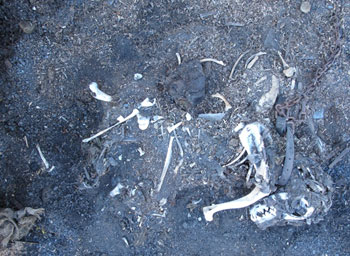 There are photographs of the dog from the 1950s. Back at this time the skin is dry but the body is still whole and covered in fur. Since then, the ravages of the elements and disturbance of the corpse by opportunistic Skuas (scavenger birds which live in abundance around Cape Evans) have caused almost complete disintegration and decay of the dog's flesh and skin and scattering of the exposed bones.
We have been speculating as to the identity of this mystery dog, which expedition it belonged to, how it died and why it ended up chained to the wall. There are no signs that it was shot or intentionally killed and no surviving records which mention it either.
Currently, the carefully labeled remains of 'Mummy', so named because he/she resembles an Ancient Egyptian dog mummy, are lying on a purpose-made tray inside the hut. Once the repairs to the stables are complete Mummy will find his/her final resting place within one of the pony stalls inside the stables. The dogs of both Scott's and the Ross Sea Party's expeditions were allowed to roam freely around in the stables so it seems to be the most appropriate location to place the dog to prevent continued disintegration of the body.
Story of a tent
Nicola, Wednesday, December 16th, 2009
This week we began treating one of the largest objects that we have in the Reserve Collection – a canvas expedition tent used on sledging trips across the ice.
The dome tent opens up like a concertina and is supported by 4 arched iron poles sewn into the canvas. The round entrance is protected by a fabric tunnel which would have been tied up on the inside to keep out wind and snow.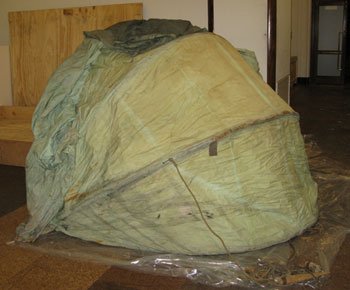 The tent is associated with the Ross Sea Party which supported Sir Ernest Shackleton's 1914 – 17 Imperial Trans-Antarctic Expedition. Shackleton, who had led an earlier expedition to Antarctica in 1907, planned to cross Antarctica via the South Pole. The expedition would begin in the Weddell Sea and end in the Ross Sea.
However, the expedition was abandoned when Shackleton's ship 'Endurance' was crushed in ice in the Weddell Sea. Unaware of this, 10 men, who were located in the Ross Sea area, continued to lay supply depots for Shackleton along the last leg of the proposed route.
The Ross Sea Party had their own challenges - they had been stranded with few rations when their ship Aurora was blown out to sea during a storm, leaving them stranded for nearly 2 years at Cape Evans (the home of Captain Scott's expedition base for his attempt on the South Pole). With barely any provisions, the Ross Sea Party were forced to shelter in Scott's hut where they used the stores, clothing and equipment left behind by Scott and his men.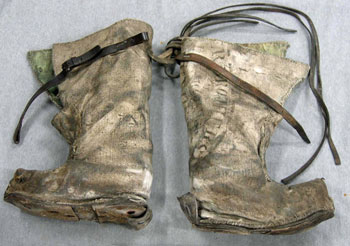 The tent was used on their long sledging expeditions, covering almost 2,000 miles. The inside is black with soot from the primus stove, and small holes in the canvas have been patched and hand-stitched to prevent snow leaking into the tent during the blizzards that kept them confined for days at a time.
Several of the iron poles have been repaired with lengths of bamboo and twine and this reminded me of the shocking conditions, illness, starvation and exhaustion that the men endured. Not only did they suffer from painful frost bite and snow blindness but also acute scurvy caused by lack of vitamin C in their diet.
Ernest Joyce is quoted as saying 'Scurvy has got us, our legs are black and swollen, and if we bend them at night there is a chance they will not straighten out. So, to counteract that, we lash pieces of bamboo to the back of our knees to keep them straight.' They also tried to alleviate the pain by massaging the affected areas with methylated spirits.
Ultimately, Reverend Spencer-Smith died of scurvy and was buried in the ice, and later Mackintosh and Hayward were also lost whilst trying to cross thin sea ice in poor weather.
The Aurora returned with Shackleton aboard in January 1917 and rescued the 7 survivors of the original shore party.
If you want to read more about the Ross Sea Party, Kelly Tyler-Lewis has written a great account in her book The Lost Men (Antarctic Heritage Trust staff pick!).
It's not easy being green
Fran, Monday, November 30th, 2009
Temperature: -5°C
Wind: 3 knots
Temperature with Wind Chill: -5°C
We have now moved onto the next phase of our work programme in Antarctica. Lizzie, Lucy and I have traversed over 30km of sea ice, through Erebus Bay to the North of Scott Base, to Sir Ernest Shackleton's expedition base at Cape Royds where we will be working in situ for the next 2 weeks.
We have set up camp in 2 wannigans (containers that work on the principle of refrigerators, but instead of keeping the cold in, they keep the cold out).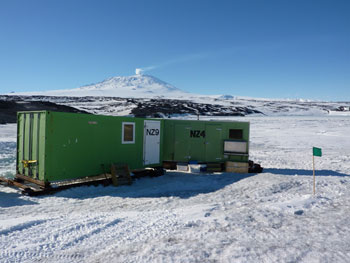 There are many considerations to bear in mind when camping in Antarctica, particularly when the aim is to ensure that your presence leaves no mark when you pack up and leave. Scott Base, where we have spent the last three months, is very 'sustainability' conscious, with a successful recycling and responsible disposal policy, and we are very much adhering to this standard in our small camp.
We separate all our waste appropriately for later transportation back to Scott Base. It really does make you think how you could be more 'green' back home - I do try to do my bit, but often complain that there's no space for separate bins for differing material in my kitchen back home.
Here in our little camp all 3 of us use the same small wannigan for cooking, dining and relaxing, and still manage to have 4 types of separated waste. It makes my excuses seem a little lame!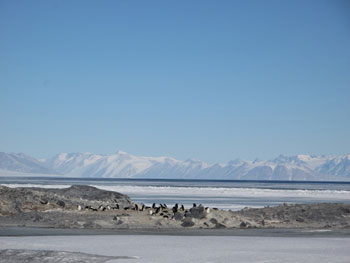 Sea ahoy
Lucy, Friday, November 27th, 2009
A couple of days ago, Lucy, Fran and I packed up 1,500 artefacts associated with Captain Robert Falcon Scott's 1910 – 13 expedition base at Cape Evans. They were conserved by 4 of our conservators over the Antarctic winter and we intend to return them to Cape Evans. But first we will be spending a couple of days on conservation work at Sir Ernest Shackleton's 1907-09 expedition base at Cape Royds.
We took off from Scott Base (New Zealand's science facility) with a small team of helpers, a hagglund (an all terrain vehicle) and a train of sledges laden with all our belongings, plus a little green portable cabin which is to be our home for the next 3 weeks while we are working at Cape Royds.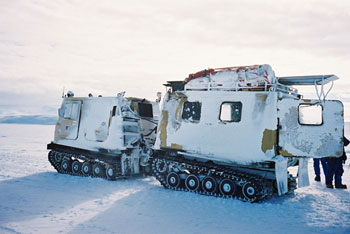 At present the frozen sea between Scott Base and Cape Royds is stable and safe for driving on. This year however the sea ice is breaking up early. One of the first things we did when we arrived at Cape Royds was to walk up to the top of the hill between our camp site on the ice and the historic hut. We were pretty surprised to see open water and pack ice floating 500 metres out from the shore.
The open sea with its mountain backdrop is quite a spectacular site to behold – each morning the sea is getting noticeably closer.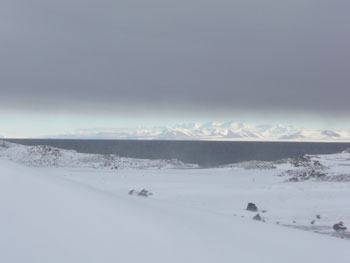 The Adelie Penguins nesting on rocks nearby will probably reap the benefits of having their fishing grounds within easily waddling distance this early in the breeding season. The closeness of the open sea may be more of a concern for our operation however, because we shall be moving our conservation camp south again in 2 days time, to Cape Evans.
Supposedly hagglunds do float! Never the less we are not that keen to check out the vehicle's capabilities.
If we do get stranded we will have to be taken out of Cape Royds by helicopter and may have to leave some provisions behind.
We will keep you posted!
In partnership with
Blog search