Archive for the 'Climate & weather' Category
Aurora hunters - part 2
Jane, Tuesday, June 22nd, 2010
Temperature: -37.6°C
Wind Speed: 5 knots
Temp with wind chill: -45°C
Sunrise: None
Sunset: None
A few of us at Scott Base, New Zealand's Antarctic research station, had been waiting for a still night when we could walk up Crater Hill and look at auroras (natural light displays in the sky, usually observed at night, particularly in the polar regions). For many days we watched the weather. The temperature would be about -20 to -25°C with no wind, but by the time we finished work in the evening the wind would pick up to about 20 knots which means that it would feel as if it was about -50°C or colder, even worse on top of the hill. But on Monday the temperature was a balmy -25°C, with no wind and no clouds - perfect conditions!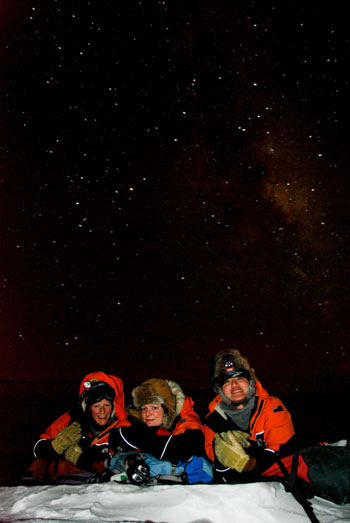 We were dropped off at the base of the hill and climbed up the scree slopes. At the top of the hill there is a crater with an ice lake. The frozen lake has humps in it where the ice has been compressed by pressure and big and small cracks lead out from them. A torch on the ice showed up the huge ice crystals and cracks that were forming. It was really beautiful!
At the edge of the crater we looked down on Scott Base and as we did so a faint aurora became visible. As we started to walk back to the base the aurora became stronger and seemed to dance over the base. The display was so amazing that we had to radio back to Scott Base to advise that we would be back later than the sign out time we had given We were even too distracted to think about taking out our cameras!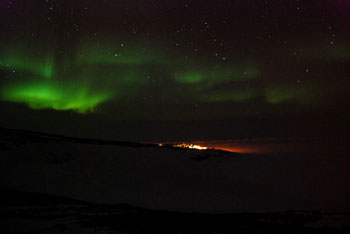 I had been contemplating whether or not to go out as I was quite tired after work, but I am so glad I did. It is very easy to become complacent about where you are and not take full advantage of this wonderful place. We are a bit blasé about the auroras now. We have the opportunity to see them nearly every day. We just need to remind ourselves every now and then that we are privileged to have the opportunity to see them at all. This was a fantastic night, one of those nights that reminds me of how lucky I am to be here and what an amazing place this is.
Aurora hunters
Jane, Monday, May 24th, 2010
Temperature: -36.3°C
Wind Speed: 0 knots
Temp with wind chill: -36°C
Sunrise: August 19th 12.26pm
Sunset: n/a
I decided to join Antarctica New Zealand's science technician, Steven, and base engineer, Hayden, on a walk up Observation Hill to look for auroras (natural light displays which occur in the sky, usually at night) and try out our new night photography skills.
It took us half an hour to prepare for the trip down the road. We donned full ECW (Extreme Cold weather) gear, ski goggle lenses changed from dark to clear, head torches and radios were checked and we took plastic bags for our cameras.
The path up the hill was covered with snow so it was quite difficult to see it in places, but we figured that up was generally a good direction.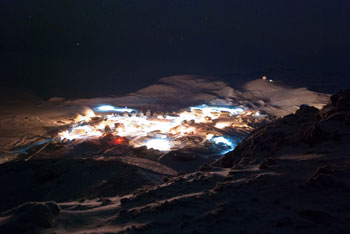 The temperature dropped to about -40°C while we were out, but we were kept snug in our enormous jackets. Looking down from the top of the hill, the bright lights of McMurdo, the wind farm and our home at Scott Base were clearly visible. It was a clear night up above too with a dazzling array of stars visible. I was even lucky enough to see an iridium flare which is caused by sunlight reflected from the solar panels of a satellite in orbit (something I learned at our night time photography class).
Unfortunately, not one aurora was visible.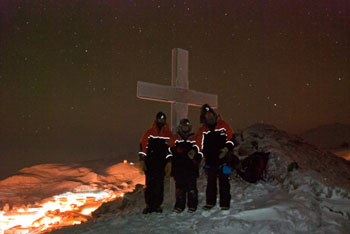 We climbed back down to the vehicle and headed home tired and starting to feel a bit cold. As we pulled back in to Scott Base I glanced out of the window towards Mount Erebus and what did I see? A faint green Aurora.
Saying good bye to the sun
Mindy, Monday, May 10th, 2010
Sunrise: last sunrise for the season – April 26th (until sometime in August)
Temperature: -19.1°C
Wind Speed: 0 knots
Temp with wind chill: -19.1°C
Winter has arrived and the sun has dipped below the horizon, not to return until sometime in August. To commemorate this important annual event we held a Scott Base 'Sundown' party, inviting our friends from the nearby American scientific base (McMurdo Station) to join in the festivities.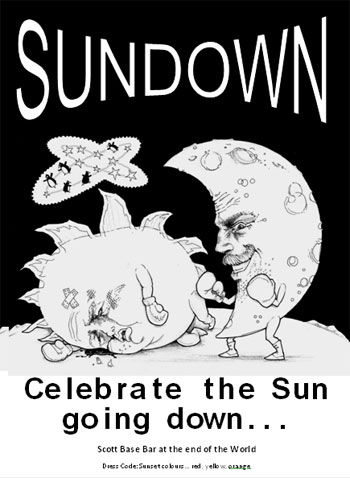 Our social committee flew into action. Suns, moons and stars adorned the walls and ceiling, and strands of white fairy lights became our starry night sky. We surrounded ourselves with decorations in all the colours of the sun - bright oranges, yellows and reds. Guests were encouraged to dress in these colours, and a mad flurry ensued to secure the brightest and sunniest costumes available.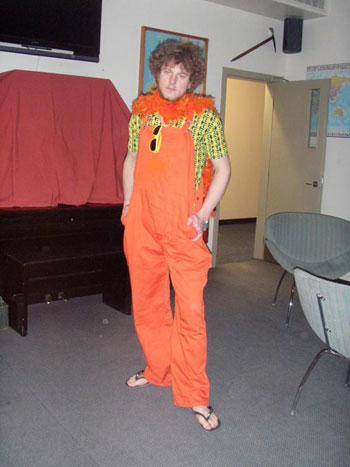 Costume parties (also called fancy dress parties) are one of the long-standing traditions of Antarctica. Just as we don costumes to help mark special occasions, so did the historic explorers. A photo from mid-winter celebrations in 1912 show Tryggve Gran, a Norwegian skiing expert on Captain R. F. Scott's British Antarctic Expedition, dressed as a clown amidst sledging flags hung about Cape Evans hut.
The base has returned to normal now, and the costumes are tucked away. Hopefully we'll bring them out again this winter – maybe even to celebrate the return of the sun in a few months' time.
The Antarctic winter is upon us…
Jane, Monday, April 26th, 2010
Temperature: -26°C
Wind Speed: 30 knots
Temp with wind chill: -56°C
Sunrise: 11.06am
Sunset: 2.36pm
It's over two months since the winter team of conservators arrived in Antarctica to 24 hour day-light, blue skies and temperatures just below zero, but how quickly things have changed. In the last week it has really felt like winter has finally arrived.
The most obvious indicator is that it's no longer light when we get up in the morning, and we are really noticing the darkness encroaching on our days. In the last week sunrise has moved forward an hour from 9.58am to 11.06am and sunset from 3.58pm to 2.37pm. Saturday will be our last sunrise until 19th August!
We now watch with interest the wind dials and temperature gauge in the dining room as the temperatures drop – the lowest so far is -36.7°C on a beautiful clear still day – and we've begun to recognise the precursors of a good storm. The temperature steadily climbs to around -14°C and the wind veers around until it is coming directly from the south, then the wind speed climbs until it's howling. Scott Base begins to rattle and the view is blotted out by snow. The tiny light flakes of ice snake around in currents so you can see the paths the wind takes, up and around the buildings, before settling in sculptural drifts.
With the snow, the base is beginning to look whiter as the drifts accumulate, although as the snow is so light some drifts are quite transient and disappear with the next wind.
We are all looking forward to experiencing the extreme weather of the Antarctic winter and just a little apprehensive of the seemingly eternal night that begins on Saturday!
Illusions on the ice field
George, Monday, April 19th, 2010
Sunrise: 9.48am
Sunset: 3.58pm
A fortnight ago I saw some people looking out of the lounge window of Scott Base, New Zealand's Antarctic base. Given the spectacular views, this is not unusual. However, this time when I followed their gaze I saw something pretty peculiar. The usual view of Black Island and White Island was strangely different. A long strip of new 'land mass' had settled at their base, with a discernable boundary above and below, and it extended right along the horizon.
Pegasus Air Strip, which can usually only be observed as small dots in the distance on a clear day, towered high and wide, as though brought many miles forward across the ice field. What we were seeing was an immense superior mirage.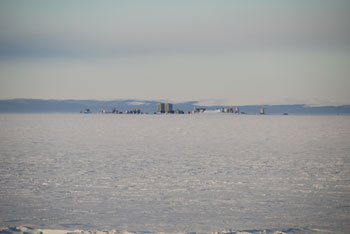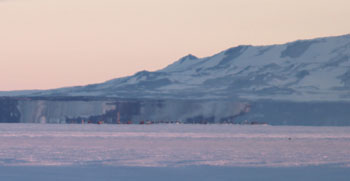 The temperature had taken a sudden and dramatic dip from the minus twenties to minus 30. The following week we saw a mirage almost everyday. Sometimes it was a smooth, stable magnified image, or else a distorted mixture of topsy-turvy pictures mirrored along the horizontal axis creating dazzling long symmetrical patterns.
Superior mirages occur due to temperature inversion, when the air below the line of sight is colder than that above and are common in polar regions. The refractive difference between bands of cold and warmer air acts as a lens, bringing forward objects on or beyond the horizon, making them appear larger - an optical effect much like looking through a glass of water. Turbulence in air density may also cause a mirage to dance and change rapidly, a kind known rather poetically as a Fata Morgana, named after the magical shape-shifting sister of King Arthur; but we have yet to see this type.
With the long nights rapidly drawing in, these spectacular displays will soon be invisible to us – but then the Aurora Australis should keep us distracted!
In partnership with
Blog search