Archive for the 'Animals & wildlife' Category
Life on the High Seas
Anna, Thursday, January 29th, 2009
I never believed the stories about people working in Antarctica in just a t-shirt- bah! People just love to exaggerate. But here we are, sweating away in t shirts. The weather has been fine, fine, fine, with temperatures up to +5°C - a veritable sauna after the -40°C days we had in September.
And along with the sunny tropical heat comes the change in tide. The sea ice has been closed for a month now, and after being helicoptered out here to Captain Scott's base at Cape Evans, we found that the sea ice was all still in place. It seemed like it was still solid. But we all know appearances can be deceptive.
Although the sea ice is still there, it is slowly thawing out and disintegrating from within. It looks so solid, but dark patches have been appearing out there. And finally, it is starting to happen. We had a slightly brawny breeze yesterday, and poof!! Those dark patches have suddenly become dark sea, and the ice is starting to blow out!
It is vaguely surreal to see the ocean after seeing nothing but snow and ice for so long. Even eerier is watching the pancake ice roving lazily back and forth against the shore with the tide. It is hard to believe that the waves travel for so many miles under the sea ice to lap against the Cape Evans shore.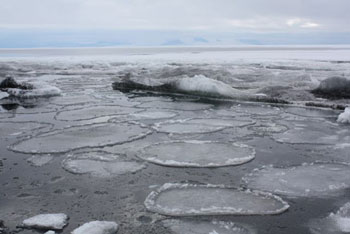 Now we are just waiting for the liberated bergs to begin their drift, and the orca and leopard seals to start their hunting in the open ocean.
No such thing as a day off
Jana, Monday, December 22nd, 2008
Because the summer season provides such a short window of good weather and time in which to get all of our scheduled work at the huts done, our routine in the field tends to be along the lines of: work, work and then work some more.
That said, we do manage to sneak in a tiny bit of free time every now and then, and when we do, one of our favourite things to do is to go for a good walk. Often we'll head out to one of the many seal holes in the sea ice to watch the big slugs lie around (they don't appear to do much else), and another of our favourite destinations is Skua Lake, where we watch the skuas flap around and dunk their heads under water hundreds of times in a row (which, of course, makes us jealous of the fact that they get to take a bath!)
The fabulous view of our local islands and icebergs, with the TransAntarctic Mountains in the background, is always a good reason to climb Windvane Hill or walk around the head of the Cape, both of which we do regularly as well.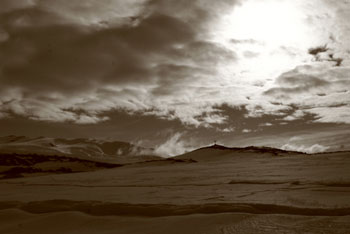 If a walk isn't on the cards, we might hang around camp and write letters, play dice, or do a little baking for tomorrow's tea. (We've managed some pretty good scones, but I think Lizzie reigns supreme with her sultana and apricot pinwheels!)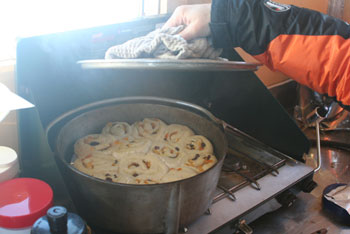 I won't implicate any of my co-workers, but I will admit that much of my own quiet time is spent rather geek-ishly, poring over historic photographs and the journals and accounts of the heroic era explorers, learning what they did in their spare time at Cape Evans!
Cape Royds Moving Company Ltd
Lizzie, Thursday, November 27th, 2008
This year, our camp at Cape Royds is on the sea ice at Backdoor Bay. The ice is very thick here – around 2 metres. We camp here because it's the closest flat spot that the bulldozer can tow our little township to (4 conservators, 2 living wannigans, 2 polar tents and a shipping container that holds all our equipment and artefacts). And it'd be a perfect spot too were it not for the fact that Shackleton's hut is some way up and over a hill. A hill over which 203 large, heavy boxes need to be carried.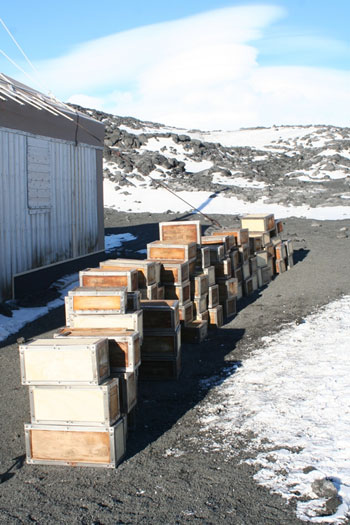 Why don't we fly them in? Or drive them door to door? It's because of the ASPA. Cape Royds is one of the many areas in Antarctica designated an ASPA, or Antarctic Specially Protected Area. There are 2 ASPAs at Cape Royds. Area number 121 surrounds the Adelie penguin colony, and adjoining it is area number 157 which protects Shackleton's hut and the surrounding area. Helicopter overflights are prohibited, as is vehicular access, and the number of humans allowed in each area is limited to 40.
Compared to the 2000+ boxes Shackleton and his men offloaded, 203 is a paltry number. But try telling that to my aching muscles after two days of lugging boxes through the snow. Thank goodness we are able to use a quad bike and sled to take them up the worst of the hill to the edge of the ASPA. And hurrah for Miles and Dave (the carpenters) at Scott base who rigged up these natty carrying stretchers - this season's must have for the polar conservator.
Walking on (frozen) water
Jana, Thursday, October 2nd, 2008
During the heroic era, tramping across the thick, semi-permanent sea ice that forms around the shores of Antarctica was the only way for the early explorers to cross from their huts on Ross Island to the mainland (and thus the South Pole). This sea ice was also the easiest place to travel around Ross Island itself, it being far easier to skirt along the shore on relatively flat ice than to try to navigate the pesky glaciers and craggy contours inland. Today, just as in historic times, most travel on and around Ross Island is done via seasonal roads on the ice, often along routes established by the early explorers.
While these explorers relied upon visual observation (and often their own impatience) to decide if the ice was safe enough to travel on, today there are strict standards as to how thick the ice must be before roads can be opened and vehicles allowed to travel on the ice. This is determined by drilling and measuring holes in the ice using specialized equipment.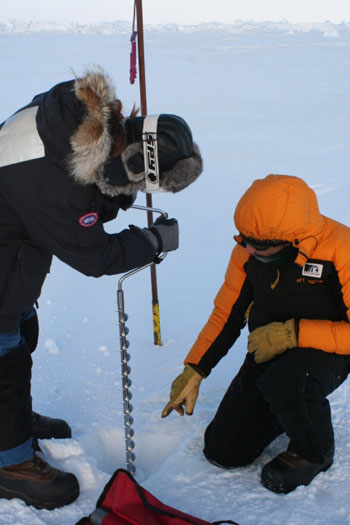 One place where it is critical to monitor the thickness of the ice is around the large cracks that form near the shore and around icebergs trapped in the sea ice. Because cracks are prone to change and move more than the rest of the ice, measurements must be taken at multiple locations on each side of the crack each time it is to be crossed. If the ice does not meet the thickness requirements, we simply do not cross.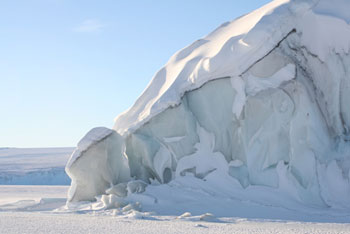 Currently, for instance, the large crack at the foot of the Barne Glacier is not thick enough to traverse, meaning that the hut at Cape Royds remains inaccessible to us for now. While for the early explorers this might have meant hunkering down in a hut with dwindling supplies for another few weeks, for us it just means that we go about our work elsewhere until the time comes when we can safely cross.
Diving in Antarctica
Susanne, Thursday, June 5th, 2008
Scuba diving is a major part of my life, both personally and professionally, so it's no surprise that I wanted to learn more about the diving operations in Antarctica. As a technical and scientific diver, I understand extreme diving environments and the dangers associated with them, but I was intrigued to see the unique diving challenges of the Ross Sea. Not only are the waters of Antarctica cold (-1.8°C) and deep, they are also very dangerous. The presence of glaciers and sea ice overhead can prevent the diver from accessing the surface in an emergency, and the cold water temperatures can cause breathing equipment to freeze. While there have been lives lost during diving operations in Antarctica, hundreds of dives have occurred since the late 1980s and have led to a better understanding of underwater Antarctic ecology.
Diving in such cold temperatures requires special equipment such as a dry suit and cold water breathing regulators in addition to the normal scuba diving gear. Additional training beyond basic scuba certifications in overhead environments, confined spaces, and ice diving is also necessary. While the training and equipment is time-consuming and expensive, the reward is well worth the effort.
In my quest to learn more about the underwater environment, I discovered that a complex relationship exists between the natural environment and the biological environment. One of the features that I found interesting was the icefalls that form underwater and entrap marine organisms. Sometimes the organism is able to survive until the ice melts, but mostly it becomes food for other scavengers.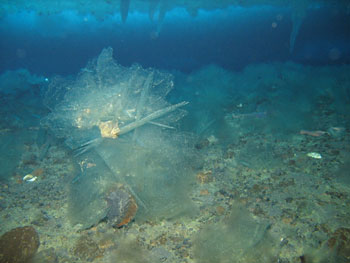 Anchor ice is the largest danger for bottom-dwelling organisms, as glaciers and drift ice can crush them or sweep them up off the sea floor. One of my favourite Antarctic species is the sea spider. Sea spiders are in the phylum Arthropod that is the same as spiders, scorpions, and insects. While they are found in waters all over the world, the largest and most interesting species are located in Antarctica. Sea spiders are predators that feed on other bottom dwellers such as anemones and sponges. This unique creature is thought to have existed as late as 450 million years ago, but several fossils have been found from the Jurassic period.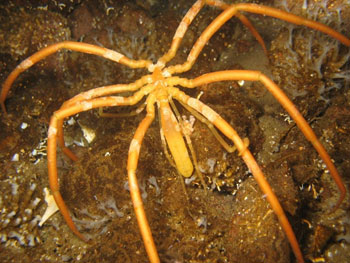 While I truly appreciate getting to see the seals and penguins, the underwater world is more fascinating to me. I won't get the opportunity to dive while I am here, but I enjoy learning more about Antarctic ecology. Surely the early explorers knew that there was a diverse and wonderful world that existed right underneath them, but I don't think they would ever have imagined the biological beauty that thrived beneath their vessel as they sailed into McMurdo Sound. Similar to how we peer over the edge of the shoreline in the summer to see the colourful starfish and sea urchins, I envision the men from Scott's party walking down from Discovery Hut along the edge of the sea and pondering what lies beneath.
In partnership with
Blog search