Archive for the 'Cape Evans' Category
Mould!
George, Thursday, June 17th, 2010
Temperature: -26.5°C
Wind Speed: 10 knots
Temp with wind chill: approximately -42°C
Moonrise: below the horizon
Moonset: below the horizon
This season we are working on artefacts from Herbert Ponting's darkroom at Cape Evans (Ponting was the official photographer on Captain Scott's 1910 expedition). Amongst the items are 130 unopened packages of glass plate negatives, all of which have been affected by mould. Mould is highly damaging to paper and card, making it weak and brittle. In previous years the darkroom has experienced high levels of relative humidity at times, due to the build-up of snow and ice melting during the summer months, when temperatures can go above freezing. Add to this, a room with limited air circulation, and you have the perfect breeding ground for mould! The mould looks very interesting, like a creeping carpet of fluff, and is a type of mildew more commonly found on wood.
Before beginning conservation treatment, our science technician helped me to try and find out if the mould is still alive. All our attempts at cultivating the mould on agar plates proved negative, which would imply that the spores (even the dormant ones) have been killed by the natural freeze-drying process of the Antarctic environment. Very good news!
To be on the safe side though, in treatment, we removed all the mould that could safely be accessed, and treated the items with 70% ethanol solution. Sometimes the packages are stuck together and have to be carefully separated. Almost all are badly degraded and some need extensive repairs and consolidation.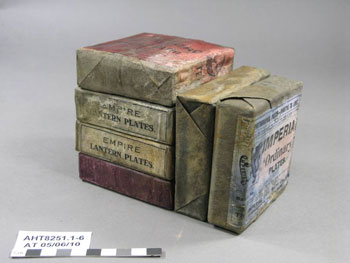 It is great to think that in a few months' time these packages will be returned to their shelves in the hut, which is also undergoing conservation. The next job will be to ensure they remain fungal-free for many years to come!
Puzzling objects
Jane, Thursday, June 10th, 2010
Temperature: -32°C
Wind Speed: 15 knots
Temp with wind chill: -45°C
Sunrise: None
Sunset: None
While conserving objects from Captain Scott's 1910 expedition base at Cape Evans, we recently found a number of objects made of layers of wood. We are often fortunate enough to see the objects we are conserving in historic photos from the expeditions, which can help us identify them or associate them with a particular activity. Unfortunately, this is not the case with these elusive objects. Some of them had what appeared to be a bellows at one end and a paper diaphragm inside.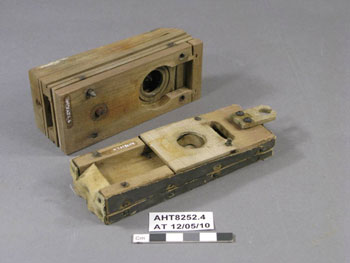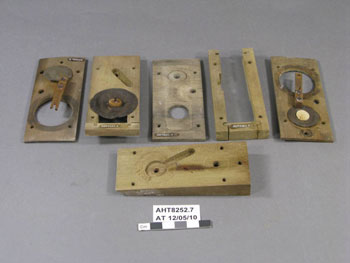 We pondered over their function in the lab, consulted experts and even asked some of the guests on one of our open evenings. But, we are still not sure. It has been suggested that they may be part of the telephone system installed at Cape Evans which connected the hut to Discovery Hut (the expedition base associated with Captain Scott's 1901 expedition at Hut Point) and two of their scientific observation posts. Another suggestion was that they could be parts of one of the two pianolas brought to the Ice.
Could the objects be from the pianola?
We would welcome any suggestions as to what they could be, as we are at a loss!
Antarctica through a lens
Jane, Thursday, May 13th, 2010
Temperature: -19°C
Wind Speed: 5 knots
Temp with wind chill: -20°C
Sunrise: August 19th 12.26pm
Herbert Ponting was the photographer on the British Antarctic Expedition led by Captain Scott in 1910-13. He not only documented the expedition through photos and film but often entertained other expedition members by giving talks and showing images of his travels to foreign countries.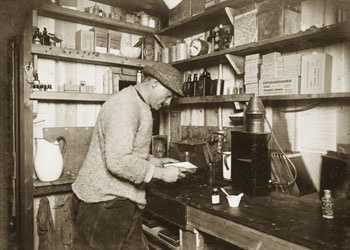 As we begin to focus on conserving objects from the expedition's galley and Ponting's darkroom we have the opportunity to work on some of the materials that he would have used.
It was Scott who coined the phrase to 'pont' which meant to 'pose until nearly frozen, in all sorts of uncomfortable positions', an activity we are becoming well used to down here. Meares, who looked after the expedition dogs, even contributed a humorous poem to the South Polar Times entitled 'Pont, Ponko, Pont' about Ponting's skill as a photographer and the talks he gave.
Among all the interesting artefacts we take out of the crates every week are glass plate negatives. Many of them have not been exposed but I have found a few with images, although often in quite poor condition. Among them are images of geological specimens and tables, maps and animals.
Many of the expedition members would give talks on particular subjects as a form of entertainment. The glass plate negatives I have been conserving may have been used by other members of the crew to illustrate subjects on which they lectured.
This Antarctic pastime is as common now as it was then. Lectures by scientists on a wide range of Antarctic subjects occur regularly at McMurdo Station (the American science base over the hill).
Now, as the afternoon twilight dwindles, I am off to McMurdo to see a talk on night time photography.
The Scott Polar Research Institute, Royal Geographical Society and Natural History Museum have some of Ponting's photos for you to see online.
Saying good bye to the sun
Mindy, Monday, May 10th, 2010
Sunrise: last sunrise for the season – April 26th (until sometime in August)
Temperature: -19.1°C
Wind Speed: 0 knots
Temp with wind chill: -19.1°C
Winter has arrived and the sun has dipped below the horizon, not to return until sometime in August. To commemorate this important annual event we held a Scott Base 'Sundown' party, inviting our friends from the nearby American scientific base (McMurdo Station) to join in the festivities.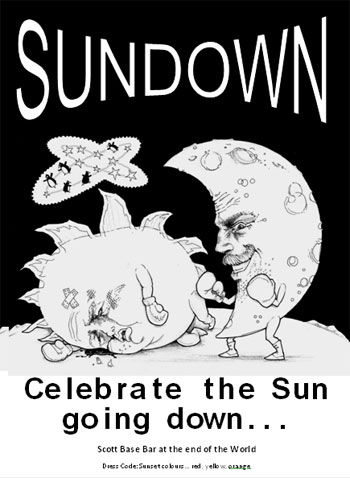 Our social committee flew into action. Suns, moons and stars adorned the walls and ceiling, and strands of white fairy lights became our starry night sky. We surrounded ourselves with decorations in all the colours of the sun - bright oranges, yellows and reds. Guests were encouraged to dress in these colours, and a mad flurry ensued to secure the brightest and sunniest costumes available.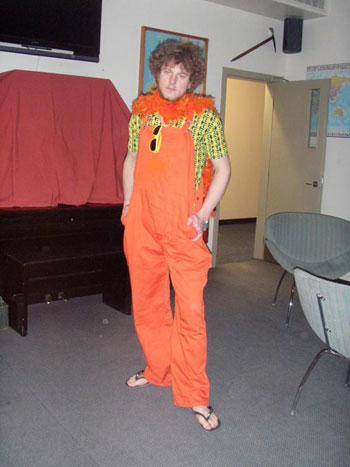 Costume parties (also called fancy dress parties) are one of the long-standing traditions of Antarctica. Just as we don costumes to help mark special occasions, so did the historic explorers. A photo from mid-winter celebrations in 1912 show Tryggve Gran, a Norwegian skiing expert on Captain R. F. Scott's British Antarctic Expedition, dressed as a clown amidst sledging flags hung about Cape Evans hut.
The base has returned to normal now, and the costumes are tucked away. Hopefully we'll bring them out again this winter – maybe even to celebrate the return of the sun in a few months' time.
A man-hauling harness from Cape Evans
Jane, Friday, April 16th, 2010
Temperature: -27°C
Wind speed: 25 knots
Temp with wind chill: -50°C
Condition 2 - Visibility less than 300m, or sustained winds 89-100km/h, or windchill -60°C to -73°C
Sunrise: 8.49 am
Sunset: 5.00 pm
It was from the expedition base at Cape Evans, Ross Island, Antarctica that Scott left for the South Pole in November 1911, after months of preparation. He used dogs and ponies for the first part of the 1600 mile journey to haul the sledges of provisions and equipment. By mid-December the animals had either died or been shot, leaving Scott, along with Evans, Oates, Wilson and Bowers, to haul the two 700lb sledges themselves using harnesses. Bowers describes it as 'the most back breaking work I have ever come up against'.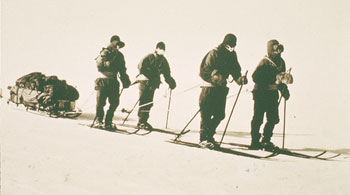 During last summer conservators Lucy and Fran, while on site at Cape Evans, excavated a harness from outside the hut which would have been used for man-hauling. I was the lucky conservator that had the pleasure of working on such an iconic artefact.
The harness was in quite poor condition when I unpacked it. The rope that would have been tied to the sledge was fraying badly and the shoulder straps were almost completely broken through in places.
It has obviously been well used as there is a dark material on the inner surface, which is probably a waterproof coating from the surface of their clothing that rubbed off onto the harness during use. Working on the harness has left me with many questions. Was it used on some of the depot-laying expeditions or on the trip to Cape Crozier to collect Emperor penguin eggs, which Cherry-Gerrard wrote about in The Worst Journey in the World? Which of the expedition members wore it? I can't help but wonder!
In partnership with
Blog search