Archive for the 'McMurdo' Category
Homes from home
Lucy, Thursday, October 15th, 2009
Weather: clear blue skies; -18 degrees C; less than 10 knots of wind.
When I first looked at a map of Ross Island, Antarctica, I was surprised to see that the historic huts of Captain Scott and Sir Ernest Shackleton at Cape Evans and Cape Royds are only about 5 kilometres apart. They are both built by the seashore of McMurdo Sound, convenient locations for the expedition members when they were off-loading the ships. For us living at Scott Base (New Zealand's science base) the huts can be easily visited in a day by hagglund (an all terrain vehicle) - provided the sea ice is thick and strong enough to drive across.
Last weekend we took a trip to see the historic huts. It was a visit which both Fran and I have been looking forward to impatiently since arriving.
I have seen so many photos of the huts that when the time came to visit them I had the impresion they might seem somehow familiar. In reality, the huts and settings are quite different from expected.
Shackleton's 1908 hut at Cape Royds is smaller, more sheltered and much cosier than I ever thought possible in Antarctica. Whereas the hut at Cape Evans, built by Captain Scott in 1911, is much larger and the outlook is more open than the impression I had from the photographs. Standing in front of the hut, the vista is wide open, over the Ross Sea towards the Royal Society mountain range and Mount Erebus (the southernmost active volcano) towers behind.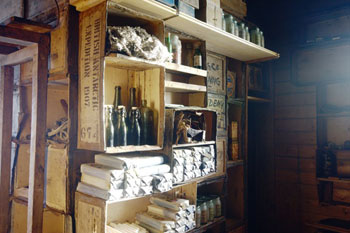 Inside Scott's hut it is quite messy, which gave the slightly eerie feeling that the survivors of the expeditions were in such a hurry to leave Antarctica on their ship, the Terra Nova, that they didn't have a chance to tidy up. Shackleton's hut at Cape Royds on the other hand is much more orderly and still feels almost lived in.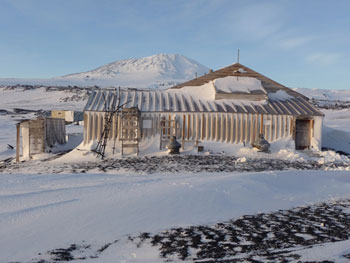 I don't know which of the 2 huts I like the best at the moment but I am sure that after living at both for 3 months, by the end of the summer I will have made up my mind.
Everybody needs good neighbours
Antonia, Monday, July 13th, 2009
Race day weather – Temp: -22°C Wind: 10 knots
It was not until I saw the information in Becky's Mid-Winter blog about the number of winter bases there are in Antarctica, and saw some of their far flung locations on the map, that I realised how fortunate we are to have such good neighbours in the Americans from McMurdo Station.
Based less than a forty minute walk from Scott Base we interact with the Americans often.
Only last week they were kind enough to invite the whole of Scott Base over to join them in celebrating Midwinter, and we were back again this Sunday, for a rather different event.
It seems that every year the inhabitants of McMurdo find people mad enough to get up at 9.30 on a Sunday morning to go for a 3km run to Scott's Discovery Hut at Hut Point (dating from The National Antarctic Expedition 1901-1904) and back to McMurdo. This interesting event is a continuation of the Midwinter celebrations which will conclude on the 11th July (weather permitting) with the Midwinter polar plunge here at Scott Base.
So last Sunday I found myself, instead of going to church, lining up with a group of people about to set off on a 3km run, sprint or walk to Discovery Hut and back – and this is what is considered fun in Antarctica!
I am happy to say that not all the interaction between Scott Base and McMurdo is quite so strenuous as a 3km run or a polar plunge. We pay regular visits to our neighbours for far more sedate activities, such as the monthly bingo evening, due this Thursday, and Trivia nights, as well as for the exchange of scientific information on a Monday evening.
Those of us living at Scott Base this winter are extremely grateful for the assistance that our American neighbours provide in helping keep away those winter blues.
Distant neighbours
Becky, Thursday, July 2nd, 2009
Weather: Temperature -22.7C, wind 20 knots
As the middle of winter (generally referred to as Midwinter) got closer, greetings and invites started arriving by email from all around Antarctica. I hadn't realised that so many bases operated through the winter, but in fact there are 37, run by different National Antarctic Programmes under the Antarctic Treaty. Their populations range from 2 at the Chilean Escuerdo base up to 153 at McMurdo base.
The Japanese at Syowa Station sent two delicious sounding menus to tempt us to visit, and the European Concordia Station challenged us all to an 'air band' competition. The Brazilians at Comandante Ferraz were planning an exciting time of soccer, barbecue and samba, while the new German Neumayer III station was celebrating its first winter. We sent them our greeting and invite too; it's a pity we're all too far apart to visit each other.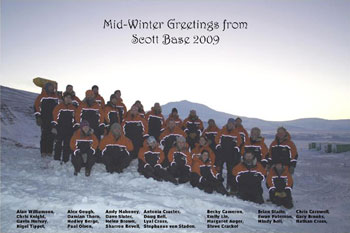 Midwinter provides a great opportunity for some festivities and fun as we wait for the welcome return of the sun. But the scattered bases have a more serious purpose for most of the year, carrying out varied programmes of scientific research.
To quote from President Obama's Midwinter greeting to the American Antarctic Programme: 'In this remote place where science is the universal language, scientists from more than 60 countries recently completed the International Polar Year…
'The early results reveal the profound significance the Polar Regions have on the Earth's climate. Not only do they regulate global temperature, they also act as barometers of change… From these efforts, we will gain a better understanding of what happens at the Poles and how it affects the rest of our Planet.'
Well, we can all raise a glass to that work carrying on. Cheers!
Chapel of the snows
Emily, Monday, June 29th, 2009
Weather today: -27 °C, wind: 20 knots.
In 1914 Sir Ernest Shackleton launched his third and final expedition to Antarctica, this time hoping to be the first to cross Antarctica from the Weddell Sea to the Ross Sea via the South Pole.
Shackleton sent a group from the expedition down to the Ross Sea to lay vital depots of provisions and British clergyman Arnold Patrick Spencer-Smith was the expedition's Padre and photographer. Known as the 'Ross Sea Party' Spencer-Smith and nine others ended up losing their ship and were stranded at Captain Scott's expedition base at Cape Evans for over two years. During their time at Cape Evans Spencer-Smith reportedly used the darkroom at Cape Evans as a type of chapel.
Today we have our Sunday services in the Chapel of Snows at McMurdo Station (the American station 3k away from Scott Base). Built in the late 1980s to replace the original that was destroyed by fire, the chapel has a nice view overlooking McMurdo Sound, Hut point and the mountains.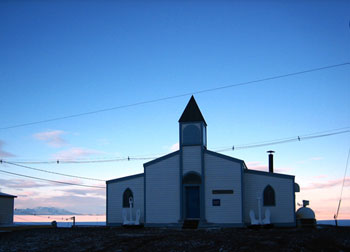 During the winter we have almost 3 months of darkness, and there are no flights connecting us to the outside world. That makes it important to stay in a good condition, both physically and spiritually. Although there is no pastor on the Ice during the winter, we are fortunate to have John volunteering to lead us in prayer and provide a message each Sunday, along with a few songs of worship.
It has become my Sunday routine to join a group of friends in McMurdo for brunch after church. Nice bread for the soul, a good meal, and pleasant conversation – returning refreshed I'm now ready for another week of hard work.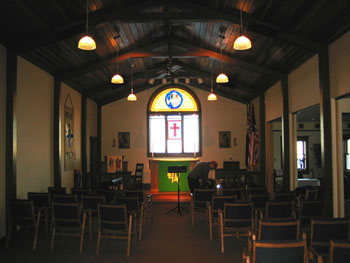 Read more about the Ross Sea Party with the Antarctic Heritage Trust.
Midwinter celebrations
Antonia, Thursday, June 25th, 2009
Weather: Clear sky, -27 to -33 degrees C with 10 knots of wind.
The Base is buzzing with excitement and preparations for our Midwinter Dinner, the highlight of the Antarctic social scene. As someone who comes from the northern hemisphere the concept was somewhat alien to me, in the same way that it seemed very strange to celebrate Christmas on the beach!
I was in Christchurch, New Zealand, at Christmas, as this is where some of the artefacts from Scott and Shackleton's expeditions are on display in the Canterbury Museum. It was mid-summer at the time and, as I'm sure you can imagine, 30°C heat is not really conducive to sitting down and eating a full roast dinner. It is difficult to feel snowy and Christmassy with the sun blazing outside!
Instead, Midwinter is the main celebration in Antarctica. Apparently it was introduced by early settlers from the northern hemisphere arriving in Australia and New Zealand and wanting to experience a traditional Christmas-style celebration at a time when the environment was more appropriate to the traditions. Midwinter in the southern hemisphere, on 21st June, is the best time for this.
One thing we can be certain of is that Antarctica has seen Midwinter celebrations from the times of Captain Scott's expeditions. We know that for this meal they had seal soup, roast beef with Yorkshire pudding, fried potatoes and brussel sprouts followed by flaming plum pudding, excellent mince pies and a dainty savoury of anchovy and cod's roe.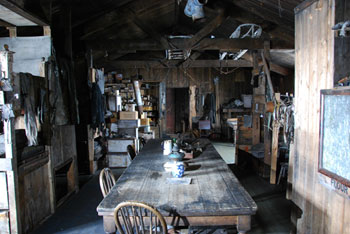 When you are living in perpetual darkness it is important to mark the passage of time, and to have events like the Midwinter Dinner to look forward to. It is an opportunity for the inhabitants of Scott Base, and our guests from McMurdo, to get dressed up and enjoy a formal sit-down dinner, and I am sure a great deal of fun!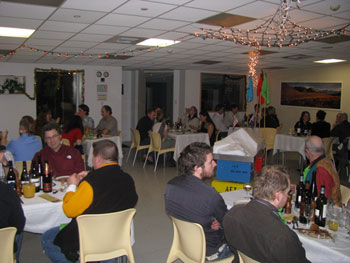 In partnership with
Blog search