Archive for the 'McMurdo' Category
ANZAC Day
Nicola, Thursday, May 6th, 2010
Temperature: -19°C
Wind Speed: 15 knots
Temp with wind chill: -35°C
Sunrise: None
Sunset: None
A number of us at Scott Base are not originally from New Zealand; we come from the UK, Australia, Holland, Canada, Ireland and South Africa. But on Sunday, in a chill wind and with snow blowing around us, we gathered together at the flag pole to commemorate ANZAC Day. In New Zealand and Australia this is a day of remembrance for members of the Australian and New Zealand Army Corps (ANZAC) who in 1914 fought at Gallipoli in Turkey during World War I. It now also commemorates all those who died and served in military service from both countries.
Traditionally the ceremony is held at dawn but as we are in the Antarctic winter and we have had the last sunrise and there are no more dawns until August, we chose to have the service in the dim light of early afternoon and invited Kiwis from the American Base at McMurdo to join us.
After Alf, the Telecom Technician, read a short service, the last post was played from the public address system sounding out across the empty ice. It was a poignant moment followed by a minute's silence during which I also remembered the men who, shortly after surviving the experiences of Antarctic exploration, went on to serve in the First World War. The flag which had been standing at half mast was raised by Bobbie; then we walked back to the bar for a traditional drink and Anzac biscuits.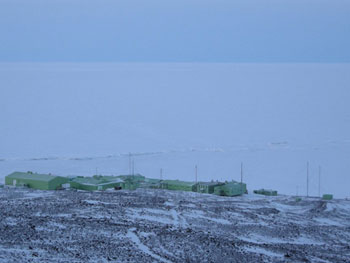 Trivia night
George, Tuesday, May 4th, 2010
Temperature: -19°C
Wind Speed: -15°C
Temp with wind chill: -34°C
Sunrise: Sometime in August
Sunset: Last Sunday
Q1. What was the name of the vessel which Shackleton sailed to South Georgia?
Q2. Which animal has a den called a holt?
Q3. In the Asterix and Obelix cartoon series, what was the name of the druid?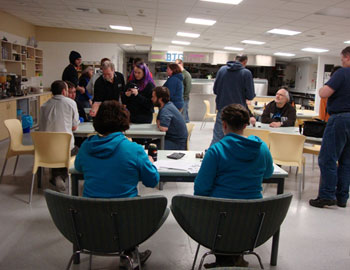 Last night we saw our dining room at Scott Base (New Zealand's science base in the Ross Sea region of Antarctica) transformed into a gaming hall, as we all settled down to a hard-fighting game of trivia. Proceedings were led by Sandy, our base domestic, who was the quiz master for the evening, and aided by Jane, who put together the questions to tax our memories and baffle our brains.
Battling for trivial supremacy were two Scott Base teams; the girls on one side, the boys on the other, and a further 5 teams from McMurdo Base, (the United States science base over the hill from Scott Base). On our team, representing the Antarctic Heritage Trust, were Nicola, Mindy and I, alongside Bobbie our chef.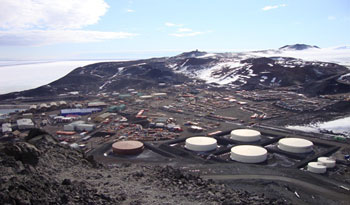 Scott Base has always enjoyed a close and genial relationship with its American neighbours, and especially now that the sun is down (and movement outside is becoming restricted), these sorts of group events are becoming all the more important.
Whether we lacked the mental edge or simply the competitive spirit, both Scott Base teams managed to finish last - with the girls just coming out in front. Fun was had by all, and as the Americans celebrated their wins, our team contented themselves with consolation prizes of crisps and chocolate.
A1. The James Caird
A2. The otter
A3. Getafix
Earth Hour at Scott Base
George, Friday, April 9th, 2010
Temperature: -21.3°C
Wind Speed: 6 knots
Temp with wind chill: -27°C
Sunrise: 8:56am
Sunset: 6.56pm
No Lights! No Music! No Action!
Last Saturday night the whole of Scott Base was plunged into darkness – lights switched off, music stopped playing and computers shut down. In fact everything but the most essential electrics (namely heating) were powered down as we all participated in Earth Hour (8.30-9.30pm).
Earth Hour is a global sustainability initiative to raise awareness of climate change. For the last 2 years Scott Base has taken part, and so we were keen to do the same again.
While some of the winter team were at McMurdo Station (the United States Antarctic Science Base) those of us on Fire crew duty stayed at Scott Base to observe Earth Hour. To prepare, we ran around the base switching things off, then pulled tables and chairs together in the bar so that we could all sit with one another. Bobbie our chef had made snacks and nibbles, and so we all tucked in as we chatted and told stories. Later we made a group dash outside for a photo by the Scott Base sign, and brrrrrrrr… was it cold on our faces! We managed about 2 shots on time-lapse, then scrambled back indoors.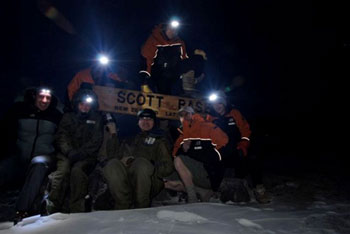 I have to say that sitting around in the dark on an evening– wearing a head torch in case of emergency - is not my usual idea of weekend fun. But in fact the evening proved so enjoyable that we continued an 'unofficial' Earth Hour until it was time for bed.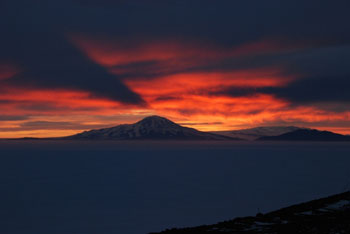 Dangerous driving
Nicola, Monday, March 29th, 2010
Temperature: - 14.5°C
Wind speed: 19 knots
Temp with wind chill: -38°C
Sunrise: 7.17am
Sunset: 8.43pm
At Scott Base our nearest neighbours are the Americans at McMurdo Base, a couple of kilometres away along a road that winds through the pass between Observation and Crater Hills.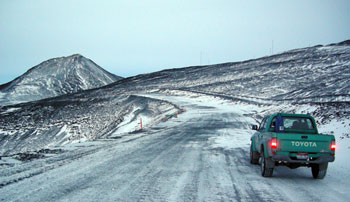 Until now the road has been easy to drive but yesterday, just as I was leaving McMurdo, the weather suddenly changed from a clear day to our first 'condition 1' storm. A strong southerly wind whipped up the snow so it was impossible to see the road ahead or the posts that mark the steep drop beside it, so I took shelter until it had passed.
When I headed back an hour later the road was covered with snow drifts and it was a good reminder that if not fully prepared even the simplest journey can be hazardous. Each of the 4 wheel drive vehicles are kitted out with sleeping bags, shovels and radios, and we always travel with our extreme cold weather clothing in case we get stuck or break down.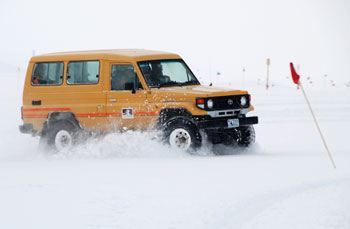 Antarctic driving is a skill and Lex, the Base Mechanic, recently took us out onto the ice for a fun-filled half hour to practice controlling the vehicle in deep snow drifts. So now we'll feel more confident driving over the hill in the months ahead.
Hike around Observation Hill
Jane, Monday, March 1st, 2010
Temperature: -14⁰C
Wind Speed: 12 Knots
Temp with wind chill: -26⁰C
On Monday, Mindy and I decided to go for a walk around Observation Hill to enjoy the wonderful scenery as much as possible before the long, dark winter sets in.
After half an hour getting dressed in the layers of Antarctic clothing, we walked up the scoria slopes behind the Base and made our way along the road to the start of the well-worn path. The path winds around the base of the hill and the volcanic rock (which comes from Mt Erebus, the southern–most active volcano in the world) is coloured by vibrant reds and yellows.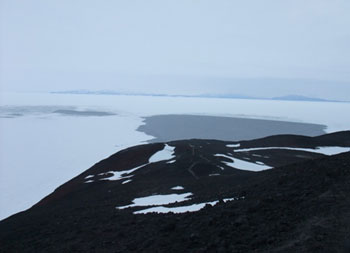 The walk provides wonderful views of the surrounding area for the residents of Ross Island. We could see large areas of open water in the Ross Sea, a rare sight I am told. Black Island and White Island, to the south, were clearly visible.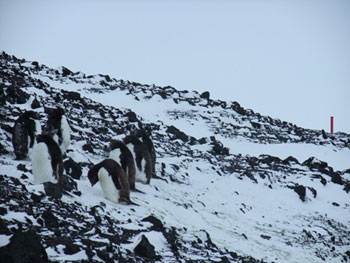 As we clambered along the rough path we came across a group of seven young Adelie penguins, gathered just off to our right, barely noticeable against the snow-covered black scoria. We watched them for as long as we could, before the cold wind coming from the South Pole got the better of us and we continued on to McMurdo for a warm drink.
In partnership with
Blog search